Advertisement

Sheikh Mohamed highlighted the importance of teachers' influence in guiding students along the right path towards developing themselves and their ideas…reports Asian Lite News
President Sheikh Mohamed bin Zayed Al Nahyan has affirmed the vital role that quality education and dedicated teachers will play in the UAE's future progress, noting that investing in education and graduating distinguished cadres is based primarily on preparing a distinguished teacher.
His comments came in an address to education professionals from across the country on the occasion of World Teachers Day.
Sheikh Mohamed highlighted the importance of teachers' influence in guiding students along the right path towards developing themselves and their ideas, especially in the early stages of their schooling.
He spoke of the great responsibility teachers hold in shaping young minds and shielding children from influences that could disrupt their future and their contribution to society.
The President reiterated the UAE's ongoing commitment to investing in the education sector to ensure that future generations will be equipped to continue the UAE's progress.
He referred to his own experience during his military training and spoke of his pride from that time as he saw people from his generation graduating and serving their country.
Sheikh Mohamed also recalled a meeting he had with Lee Kuan Yew, the former Prime Minister and founder of modern Singapore. When asked about his five-year plans, Lee Kuan said they focused on building a strong educational system over 25 years. He stressed the importance of education as a base for the country's future progress and development.
He said that during the next 20 years, education will determine the extent to which countries advance in terms of their development and civilisation.
He called for investment in children's education because they have no limits, and it was important to develop and guide them in the right direction.
He said that countries establishing a solid base for quality education would safeguard their future because they are helping prepare generations who think along the right lines, plan their future and spearhead the growth of their nations.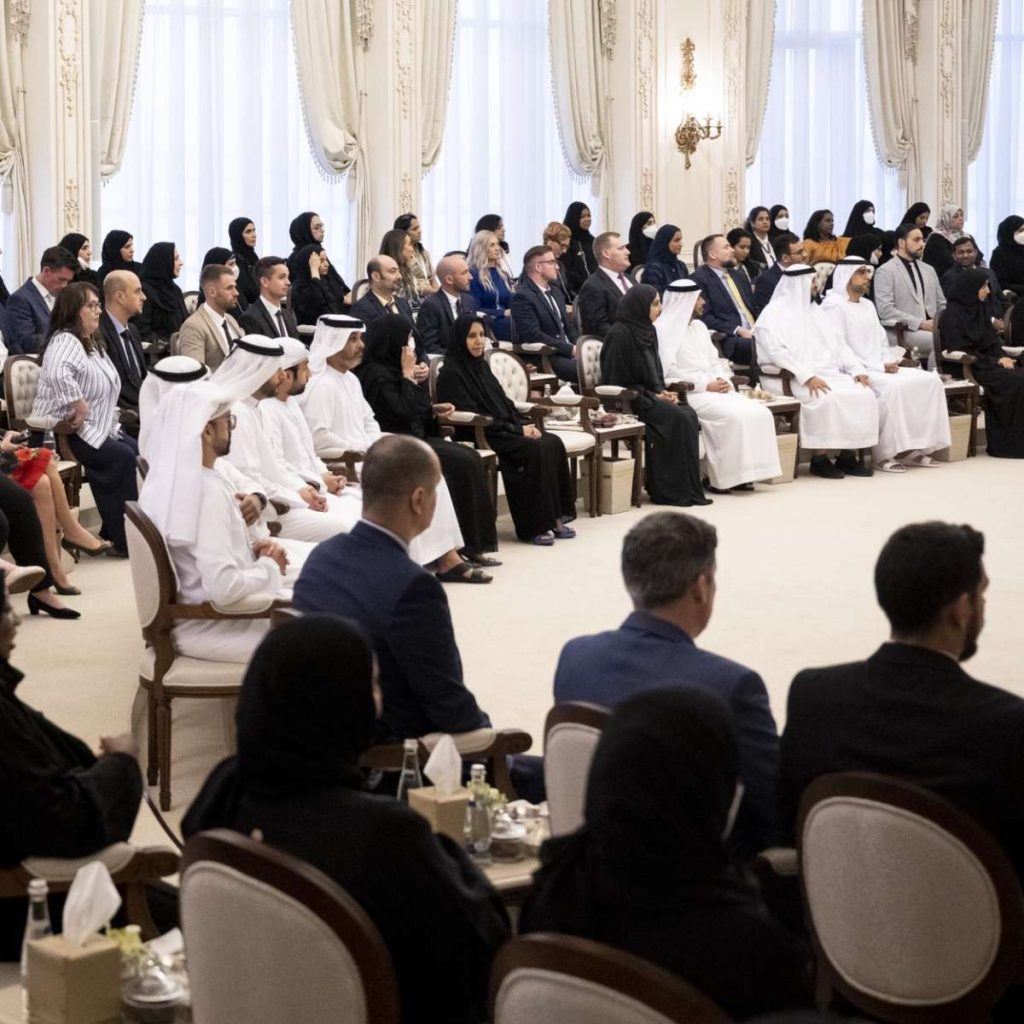 'A roadmap'
UAE Foreign Minister Sheikh Abdullah bin Zayed Al Nahyan, who is also Chairman of the Education and Human Resources Council, affirmed that the address that the UAE President statement on the occasion of World Teachers' Day serves as a beacon that illuminates teachers' paths towards excellence and a roadmap for improving the UAE's educational system.
Sheikh Abdullah thanked all teachers on the occasion, expressing the country's gratitude for their efforts to ensure that children receive top quality education.
He highlighted the great responsibility they bear and their dedication to educate children and youth in the UAE, especially throughout and after the COVID-19 pandemic, noting that they played a key role in accelerating recovery across the educational sector.
Sheikh Abdullah underscored teachers' role in fostering generations that are proud of their values ​​and identity, as well as preparing them with the skills and knowledge required to drive development across society and pave the way for a brighter tomorrow.
He also affirmed that the UAE's wise leadership believes in the importance of education in accelerating sustainable development across all sectors, adding that the UAE's celebration of this special occasion is an expression of the pride it has in its educators.
Sheikh Abdullah explained that the education sector in the UAE has seen a major transitional shift over the past five decades, making great strides in developing and improving its outputs, and empowering teachers.
He concluded by highlighting the need to align efforts, in cooperation with individuals and society as a whole, to enhance the global competitiveness of the UAE's educational model, which would, in turn, help improve the quality of education in the country.