Advertisement

Prime Minister Johnson set out his deep concerns with Sheikh Mohamed on Russia-Ukraine war, and stressed the importance of working together to improve stability in the global energy market, reports Asian Lite Newsdesk
His Highness Sheikh Mohamed bin Zayed Al Nahyan, Crown Prince of Abu Dhabi and Deputy Supreme Commander of the UAE Armed Forces, on Wednesday met with UK Prime Minister Boris Johnson in Abu Dhabi.
Both leaders have discussed the historical friendly relations between the UAE and the UK, the joint cooperation and coordination in various fields, in addition to all regional and global issues and topics of mutual interests.
This came during His Highness Sheikh Mohamed bin Zayed's reception to Boris Johnson at Al Shati Palace in Abu Dhabi, in the presence of Sheikh Tahnoun bin Zayed Al Nahyan, National Security Adviser.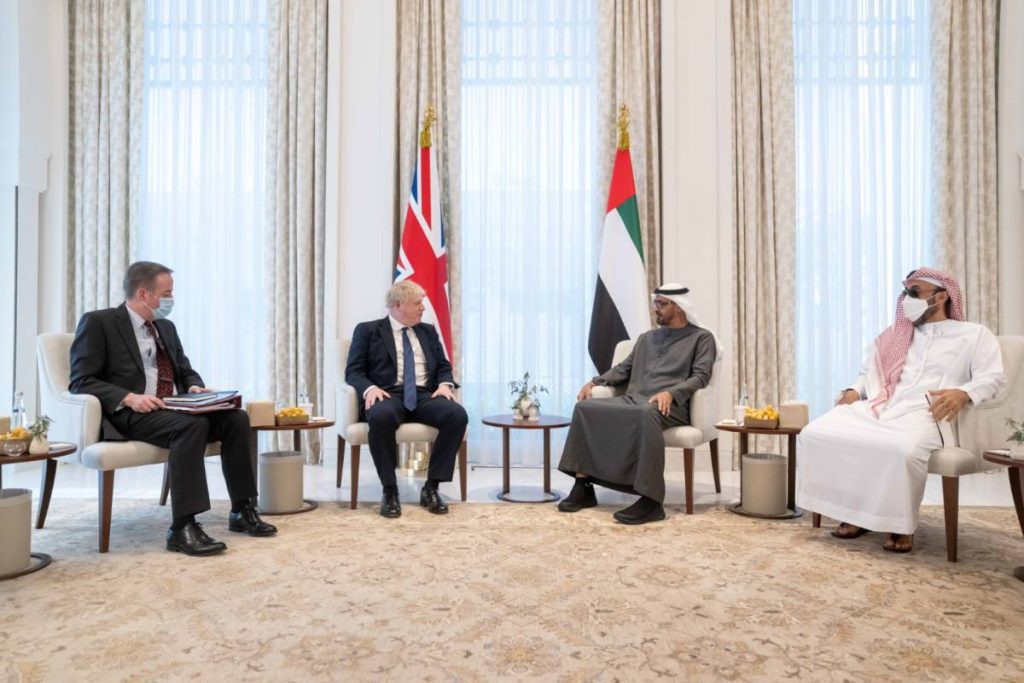 Sheikh Mohamed welcomed Johnson's visit to the UAE, which comes as a part of both sides' keenness to continue joint consultation and coordination between the two friendly countries in promoting peace and regional and international stability.
The two sides exchanged views on several regional and international issues of mutual concern, beginning with the Ukrainian crisis and its humanitarian repercussions. They also stressed the need to intensify global efforts to support the humanitarian conditions of the civilians.
Johnson set out his deep concerns about the chaos unleashed by "Russia's unprovoked invasion of Ukraine", and stressed the importance of working together to improve stability in the global energy market.
His Highness Sheikh Mohamed also discussed the stability of the global energy markets with the British Prime Minister.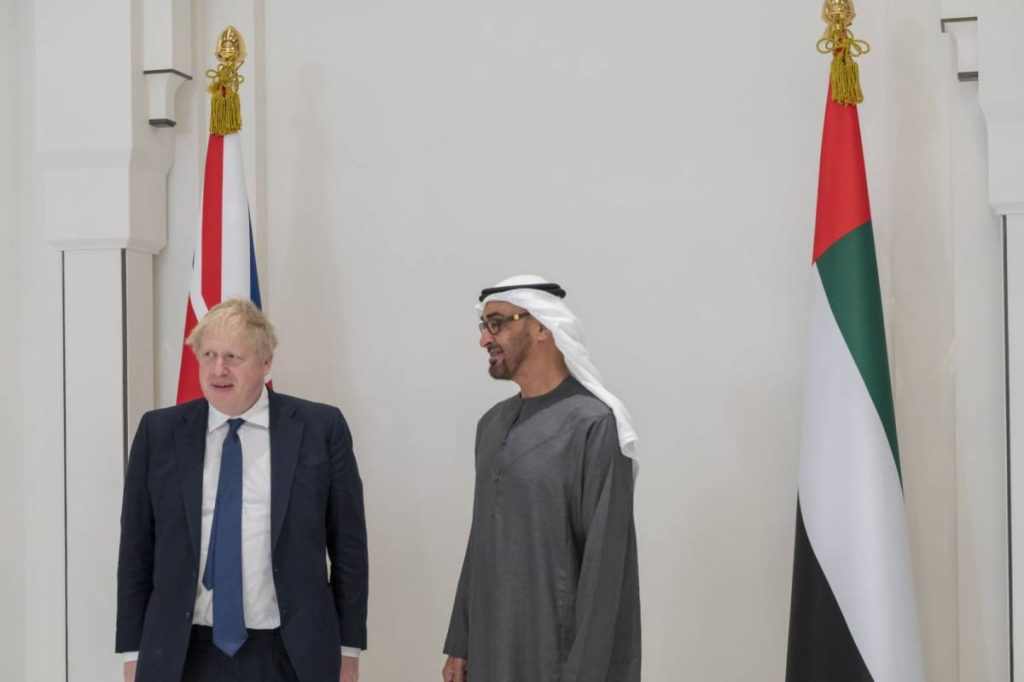 Sheikh Mohamed reiterated the UAE's call for adoption of peaceful and diplomatic means to settle various disputes, differences and issues between countries in a way that will serve regional and international security, stability and peace.
Johnson stressed that his country puts special emphasis on developing cooperation and joint coordination with the UAE to serve their mutual interests and contribute to enhancing peace, stability and security in the region and globally.
The leaders welcomed the longstanding partnership between our two countries and discussed opportunities to increase collaboration between the UK and UAE on energy security, green technology, and trade.
They also agreed on the need to bolster our strong security, defence and intelligence cooperation in the face of growing global threats, including from the Houthis in Yemen.
Later in the day, Johnson also met the Crown Prince of the Kingdom of Saudi Arabia, Mohammed bin Salman, in Riyadh.
He set out the UK's view that we are facing a fundamentally changed world order following Putin's illegal invasion of Ukraine, which requires countries to work together to improve energy security and reduce reliance on Russian hydrocarbons.
The UK PM and Saudi Crown Prince agreed to collaborate to maintain stability in the energy market and continue the transition to renewable and clean technology.
They also committed to boost cooperation in defence, security, trade and culture, welcoming a new UK-Saudi Strategic Partnership Agreement and a major investment announced today by the alfanar group in green aviation fuel in Teesside.
ALSO READ: MBZ, Boris Johnson discuss partnership, latest developments
Recently, the government of the UAE has worked with the UK government to launch a toolkit to support financial institutions in tackling illicit financial flows in Illegal Wildlife Trade (IWT).
Ahmed Ali Al Sayegh, UAE Minister of State, has partnered with UK Minister Lord Tariq Ahmad of Wimbledon to launch the toolkit, which was launched at Expo 2020 Dubai to coincide with UN Wildlife Day.
The toolkit provides key guidance to institutions in combating the illegal wildlife trade, from large institutions with significant compliance departments to smaller institutions with less experience or fewer resources in countering this trade.
The toolkit was developed with a focus on the Africa to Asia route, and highlights the importance of public-private sector cooperation in global financial centres, including the UAE, Hong Kong, and Singapore, to combat this trade.