Advertisement

The top five countries of birth of immigrants who became naturalized US citizens in fiscal year 2022 were Mexico, India, the Philippines, Cuba and the Dominican Republic…reports Asian Lite News
Nearly one million immigrants obtained US citizenship during the fiscal year 2022 — the highest number of naturalized citizens in almost 15 years, according to a US Citizenship and Immigration Services (USCIS) report.
USCIS completed processing 1,075,700 naturalization applications and administered the oath of allegiance to 967,400 new US citizens during the year ended September 30.
The number rose to 1,023,200 immigrants when considering children.
The top five countries of birth of immigrants who became naturalized US citizens in fiscal year 2022 were Mexico, India, the Philippines, Cuba and the Dominican Republic, according to the USCIS data.
The immigrants who either have been green card holders (permanent residents) for 3-5 years or meet various military service requirements are eligible for US citizenship.
The processing time, from the time you file your citizenship application to when you attend the oath of allegiance ceremony, is between 18.5-24 months.
The current government filing fee for naturalization applications is $725, including $640 for processing and $85 for biometrics services.
Military applicants are exempt from both the fees.
Immigrants with US citizenship are allowed to vote in federal elections, eligible for candidacy in US elections, have greater access to government assistance programmes, like Medicare, sponsor relatives seeking permanent residency, and ensure automatic US citizenship for children.
According to government data, USCIS oversaw more than 8.7 million immigration cases as on June 30 — from green card applications to asylum requests and work permit petitions.
"Every immigration case entrusted to us represents an individual or a family seeking to build a better life in the US," said USCIS Director Ur M. Jaddou.
"We have made measurable progress towards building a more humane immigration system… There is more work to do, especially to reduce processing times for all people we serve, and congressional support is critical to achieving our ambitious backlog reduction goals in the year ahead."
In the coming months, USCIS plans to build on this progress by implementing premium processing for all petitions for immigrant workers and certain employment authorisation applications for students and exchange visitors.
It hopes to establish a permanent biometrics exemption for all applicants for change of non-immigrant status and extension of non-immigrant stay.Several common forms, including the applications for employment authorization, adjustment of status, and naturalization will be simplified, the USCIS stated.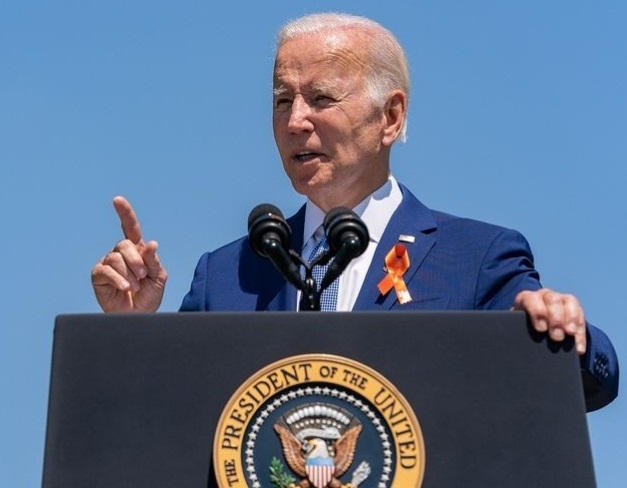 Biden backs bill to speed up immigration by Indians
President Joe Biden has thrown his weight behind a legislation to speed up immigration for Indians that is expected to come up in the House of Representatives soon and relieve the 90-year waiting period for some.
The proposed legislation, if adopted, would end the country caps, which limit the number of Green Cards or permanent resident status, leading to citizenship that can be issued to each country every year at 20,000, except for some immediate family members and for Mexicans and Canadians.
This will make the employment-based Green Card system merit-based without regard to nationality.
Calling it an effort to ameliorate the "the harsh effects of the immigrant visa backlog", the President's Executive Office expressed support for the legislation's "goal of allowing US employers to focus on hiring immigrants based on merit, not their birthplace, by eliminating the per country limitation on employment-based immigrant visas (Green Cards)".
Paving the way for the adoption of the legislation known as EAGLE Act — short for Equal Access to Green Cards for Legal Employment — the House Rules Committee on Monday approved sending it to the House for a vote and the House cleared on Tuesday the procedure for voting on it.
If it is passed by the House, it will have to get the approval of the Senate where a similar bill proposed by Republican Kevin Cramer and Democrat John Hickenlooper is pending.
In a race against time, the two versions of the bill will have to be reconciled and get final approvals before the Congress ends its current session.
A similar legislation was passed by the House in 2019 and another version of it in 2020, but it died when the two chambers did not have time to reconcile the differences in their versions of the bill before the end of the session.
There are 3,69,000 Indians waiting for Green Cards based on their employment and a total of 7,00,000 including family, but cannot get them because of the country caps and are trapped in the limbo of unrealistic waits.
The latest State Department statement on Green Cards shows that applicants from April 2012 were only now eligible to get them.