Advertisement

After Australian and Japanese heads of state, US president Biden singles out Quad partner India for 'shaky' stand on Russia, reports Asian Lite News
US President Joe Biden said on Monday that India was an exception among Washington's allies with its "shaky" response to the Russian invasion of Ukraine.
Biden lauded the US-led alliance, including NATO, the European Union and key Asian partners, for its united front against President Vladimir Putin.
However, unlike fellow members of the Quad group — Australia, Japan and the US — India continues to purchase Russian oil and has refused to join votes condemning Moscow at the United Nations.
Addressing a meeting of US business leaders in Washington, Biden said, "The Quad is, with the possible exception of India being somewhat shaky on some of this, but Japan has been extremely strong — so has Australia — in terms of dealing with Putin's aggression."
Indian oil refiners have reportedly continued to purchase discounted Russian oil, even as the West seeks to isolate Moscow.
An Indian government official said last week that the world's third-biggest consumer of crude relies on imports for almost 85 percent of its needs, with Russia supplying a "marginal" less than one percent of this.
But "the jump in oil prices after the Ukraine conflict has now added to our challenges… India has to keep focusing on competitive energy sources," the official added.
New Delhi, which historically has had close ties with Moscow, called for an end to the violence in Ukraine but has stopped short of condemning Russia's invasion, abstaining in three votes at the United Nations.
Pressure from others
India is under growing pressure from its Quad alliance partners to take a stronger position against Russia's war in Ukraine, as Australia raised the issue at a bilateral meeting, days after it figured prominently in talks with Japan.
"The tragic loss of lives underlines the importance to hold Russia to account," Australian Prime Minister Scott Morrison said in opening remarks ahead of Monday's meeting with his counterpart Narendra Modi.
"The cooperation of like-minded liberal democracies is key to an open, inclusive, resilient and prosperous Indo-Pacific." Modi did not comment on Russia's invasion of its neighbour.
Canberra, an outspoken critic of the war, has responded with deliveries of military and humanitarian aid to the government in Kyiv.
Morrison is the second Quad partner in the last few days to push New Delhi to take a sharper stand. Over the weekend, Japanese Prime Minister Fumio Kishida called for more cooperation between democracies, while noting Putin's war has "shaken the global order".
"There was serious concern about the humanitarian tragedy and the need for an immediate end of violence," Indian Foreign Secretary Harsh Vardhan Shringla told reporters after the meeting. "There is an understanding of India's position in the Quad grouping," he added.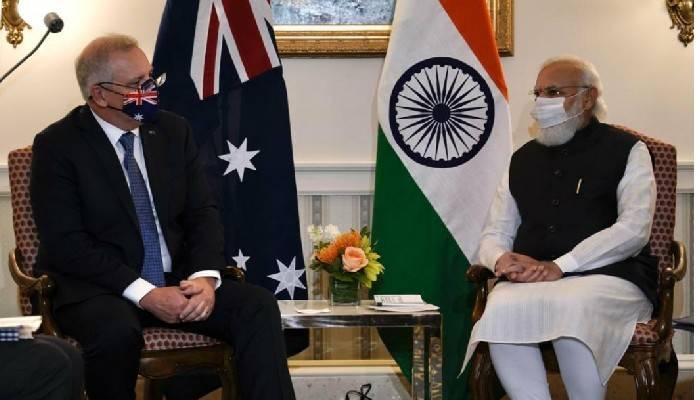 Monday's meeting was the second virtual summit held between the two countries in recent years; Morrison and Modi met remotely in June 2020, after being forced to postpone an in-person meeting due to the Covid-19 pandemic.
Australia's relations with Beijing have grown increasingly frosty in recent years. After Morrison called for an international investigation into the origins of Covid-19 in April 2020, Australian exports began to encounter difficulties entering Chinese ports.
ALSO READ-Biden needs a reality check on Ukraine