Advertisement

Having already named three persons responsible for hatching the plot to assassinate him, including Prime Minister Shehbaz Sharif, Imran threatened to name another senior military officer involved…reports Asian Lite News
Supporters of Pakistan Tehreek-e-Insaf (PTI) continued staging sit-ins for the third consecutive day at different entry and exit points of Islamabad on Wednesday, media reports said.

Parliamentary Affairs Minister Muhammad Basharat Raja tweeted a video from the Inter-Junction Principal Road (IJP) road in Islamabad, where party supporters were seen watching Pakistan's T20 World Cup semifinal against New Zealand on a big screen on Wednesday, Express Tribune reported.

The provincial minister also wished the Pakistani team and captain Babar Azam luck for the match.

"Today is the third day of sit-in at the entry and exit points of Islamabad. I am enjoying #PakvsNz cricket match at IJP road along with PTI workers. Wishing Babar Azam and the team prayers & best wishes from the people of Rawalpindi," said Raja.

Earlier, supporters of PTI blocked roads near the capital disrupting traffic and forcing schools to close, as they protested against a bid to assassinate their leader, Imran Khan, at a recent anti-government rally, Express Tribune reported.

Meanwhile, PTI Chairman Imran Khan on Wednesday claimed that he had exposed the plot to assassinate him nearly six weeks before the Wazirabad attack, and that he would also expose the name of a second military officer involved, according to a media report.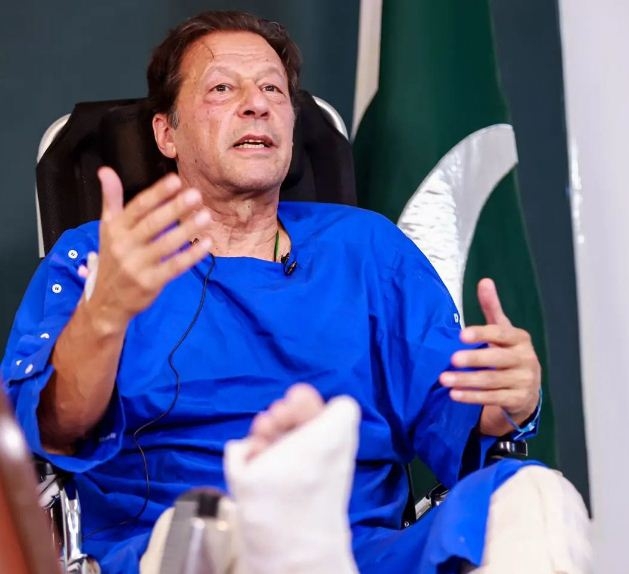 In a series of messages posted from his verified account on Twitter, Khan said that he had "discovered" the assassination plot hatched against him almost two months ago, Samaa TV reported.

"I had discovered the assassination plot hatched against me almost two months ago & exposed it in RYK 24th Sept & Mianwali 7th Oct public rallies. Wazirabad assassination attempt followed the script," Imran tweeted.

His tweet included two videos from the respective public rallies in which he pointed to how the government allegedly accused him of blasphemy and even conducted a television programme to prove he blasphemed.

He added in the video that "four people sitting behind closed doors had planned to murder him".

"Now if someone assassinates me, they will say that a religious fanatic did it," he said, adding that he had recorded a video which has been kept abroad and in it he had named the four people who had hatched the plot to kill him, Samaa TV reported.

Having already named three persons responsible for hatching the plot to assassinate him, including Prime Minister Shehbaz Sharif, Interior Minister Rana Sanaullah and a senior military intelligence officer, Imran threatened to name another senior military officer involved.

"I will also disclose the name of the second officer," he said, adding that the officer was sitting in the same control room as the first officer from around 12 noon to 5 pm "monitoring the execution of the plot".