Advertisement

British Minister Boris Johnson seek the help of oil-rich Arab countries as Russia threatens to stop the supply to Europe
British Prime Minister met the Crown Prince of the Kingdom of Saudi Arabia, Mohammed bin Salman, in Riyadh yesterday. Earlier he had discussions with Mohammed Bin Zayed, the Crown Prince of Abu Dhabi.
The British prime minister set out the UK's view that we are facing a fundamentally changed world order following Putin's illegal invasion of Ukraine, which requires countries to work together to improve energy security and reduce reliance on Russian hydrocarbons.
The Prime Minister and Crown Prince agreed to collaborate to maintain stability in the energy market and continue the transition to renewable and clean technology.
They also committed to boost cooperation in defence, security, trade and culture, welcoming a new UK-Saudi Strategic Partnership Agreement and a major investment announced today by the alfanar group in green aviation fuel in Teesside.
The Prime Minister praised progress against Saudi Arabia's Vision 2030, including on women's empowerment and employment, but raised the UK's concerns about ongoing human rights issues.
The leaders also discussed key regional issues and agreed to stay in close contact as the crisis in Ukraine evolves. The leaders discussed opportunities to increase collaboration between the UK and UAE on energy security, green technology, and trade.
Johnson is on a visit to the Gulf as part of efforts to secure more oil supplies and increase pressure on President Vladimir Putin over Russia's invasion of Ukraine.
He is seeking greater investments in the UK's renewable energy transition and ways to secure more oil to lessen British dependence on Russian energy supplies.
Russian President Vladmir Putin's decision to invade Ukraine is "causing global uncertainty and a spike in the price of oil," Johnson told reporters in Abu Dhabi ahead of his meeting with Crown Prince Mohammed bin Zayed.
"Everybody can see the effect of the increase in gas prices that's coming through," he added.
Because of Europe's reliance on Russian oil and gas, Putin has been "been able to blackmail the West to hold Western economies to ransom," he said.
"We need independence," Johnson added.
ALSO READ: MBZ, Boris Johnson discuss partnership, latest developments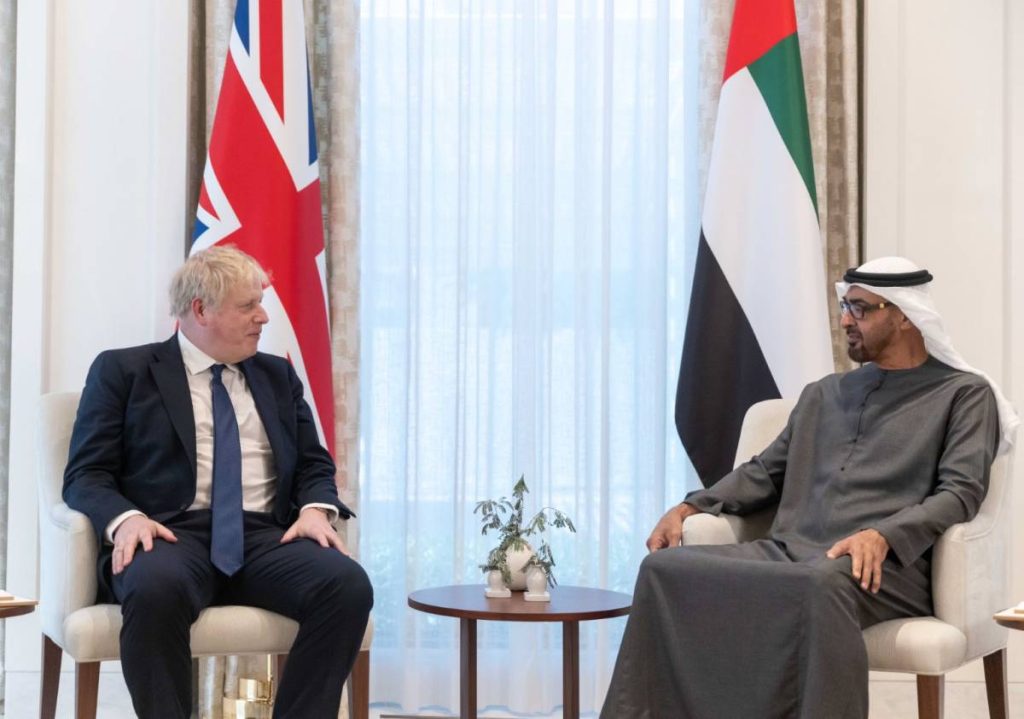 Sheikh Mohamed bin Zayed hosted a reception to welcome Johnson at Al Shati Palace in Abu Dhabi.
Sheikh Mohamed reiterated the UAE's call for adoption of peaceful and diplomatic means to settle various disputes, differences and issues between countries in a way that will serve regional and international security, stability and peace.
Johnson stressed that his country puts special emphasis on developing cooperation and joint coordination with the UAE to serve their mutual interests and contribute to enhancing peace, stability and security in the region and globally.
ALSO READ: MBZ, Johnson discuss global energy stability
The leaders welcomed the longstanding partnership between our two countries and discussed opportunities to increase collaboration between the UK and UAE on energy security, green technology, and trade.
They also agreed on the need to bolster our strong security, defence and intelligence cooperation in the face of growing global threats, including from the Houthis in Yemen.