Advertisement

Apollo Hospitals, one of the largest healthcare conglomerates in India, is ranked amongst the best hospitals worldwide for providing advanced medical services. It has touched the lives of over 150 million patients from 140 countries. Apollo Hospitals Enterprise Limited consists of Hospitals, Pharmacies, Primary Care & Diagnostic Clinics and Telemedicine units across 50 countries. Apollo's vision for the next phase of development is to 'Touch a Billion Lives'.
Apollo Buckingham Health Science Campus (ABHSC) at Crewe is a unique project which brings healthcare, academia, innovation, and research under one roof to improve patient outcomes and quality of life. It brings together public and private healthcare providers and educators to address the current and future needs of the UK healthcare sector. Asian Lite's Anasudhin Azeez meets Preetha Reddy, Executive Vice-Chairperson of Apollo Hospitals. EXTRACTS: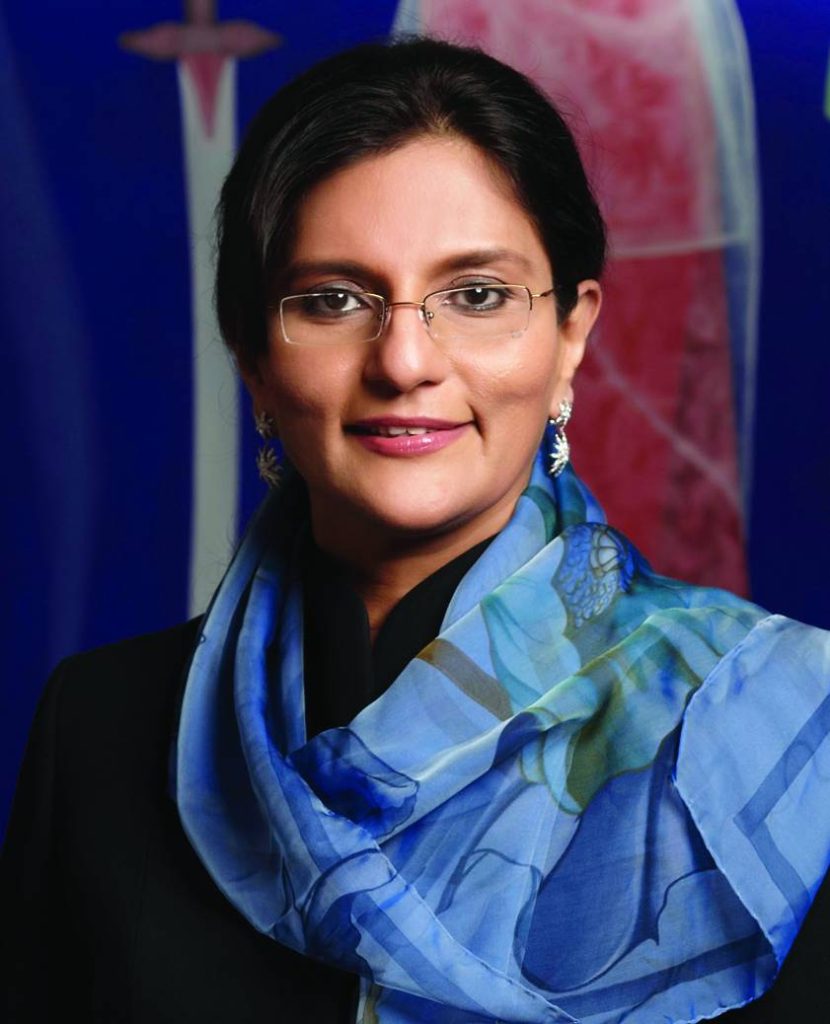 ANASUDHIN AZEEZ. What will be the role of ABHSC in the Apollo network?
PREETHA REDDY: The Crewe campus plays a leading role in the introduction of the Apollo Hospitals Group in the UK. The vision is for a vibrant campus which inspires collaborations between education, healthcare, research, and innovation. Our early collaboration with the University of Buckingham is supporting the growth and development of the clinical workforce in the UK. Apollo is also exploring other exciting collaborations with academia and the NHS, to upskill existing qualified staff from overseas, with its international fellowship programs. The Crew campus will play a crucial role in the professional development of the healthcare staff. We are planning to train 100 plus students at medical school from next academic year. We will also provide short-term courses for medical professionals from all over the world to upskill their talent to meet the demands of the changed health sector landscape.
ABHSC will be the third medical college in the Apollo network. We created a separate division in the Apollo corporate eco-system for knowledge and education. We are one of the largest e-learn providers in India. We are also running 15 nursing colleges. We are also conducting specialty courses for doctors, nurses, specialist nurses and healthcare managers to upgrade their skills. We are also introducing courses like BSc in Data Analytics to support the healthcare system. Data analysis is important for decision making. Another programme on agenda is to train healthcare psychologists. Mental health is a key area to be focused in the post-Covid medical scenario. The Crewe campus will be one of the global centre for medical research and skills development.
AA. What's Apollo's strategy to tackle post-Covid healthcare issues?
PR: We are beginning to see the impact of post-Omicron on heart disease. Given the widespread mild infections in the third wave, many patients have not seen a doctor or checked on their recovery. Apollo has started highlighting the importance of doing a preventive health-check, so post-Covid patients can understand their health status and take appropriate steps for a full recovery. 
We have two programs at Apollo that can help with this—ProHealth CoRe (Covid Recovery) and ProHealth Covid Recovery & Wellness—these are best done 4-6 weeks after diagnosis. We are focusing lung, heart and vascular system. We are doing extensive screening tests to identify the real causes.
Apollo ProHealth CoRe program is designed for those recovering from mild/moderate COVID in infections.This at-home program will help bounce back to peak health, by assessing the current health status through a home sample collection and personalised health risk assessment, virtual consult with a physician on 24×7 App, and follow up by a health mentor for three months on diet/exercise. This program will help monitor the effects of Covid-19 on various organs, and ensure consumers are on a path to recovery. Based on the physician's recommendation for further hospital-based tests the patient can choose to visit the hospital, with a 50% discount on ECHO and CT as recommended.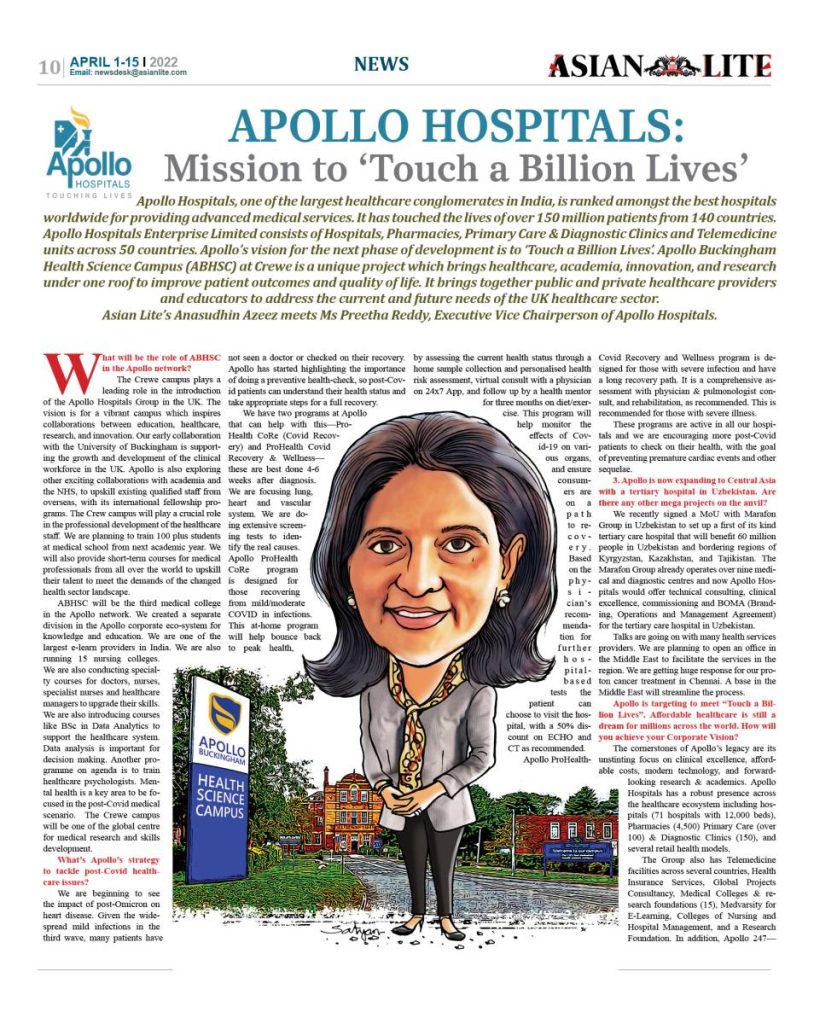 Apollo ProHealthCovid Recovery and Wellness program is designed for those with severe infection and have a long recovery path. It is a comprehensive assessment with physician & pulmonologist consult, and rehabilitation, as recommended. This is recommended for those with severe illness.
These programs are active in all our hospitals and we are encouraging more post-Covid patients to check on their health, with the goal of preventing premature cardiac events and other sequelae.
AA. Apollo is now expanding to Central Asia with a tertiary hospital in Uzbekistan. Are there any other mega projects on the anvil?
PR: We recently signed a MoU with Marafon Group in Uzbekistan to set up a first of its kind tertiary care hospital that will benefit 60 million people in Uzbekistan and bordering regions of Kyrgyzstan, Kazakhstan, and Tajikistan. The Marafon Group already operates over nine medical and diagnostic centres and now Apollo Hospitals would offer technical consulting, clinical excellence, commissioning and BOMA (Branding, Operations and Management Agreement) for the tertiary care hospital in Uzbekistan.
Talks are going on with many health services providers. We are planning to open an office in the Middle East to facilitate the services in the region. We are getting huge response for our proton cancer treatment in Chennai. A base in the Middle East will streamline the process.
AA. Apollo is targeting to meet "Touch a Billion Lives". Affordable healthcare is still a dream for millions across the world. How will you achieve your Corporate Vision?
PR: The cornerstones of Apollo's legacy are its unstinting focus on clinical excellence, affordable costs, modern technology, and forward-looking research & academics. Apollo Hospitals has a robust presence across the healthcare ecosystem including hospitals (71 hospitals with 12,000 beds), Pharmacies (4,500) Primary Care (over 100) & Diagnostic Clinics (150), and several retail health models. The Group also has Telemedicine facilities across several countries, Health Insurance Services, Global Projects Consultancy, Medical Colleges & research foundations (15), Medvarsity for E-Learning, Colleges of Nursing and Hospital Management, and a Research Foundation. In addition, Apollo 247—an online consultation portal, and Apollo Home Health provide the care continuum.
Since its inception, Apollo Hospitals has been honoured by the trust of several million individuals who come from 140 countries. At the core of Apollo's patient-centric culture is TLC (Tender Loving Care), the magic that inspires hope amongst its patients. Through these multiple portals, Apollo is touching scores of lives within and outside India.
As a responsible corporate citizen, Apollo Hospitals takes the spirit of leadership well beyond business and has embraced the responsibility of keeping India healthy. Recognizing that Non-Communicable Diseases (NCDs) are the greatest threat to the nation, Apollo Hospitals is continuously educating people about preventive healthcare as the key to wellness. Likewise, envisioned by Dr Prathap C Reddy, Chairman, the "Billion Hearts Beating Foundation" endeavors to keep Indians heart-healthy.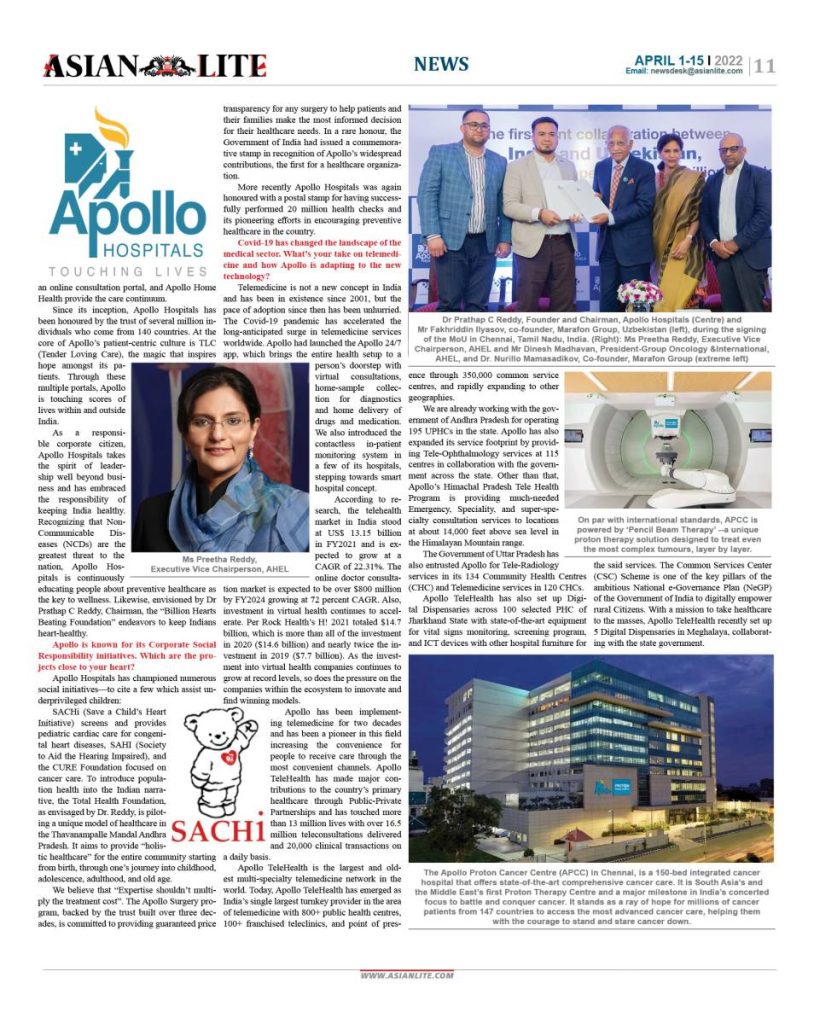 AA. Apollo is known for its Corporate Social Responsibility initiatives. Which are the projects close to your heart?
PR: Apollo Hospitals has championed numerous social initiatives—to cite a few which assist underprivileged children:
SACHi (Save a Child's Heart Initiative) screens and provides pediatric cardiac care for congenital heart diseases, SAHI (Society to Aid the Hearing Impaired), and the CURE Foundation focused on cancer care. To introduce population health into the Indian narrative, the Total Health Foundation, as envisaged by Dr. Reddy, is piloting a unique model of healthcare in the Thavanampalle Mandal Andhra Pradesh. It aims to provide "holistic healthcare" for the entire community starting from birth, through one's journey into childhood, adolescence, adulthood, and old age.
We believe that "Expertise shouldn't multiply the treatment cost". The Apollo Surgery program, backed by the trust built over three decades, is committed to providing guaranteed price transparency for any surgery to help patients and their families make the most informed decision for their healthcare needs.
In a rare honour, the Government of India had issued a commemorative stamp in recognition of Apollo's widespread contributions, the first for a healthcare organization. More recently Apollo Hospitals was again honoured with a postal stamp for having successfully performed 20 million health checks and its pioneering efforts in encouraging preventive healthcare in the country.
AA. Covid-19 has changed the landscape of the medical sector. What's your take on telemedicine and how Apollo is adapting to the new technology?
PR: Telemedicine is not a new concept in India and has been in existence since 2001, but the pace of adoption since then has been unhurried. The Covid-19 pandemic has accelerated the long-anticipated surge in telemedicine services worldwide.
Apollo had launched the Apollo 24/7 app, which brings the entire health setup to a person's doorstep with virtual consultations, home-sample collection for diagnostics and home delivery of drugs and medication. We also introduced the contactless in-patient monitoring system in a few of its hospitals, stepping towards smart hospital concept.
 According to research, the telehealth market in India stood at US$ 13.15 billion in FY2021 and is expected to grow at a CAGR of 22.31%. The online doctor consultation market is expected to be over $800 million by FY2024 growing at 72 percent CAGR. Also, investment in virtual health continues to accelerate.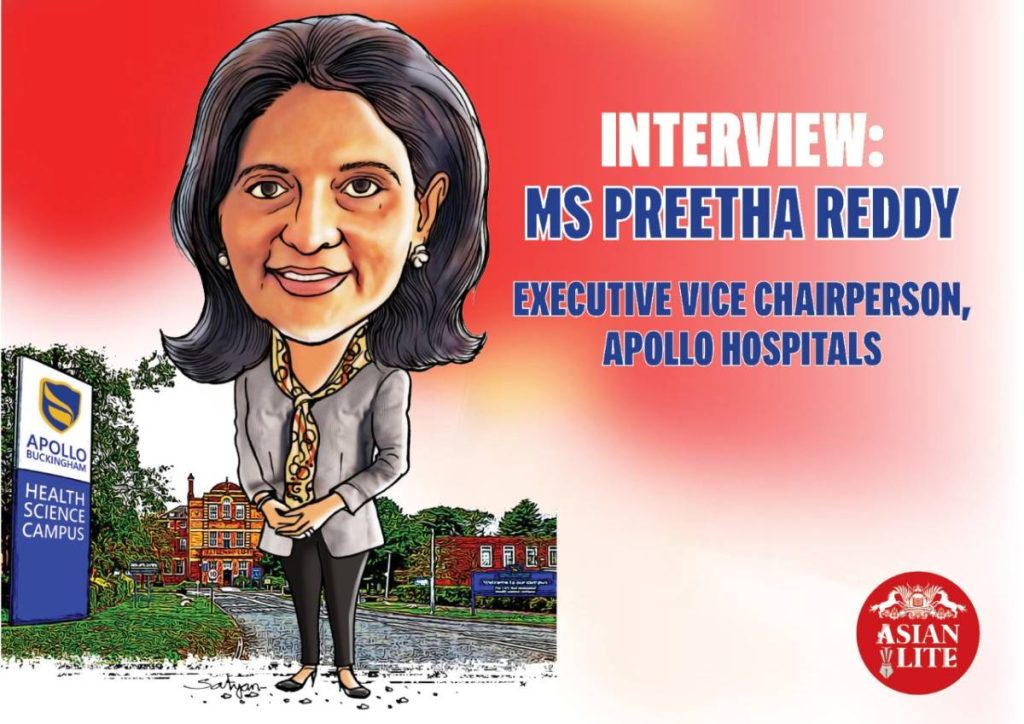 Per Rock Health's H! 2021 totaled $14.7 billion, which is more than all of the investment in 2020 ($14.6 billion) and nearly twice the investment in 2019 ($7.7 billion). As the investment into virtual health companies continues to grow at record levels, so does the pressure on the companies within the ecosystem to innovate and find winning models
Apollo has been implementing telemedicine for two decades and has been a pioneer in this field increasing the convenience for people to receive care through the most convenient channels. Apollo TeleHealth has made major contributions to the country's primary healthcare through Public-Private Partnerships and has touched more than 13 million lives with over 16.5 million teleconsultations delivered and 20,000 clinical transactions on a daily basis.
Apollo TeleHealth is the largest and oldest multi-specialty telemedicine network in the world. Today, Apollo TeleHealth has emerged as India's single largest turnkey provider in the area of telemedicine with 800+ public health centres, 100+ franchised teleclinics, and point of presence through 350,000 common service centres, and rapidly expanding to other geographies. We are already working with the government of Andhra Pradesh for operating 195 UPHCs in the state. Apollo has also expanded its service footprint by providing Tele-Ophthalmology services at 115 centres in collaboration with the government across the state. Other than that, Apollo's Himachal Pradesh Tele Health Program is providing much-needed Emergency, Speciality, and super-specialty consultation services to locations at about 14,000 feet above sea level in the Himalayan Mountain range.
The Government of Uttar Pradesh has also entrusted Apollo for Tele-Radiology services in its 134 Community Health Centres (CHC) and Telemedicine services in 120 CHCs. Apollo TeleHealth has also set up Digital Dispensaries across 100 selected PHC of Jharkhand State with state-of-the-art equipment for vital signs monitoring, screening program, and ICT devices with other hospital furniture for the said services.
The Common Services Center (CSC) Scheme is one of the key pillars of the ambitious National e-Governance Plan (NeGP) of the Government of India to digitally empower rural Citizens. With a mission to take healthcare to the masses, Apollo TeleHealth recently set up 5 Digital Dispensaries in Meghalaya, collaborating with the state government.