Advertisement

Coming in December, the film cleverly combines humor with the serious issue of oxygen shortage, reflecting the heightened demand for oxygen cylinders during the global COVID-19 pandemic…reports Asian Lite News
Following the success of their acclaimed film "Appan," Pauly Valsan, Anil K Sivaram, and Joseph Chilamban are back with a breath of fresh air—literally! The trailer for their latest project, "Achuthante Avasana Shwasam," has just been released, and it's making waves.
Actor Sunny Wayne shared the much-anticipated trailer on his social media, sparking excitement among film enthusiasts. This venture, written and directed by debutant Ajay, stands out as the first Malayalam film to dive into the eco-comedy genre.
Ajay shares that the film is a creative attempt to shed light on the global issue of air pollution. Set in an era where air quality is a pressing concern, " Achuthante Avasana Shwasam" narrates the story of Achuthan, a character dependent on an oxygen cylinder for survival. Leading the cast is Joseph Chilampan, renowned for his roles in films like "Maryam," "Chattambi," "Sajan Bakery," and "Appan."
Scheduled to hit theatres in December, the film cleverly intertwines humour with the serious issue of oxygen shortage, drawing parallels to the increased demand for oxygen cylinders during the global COVID-19 pandemic. The narrative is set to unveil the comical consequences of this shortage on Achuthan's life.
In addition to Chilampan, the film features promising newcomers Kiran, Devraj, Madanakumar, Simon Tannayar, and Sarath in crucial roles. Produced by Leenu Marie Antony under the banners of LMA Film Productions, Presto Movies, and Perfect Picture Studios, " Achuthante Avasana Shwasam" has Sabu Presto and Tarun Kumar Bafna as co-producers.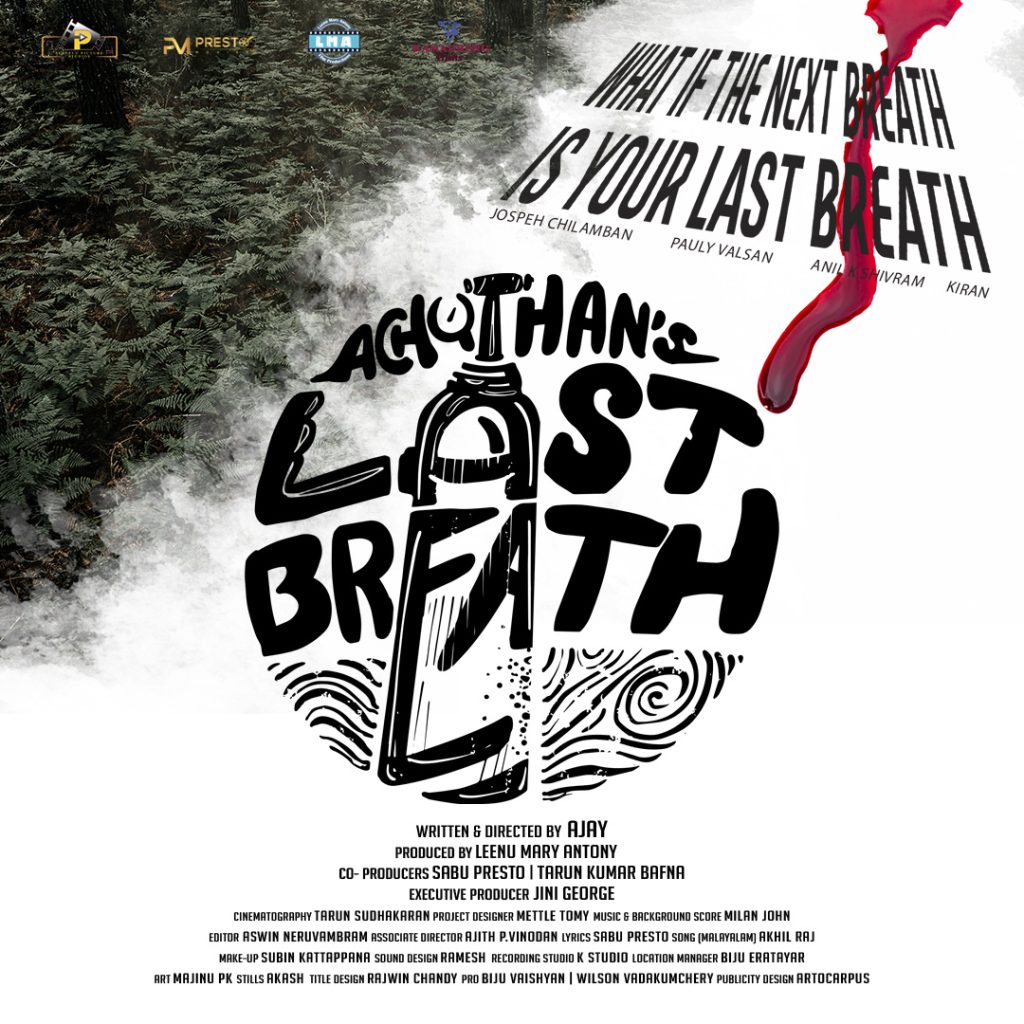 The creative team behind the scenes includes DOP Tarun Sudhakaran, Music & BGM by Milan John, Editing by Ashwin Neruvambaram, Art by Majinu PK, Makeup by Subin Kattapana, Lyrics by Sabu Presto, Malayalam Music by Akhil Raj, Sound Design by Ramesh, and much more.
With its unique blend of comedy, social commentary, and stellar performances, " Achuthante Avasana Shwasam " is poised to breathe new life into Malayalam cinema. As the first of its kind, this film promises to leave audiences both entertained and enlightened. Get ready to catch your breath in theatres this December!
Advertisement