Advertisement

Tsundue was in the limelight in January 2002 when he displayed a banner with the words "Free Tibet: China, Get Out" and a Tibetan flag by climbing the scaffolding outside the hotel in Mumbai where People's Republic of China Premier Zhu Rongji stayed…reports Asian Lite News
"Every evening I return to my rented room, but I am not going to die this way. That has got to be some way out here" read aloud poet-activist and Tibetan refugee Tenpin Tsundue from one of his poems.

Tsundue said this while taking part in 'Let's Talk', an interactive poetry reading session organised by Kashi Townhouse, a Kochi-Muziris Biennale Invitations Programme.

The wandering poet who combines activism and academia to share his thoughts on exile, writing, resistance, culture, and identity, says independence is only a status that is different from freedom.

"In 70 years of Tibetan freedom struggle, we have realized that we need to think for the world, not just one country. When it comes to the Tibetan freedom movement, we know that it may take time but we are confident. Be it fifty or a hundred years, we will continue to fight. We also know that we are not going to lose anything anymore and we will return to Tibet, one day," said Tsundue.

He went on to add that Tibetans keep their culture and identity alive from generation to generation through stories and art on Tibet.

"We sustain our life in the land we left behind through the elders' tales. I lived in a refugee camp on the edges of the Sathyamangalam forest in Karnataka but our lives were filled with vivid images of snow mountains, apples, peaches, apricots, and a magical land named Tibet. This continues in our refugee camps even now. We may have been born a refugee but we are destined to be free," he asserted.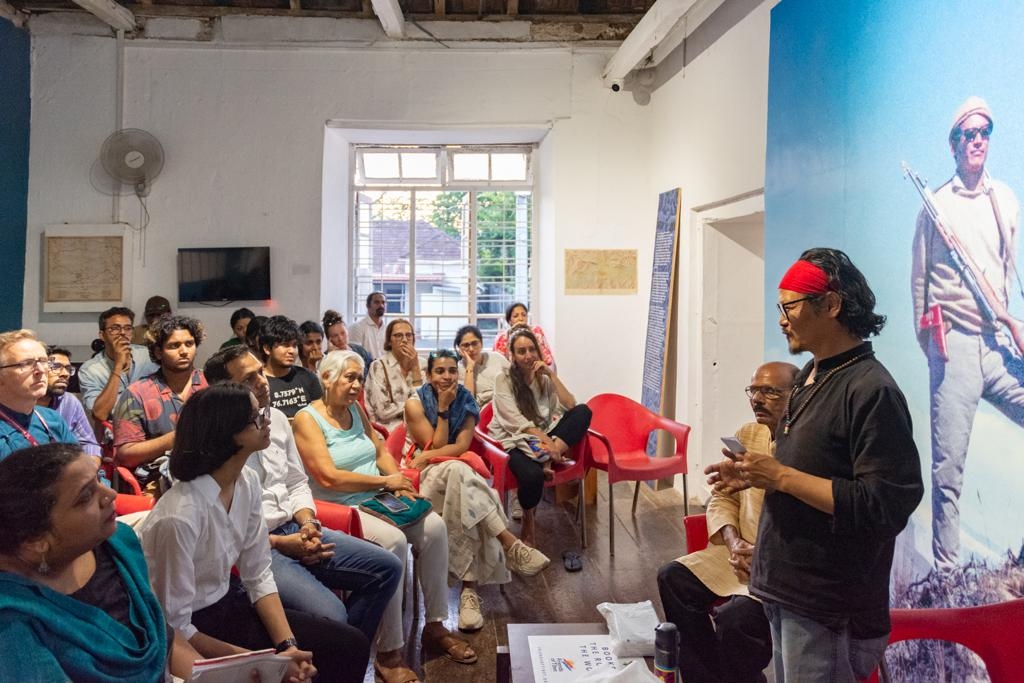 Tsundue was in the limelight in January 2002 when he displayed a banner with the words "Free Tibet: China, Get Out" and a Tibetan flag by climbing the scaffolding outside the hotel in Mumbai where People's Republic of China Premier Zhu Rongji stayed.

Of all the places he travelled, Tenzin finds peace in Kerala.

"Coming to Kerala is always a romantic trip for me. Here, I see people at ease in their own land and language. It relaxes me and gives me hope. As a refugee, my tribe is forced to learn multiple languages for survival and none could be called one's own," said the wandering poet.

Kashi Townhouse is currently showcasing a project by Ritu Sarin and Tenzing Sonam in collaboration with Natasha Ginwala titled Shadow Circus: A Personal Archive of Tibetan Resistance (1957-1974).
ALSO READ-Ethnic outfits for wedding season
Advertisement