Advertisement

The Indian pavilion uses the visual metaphor of a charpai, a traditional woven daybed found all over India, to evoke the essence of a modern Indian city chowk-an outdoor market at the intersection of streets. The charpai's weave serves as a metaphor for Indian craftsmanship and is a timeless fashion icon…reports Asian Lite News
The Netherlands' national museum and institute for architecture, design, and digital culture, the Nieuwe Instituut, will serve as the creative director of the fourth London Design Biennale, which will run from June 1 to June 25, 2023.

Participants from all over the world will be asked to envision and put into action new forms of international collaboration and participation-including with each other-through the use of design. The event will take over the entirety of Somerset House, including the Edmond J. Safra Fountain Court and River Terrace.

The India Pavilion at the London Design Biennale 2023 will be designed by The Design Village (TDV) and Studio Archohm. 'The Global Game: Remapping Collaborations' will be the focus of the fourth iteration. Chowk & Charpai: An Urban Living Room, a multi-sensory evocation of the essence of a modern Indian metropolis curated by The Design Village and created by Studio Archohm.

Speaking about the opportunity Mridu Sahai, co-founder at The Design Village expressed: "We are delighted to represent India at this global design forum amongst 40 other countries and organisations. Somerset House is such an august cultural destination; we are excited to showcase the essence of contemporary India." The exhibition not only highlights the vital role of design in addressing challenges and providing solutions but encourages international collaboration and forges future partnerships.

The Indian pavilion uses the visual metaphor of a charpai, a traditional woven daybed found all over India, to evoke the essence of a modern Indian city chowk-an outdoor market at the intersection of streets. The charpai's weave serves as a metaphor for Indian craftsmanship and is a timeless fashion icon.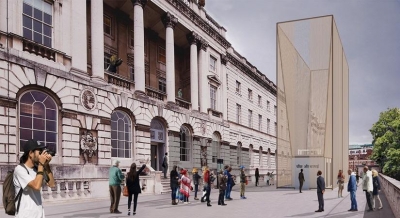 As Somerset House soaks up the British sun, the pavilion will act as a sizable urban charpai sculpture that softly shades the building. The charpai's weave creates a play of light and shadow to create a chowk, or public square, where random encounters occur. The oversized web of the charpai symbolises India, a country with a modern perspective and deep cultural roots.

Through the elements of touch, sound, sight, smell, and taste, the chowk will represent Indian urbanity which adjusts and adapts through dense landscapes. The chowk is an epitome of resilience, endurance, and resurrection: juxtapositions that speak of democracy and autonomy, ego and humility, hope and pride, rapture, and rejuvenation – this plural paradox is its true eloquence.

The London Design Biennale, which was founded in 2016 by Sir John Sorrell CBE and Ben Evans CBE, encourages international cooperation and the significance of design around the world. Since its beginning, the Biennale has welcomed the most thrilling and ambitious artists, designers, and cultural organisations to the city.