Advertisement

Presently, Let's Talk library has 1,600 books which include academic books, novels, Islamic literature, newspapers and magazines. The focus is on keeping in stock those books which the students cannot easily find in the nearby markets…reports Sahil Razvi
In the Halmatpora village of Kupwara, A student's determination has started a book movement in terms of a free library. and gradually, people are connecting with him in his social service venture called 'Let's Talk Library'.
The feat is achieved by Mushtaq, who is presently doing Bio-Chemistry (Hons) from Shri Pratap College Srinagar and boasts the fact that his college has the best library in the region. During the peak of the Covid-19 lockdown, Mushtaq could not go to the college. It was then that he also couldn't get a magazine from the local market. Later, he decided to set up the Let's Talk Library.
"The incident made me wonder about the plight of students preparing for competitive exams in rural areas," Mushtaq said. "This prompted me to think seriously about setting up something that could help students in the village get easy access to books."
Mushtaq's friend Sufiyan Iqbal said he saw his friend's dream of setting up a library when an eight-year-old girl came looking for a book she was desperate to read with someone's help.
Mushtaq regretted that whenever he shared his views, he didn't receive positive reactions from people. Even Initially, Iqbal did not believe in his friend's idea of opening a free library. "I struggled a lot in the beginning. But I kept reminding myself again and again that I would start a free library."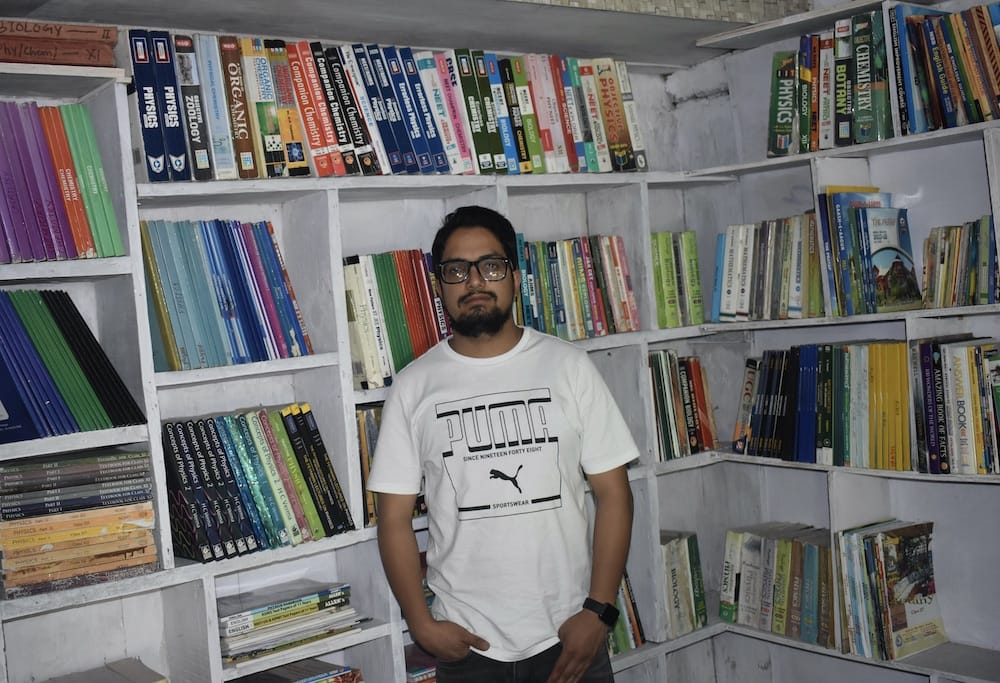 Mushtaq during the year 2020 bgan ground work to set up the library. He received support from friends, classmates and teachers of his college. "They encouraged me and helped me collect books from various sources. I reduced my personal expenses. I had saved from my pocket money for the library," said Mushtaq.
Iqbal says he changed his mind about his friend's project when students started crowding the library for books.
Mushtaq's father was among the first ones to support his idea, but as the venture flourished, other family members started appreciating his work. Like other families, his family also wanted him to lead a settled life with sufficient income. Mushtaq said, "After getting appreciation and recognition for my work, this thinking changed."
Even though over 30 people have registered themselves with the library in the last two months, Mushtaq said he does not see the need to market as he does not see it as a business.
Initially, he tried to find a place to start a reading room, but due to lack of funds he had to struggle with a small space. "I welcome anyone who wants to study here if they find this small space comfortable."
His annual expenditure including the rent of the shop is Rs.15,000. "I went to people asking for books for my library. Initially, only a few people contributed, but now I get calls from people from different districts who want to contribute their books," says Mushtaq.
He expects more footfall in the coming months. "I knew I could set up a library but did not expect such a good response from people. Many people laughed at me. But I am happy that now around 30 students can study whatever they want.
Mushtaq aims not only to help students with education but also to inculcate the habit of reading among people. "I want senior citizens to come to the library and read instead of sitting all day."
Keeping in mind the growing menace of drug addiction, Mushtaq believes that youth can be saved from falling prey to it if they are engaged in activities like reading books. According to the Institute of Mental Health and Neurosciences Kashmir, 2.8 per cent of the Valley's population is a substance abuser.
Mushtaq, who is now a passionate social worker, says that helping people gives him satisfaction. "It is better to start building a good society from a young age."
Presently, Let's Talk library has 1,600 books which include academic books, novels, Islamic literature, newspapers and magazines. The focus is on keeping in stock those books which the students cannot easily find in the nearby markets.
Mushtaq said that Kupwara is lagging behind other districts in terms of opportunities in the field of education. I want the youth of Kupwara to be inclined towards studies.
Mushtaq now aims to open 'Let's Talk' libraries in more villages. "I want to keep books available at the doorstep of students. I want to provide free study material to those students who cannot afford private coaching."
Mushtaq also has a dream to end child labour by campaigning against it in every village. "People should dream big because only then one can bring a change."
(Sahil is Journalist and Editor at Lallanpost.com, He can be reach at @SahilRazvii))