Advertisement

A one-of-its-kind brand, Mashroo has been endorsed by ace celebrities and international sports persons like Irfan Pathan, Salman Yusuff Khan, Moeen Ali, Tushar Khandekar, mehrajuddin Wadoo, parvez rasool and Danish Bhatt which adds credibility and a personality to the brand's aura…reports Asian Lite News
Mashroo, a homegrown Indian brand that is a pioneer in producing traditional fashion with an upbeat touch has recently announced their collaboration with renowned comedian Munawar
Faruqui for the showcase of their Ramadan 2023 collection.
Incepted a decade ago with humble beginnings, the brand has scaled itself to be celebrated as a seasoned player in the industry known for leading a new wave of fashion that stands out. With a steep upward curve of growth, fame and relevance for their target audience , Mashroo today is a class apart platform for those who cherish fashion.
"Munawar resembles our strive for modesty with class. We are more than a clothing brand as we seek to introduce fashion which is elegant and comfortable. We take pride in having come this far and our brand ethos are synonymous to the values brought to the forefront by Munawar", says the team in a statement.
The Ramadan 2023 collection is an ensemble of handpicked Thobes, Kurtas, and Pathani suits. The exquisite line of clothing can be accessed at their online store, mashroostore.com, and at easily accessible retail outlets in Mumbai and Bangalore. Besides this, the brand has resellers all across India, including Chennai, Hyderabad, Srinagar and a plethora of other tier 1 , 2 and 3 cities , they also have a global presence in Europe, US, and Africa.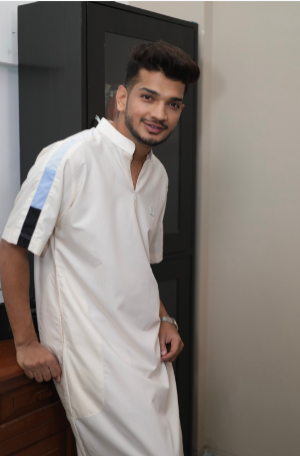 Mashroo is the choice of men and women who prefer style that's sheek yet modest. Their meticulously designed Thobes, Jubbahs, Pathanis, Abayas, and Scarves cater to people who desire to dress modestly without compromising on style. The 10-year-old legacy has enabled households to prefer their outfits and pass it on to children because of a vast collection.
A one-of-its-kind brand, Mashroo has been endorsed by ace celebrities and international sports persons like Irfan Pathan, Salman Yusuff Khan, Moeen Ali, Tushar Khandekar, mehrajuddin Wadoo, parvez rasool and Danish Bhatt which adds credibility and a personality to the brand's aura.
An alluring amalgamation of traditional and modern elements, the Ramadan 2023 collection is amongst the much-awaited releases of the brand. It is because of the brand's commitment to quality and customer satisfaction which reflects in the steady increase in the brand value over time.
The collaboration with Munawar Farooqui is another endeavor which speaks about the brand aura and will add to the brand's already impressive reputation. Mashroo speaks a language of superior quality fashion which can be worn on any occasion. Like their previous collections, Mashroo's recent launch is gathering traction amongst its buyers especially the assorted range of Thobes, Kurtas, and Pathanis.
ALSO READ-Hygiene tips for your workout life