Advertisement

The artist, who after passing out from Government College of Art, Chandigarh, has been teaching at NIIFT, Mohali, and held positions, including that of Secretary Punjab Lalit Kala Akademi and Vice-Chairman of Chandigarh Lalit Kala Akademi, feels art education in Indian institutes need to undergo a drastic change…writes Sukant Deepak
Several unfinished works are on different easels. Between never-ending cups of green tea, he says there are too many deadlines to be met.
National award-winning artist Madan Lal, whose work will be showcased at the South Korean Art fair, then Jehangir Art Gallery in Mumbai and then Turkey, says, "When you explore and work on different themes in a short frame of time, artistic sensibilities sharpen. Certain things emerge that you never thought lived inside you. Of course, there is a thin line between chaos and a collage."
His work 'The Music Within', a 25X25 acrylic on canvas, which will be part of the art fair is a yearning to discover sounds in concrete landscapes market by geometrical shapes. The work has a gramophone, concrete, and elements of nature — portraying a complete balance.
Lal hails from a rural area but has been living in the city for decades. However, one can easily see the nostalgia and melancholy associated with village life in his work.
"No matter how aesthetic the city is, one always feels a certain nehmat missing, right? This is especially true when you have lived in a rural area. Out there, there is a deep connection with the land. In urban life, paths have already been created, you just walk on them — there is a little adventure in every sense of the word. Here, one is forever looking for that gap to be filled. In my case, I have tried to do it through these series," says the artist, who has always worked in series and works in Chandigarh.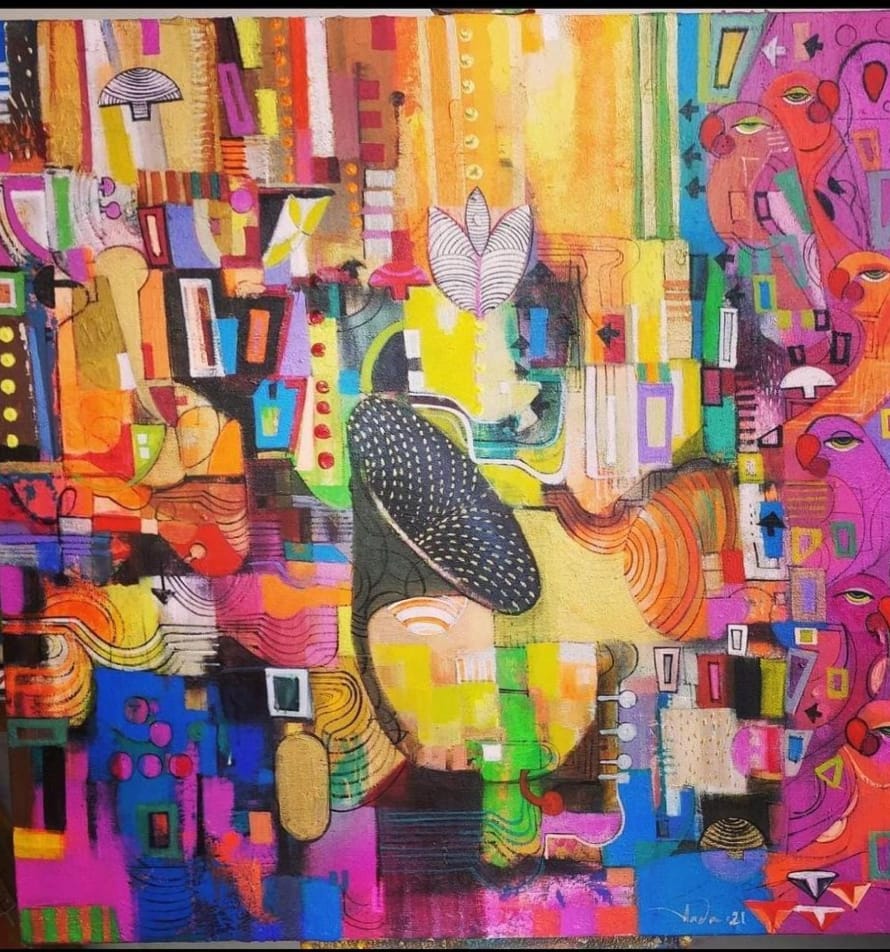 The artist, who after passing out from Government College of Art, Chandigarh, has been teaching at NIIFT, Mohali, and held positions, including that of Secretary Punjab Lalit Kala Akademi and Vice-Chairman of Chandigarh Lalit Kala Akademi, feels art education in Indian institutes need to undergo a drastic change.
Stressing that the scope of what is taught is very limited, leaving students with little room for innovation, he says, "I see a rapid decline in quality as far as institutes are concerned. They may be reading about the masters, but it ends there. A place of learning has to inspire confidence and provide new learnings besides what is in the books. When I go abroad, I see young art graduates willing to take risks, and colleges encouraging them to experiment and not follow a linear trajectory. Out there, involvement in other art forms too is considered extremely important."
He also feels that institutes need to start inviting more artists as guest faculty and not just rely on their teachers.
"Instead of focussing on introducing semester systems, which leave little time for students to look at anything except theory, why not invite senior artists to share their experiences, gallerists, and those working with auction houses? What is wrong with preparing them for the real world early on?" asks the artist who has exhibited at the World Dubai Art Fair, POSK Gallery in London, Nehru Centre in London, Asian Art Gallery in the US, and in Sweden.
Looking forward to his trip to Turkey in October, Lal, who is also a member of the Himachal Academy of Arts, Culture, and Languages, says international workshops are something he looks forward to.
"Be it in Egypt, Turkey, Macedonia, Dubai, Bosnia, or Serbia, they give you a chance to look at diverse approaches towards fine arts. There is so much learning about different cultures."