Advertisement

ZENB was founded by the Japan-based Mizkan Group over two centuries ago. ZENB exists to cultivate more mindful eating … for ourselves, our community, and the world around us. A feature by lifestyle columnist Riccha Grrover for Asian Lite International.
They take a plant-full approach as they re-invent everyday food using only real ingredients. Embracing the Japanese zenbu concept of WHOLE, they add less and waste nothing to unleash the flavor & nutrients of plants.
Their food development legacy stretches back over 200 years with a nature-driven, upcycling approach. Today, they are applying their expertise to unlock what plants can do with no compromise on taste & texture.
The company began by making vinegar using "sake lees", the by-product of brewing sake which was normally thrown away. The sweetness and flavour of the Mizkan vinegar paired deliciously with sushi, as popular then as it is now, and many restaurants started using it.
Throughout its history, Mizkan has kept the philosophy of environmental consciousness at the centre of its core values while offering tasty and healthy choices.
To further pursue its philosophy, and inspired by its food waste history, Mizkan launched ZENB in the US and Japan in 2019, and in the UK in 2020.
ZENB's hero product is its Yellow Pea Pasta. The UK's first pasta to be made entirely from this small but powerful legume, it has become a key ingredient of many a diet since launching back in 2021. It is available in four familiar shapes: Spaghetti, Penne, Fusilli and Macaroni, plus their quick cook yellow pea pasta, Pasta Agile.
ZENB's hero product is its Yellow Pea Pasta. The UK's first pasta to be made entirely from this small but powerful legume, it has become a key ingredient of many a diet since launching back in 2021. Supremely flexible, this twist to a store cupboard staple gives a new dimension to a mid-week meal, offers a filling and satisfying alternative to the lunchtime sandwich and provides a protein-rich, post-gym meal.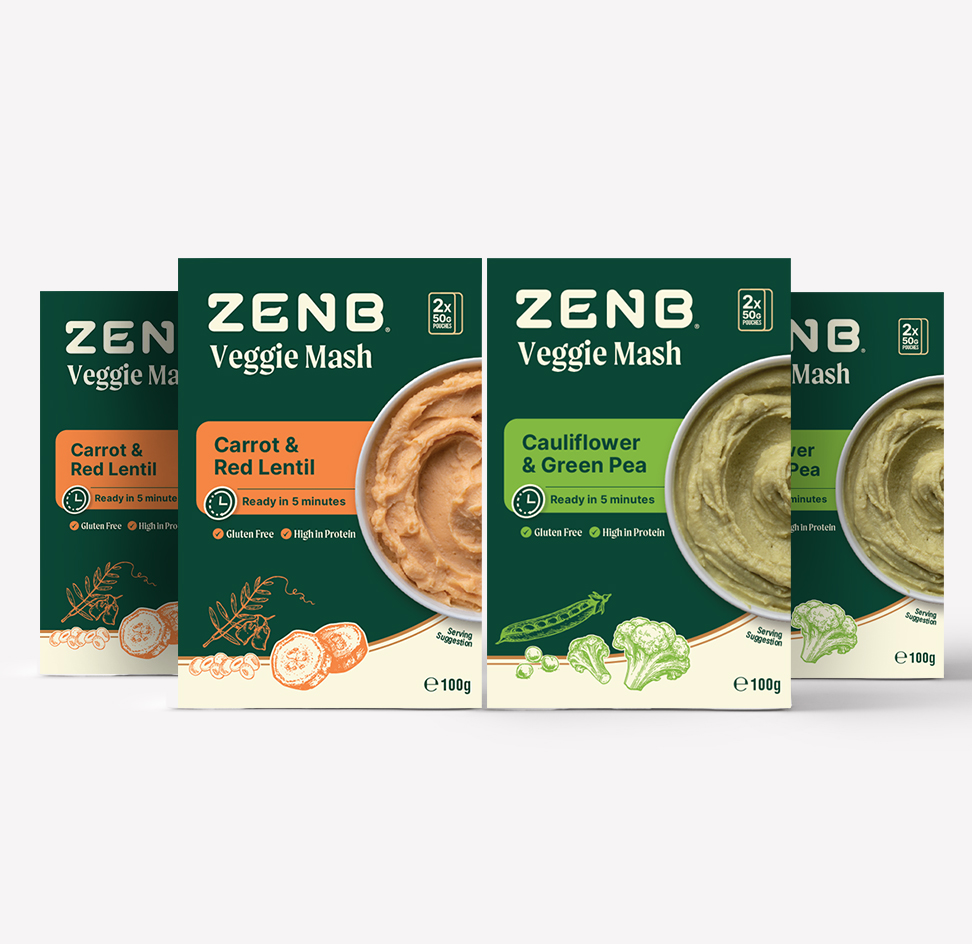 Made from 100% yellow peas, the range illustrates the brand's unique single ingredient, whole-plant approach.
Yellow peas come from the same family as green peas, but they dry to a golden yellow before they are harvested.
By having an impact on the total production of the crop rotation – helping other crops, such as wheat, get access to soil nutrients and reducing root diseases – they have been shown to increase soil microbial diversity. Peas also adapt well to where there is no access to irrigation, being more drought tolerant than cereals.
Neither do they use as much water as other crops in rotation, with one study showing they use 34 mm less than high water crops like wheat. Thus more water is left over after the peas have been harvested, which then provides a benefit for the next crop in rotation.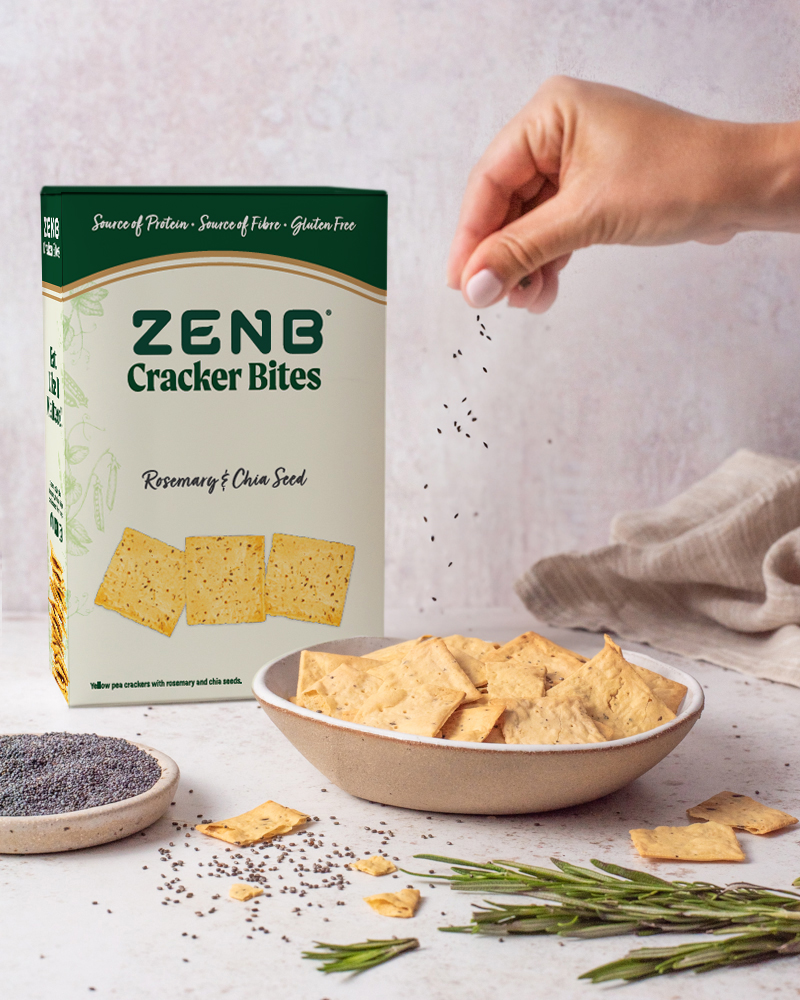 A true superfood in every sense, they are also milder with a nuttier taste, and a rich source of fibre, protein, potassium, phosphorous and iron.
In simple terms this means that a ZENB pasta meal not only tastes amazing, with a subtle aroma and al dente texture, but will help maintain healthy bones and blood pressure and reduce fatigue.
But the ZENB experience doesn't end with Yellow Pea Pasta. Also on offer is a range of equally tantalising pasta sauces, along with Agile Bowls that bring a whole new dimension to lunchtimes.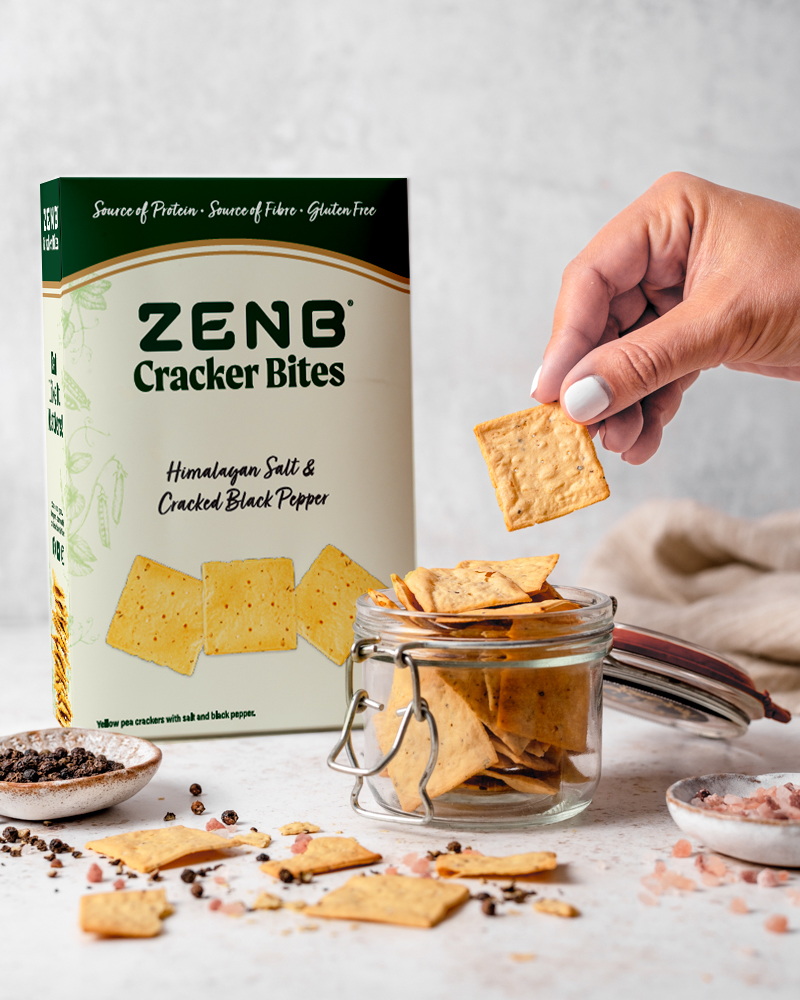 The entire ZENB range is also gluten free and in 2022, the brand announced a multi-year collaboration with FC Barcelona, that saw the footballing legends become ZENB's Official Gluten-Free Food Partner in the UK.
This pioneering deal reflects the role that great-tasting, plant-based, gluten- free foods that are high in protein and fibre are now playing in supporting and maintaining a balanced lifestyle, not just for elite athletes but us mere mortals too!
ZENB's Yellow Pea Pasta range is available in four familiar shapes: Spaghetti, Penne, Fusilli and Macaroni.
Also on offer is the rather amazing Pasta Agile, a unique new shape with precision-cut surfaces to retain a tasty, al dente texture. The thin, curved walls also encourage flavour absorption and allow sauces to grip every nook and cranny. All that in two minutes of preparation.
In addition, the ZENB menu includes a collection of Gourmet Pasta Sauces: Cherry Tomato: slow cooked whole cherry tomatoes, combined with the aromatic flavourings of garlic and basil; Tuscan-inspired Red Pepper: roasted red bell peppers (including stems and seeds) with sautéed onions and olive oil and Sweet Carrot: slow cooked sweet carrots (with skin), combined with the smooth flavours of tomatoes and oregano.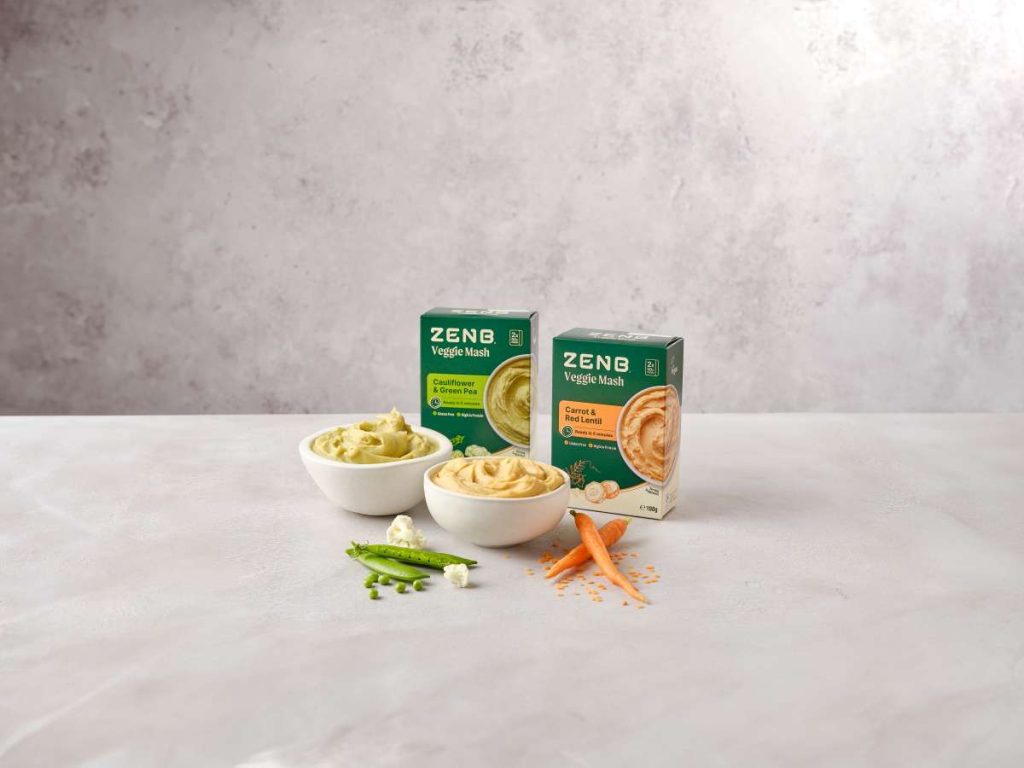 Finally, why not bin the boring sandwich for an exciting new lunchtime offering in the shape of ZENB's tasty and convenient Agile Bowls? Available in six irresistible flavours – Zesty Garlic Spinach; Vegetable Thai Curry and Cauliflower Tikka Masala among them – just add boiling water and enjoy!
Now this small but powerful legume takes centre stage in ZENB's latest product line, Cracker Bites. Exclusively available online from the end of July, ZENB's Cracker Bites tap into a rapidly growing demand for healthier snacks. In fact, a recent report by the bible of the food & drink industry, The Grocer, revealed that 65% of consumers are actively looking for more veggiefocused snacks while the pulse-based snack industry has doubled in the last few years.
Available in three varieties, Onion & Poppy Seed, Rosemary & Chia Seed and Himalayan Salt & Cracked Black Pepper, Cracker Bites are gluten-free and a source of fibre and protein. They use whole yellow peas as their base, adding into the mix only a handful of other ingredients.
ZENB's Cracker Bites are also the first product in the brand's ever-growing portfolio to have the cross grain logo, certified by Coeliac UK.
The new range tastes amazing too, presenting consumers with a smarter way to snack between meals on a healthy product that is not loaded with fat, salt and nasty additives.
Their new Cracker Bites already taking a giant nibble out of the snack market, this September finds disruptive plant-based food brand ZENB all set to debut yet another addition to its rapidly expanding portfolio: Veggie Mash.
For centuries, mashed potato has been a hugely popular staple in many cultures. No more so than in the UK where a recent poll by YouGov named it the nation's 5th most popular dish. Yet making mash from scratch can be time-consuming, whilst the alternative option – the instant kind – is full of preservatives, sugar and salt.
So it was that the seriously talented creatives at ZENB decided to create a product that would disrupt the mash market by offering nutritional benefits not available in any other product.
ZENB Veggie Mash is high in fibre and protein; traditional mashed potato contains neither. It is also gluten-free, contains no added salt or sugar and can be made in just five minutes.
Available in two varieties – Cauliflower & Green Pea and Carrot & Red Lentil – ZENB's Veggie Mash is a nutritious, convenient and timesaving complement to the classic British meal.
Like Cracker Bites, Veggie Mash represents an exciting broadening of the ZENB positioning, as this much lauded and hugely successful brand evolves from signature products like its yellow pea pasta – now found in food cupboards across the land – towards creating healthy whole vegetable food for all meal occasions.
ALSO READ: W Hotel London AFTERNOON TEA WITH ARTIST LOIS O'HARA: Bringing Palette to Plate
Advertisement