Advertisement

At a public event in New York's Times Square, the Chief Minister Pinarayi Vijayan addressed the diaspora community from Kerala, highlighting the state's achievements in various sectors over the past six years….reports Asian Lite News
Chief Minister Pinarayi Vijayan praised Kerala as a beacon of progress, emphasising the importance of inclusivity and unity for a brighter future. Speaking at a public event in New York's Times Square, he addressed the diaspora community from Kerala, highlighting the state's achievements in various sectors over the past six years.
Vijayan inaugurated the American Regional Conference of the Loka Kerala Sabha, a non-resident Keralites' convention in New York.
The event was attended by Speaker AN Shamseer, Finance Minister KN Balagopal, Chief Secretary V P Joy, and other senior officials. He emphasised Kerala's commitment to social harmony, equitable growth, and progressive values, citing infrastructure development, investments in education, healthcare, and economic advancements.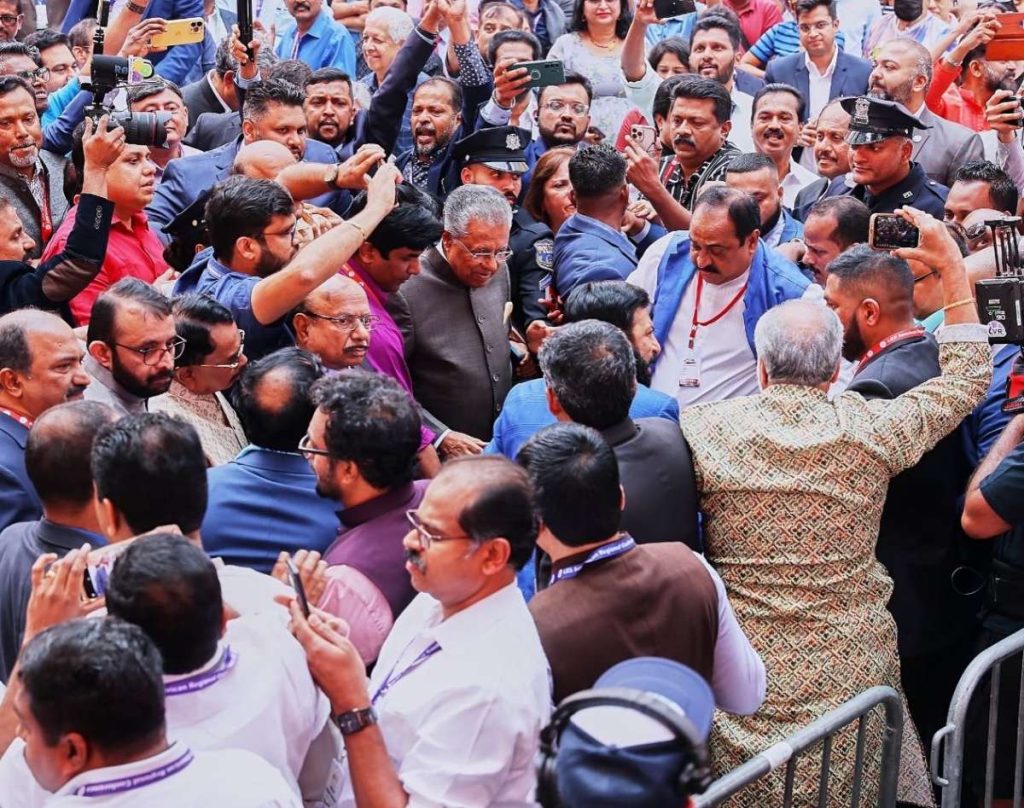 The chief minister stressed that Kerala's policies prioritise compassion, social justice, and empowerment of marginalized communities. He proudly stated that Kerala stands as an example of inclusive development, with a strong focus on people's well-being.
Vijayan acknowledged the state's achievements, such as attaining the top position in the national food safety index and being recognized as the most literate state. Kerala's government schools, hospitals, and law-and-order situation were commended as the best in the country, fostering communal harmony and peace.
Encouraging cooperation from Malayalis worldwide, Vijayan urged them to contribute to Kerala's ongoing prosperity. He also highlighted Kerala's status as India's first fully e-governed state, emphasizing the importance of technology in promoting transparency, efficiency, and inclusivity. Over 900 public services are now accessible online, revolutionizing governance in Kerala.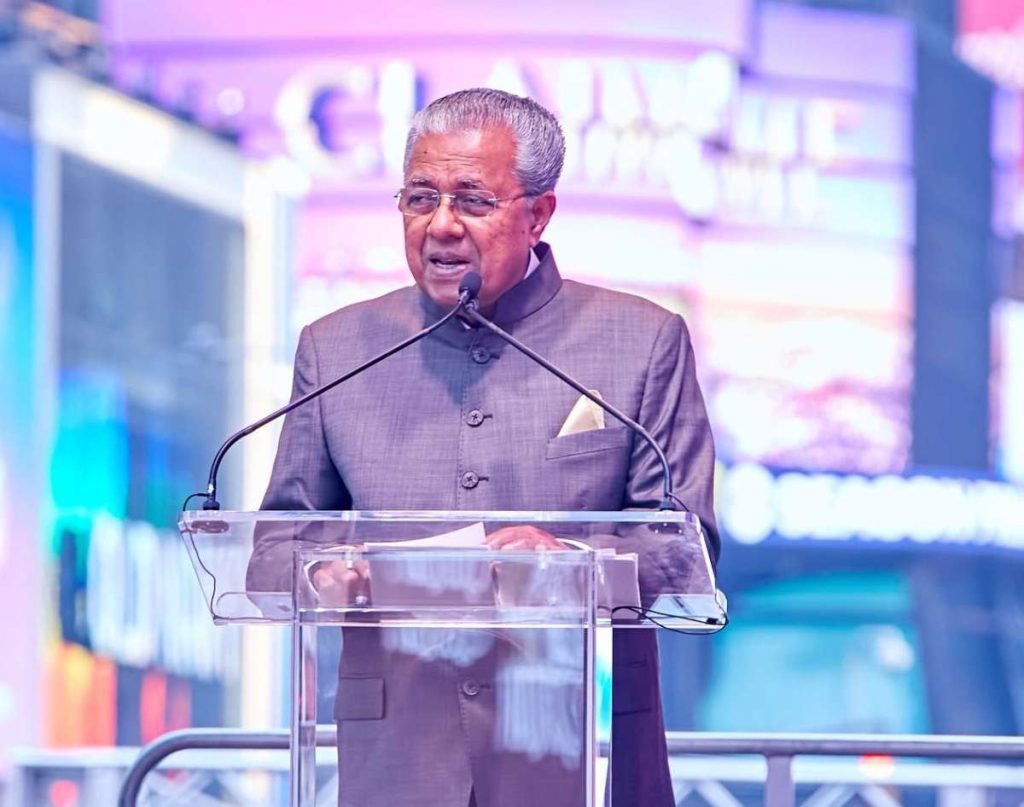 Vijayan said that his government's controversial semi-high-speed rail project, SilverLine, which has been back-burnered by the Centre, will be a reality.
We're working toward getting approval for the project even as a certain section adopted a stand to sabotage it. Pressure was put on the Centre to stop the project… so, under the circumstances, though the project has not been approved yet, the semi-high-speed rail service will be materialised," Vijayan said.
The Kerala CM has claimed that Kerala's rail connectivity is poor compared to its air transport, roads and waterways. He said while the single Vande Bharat service in Kerala has gained acceptance, people have not given up hope on the K rail.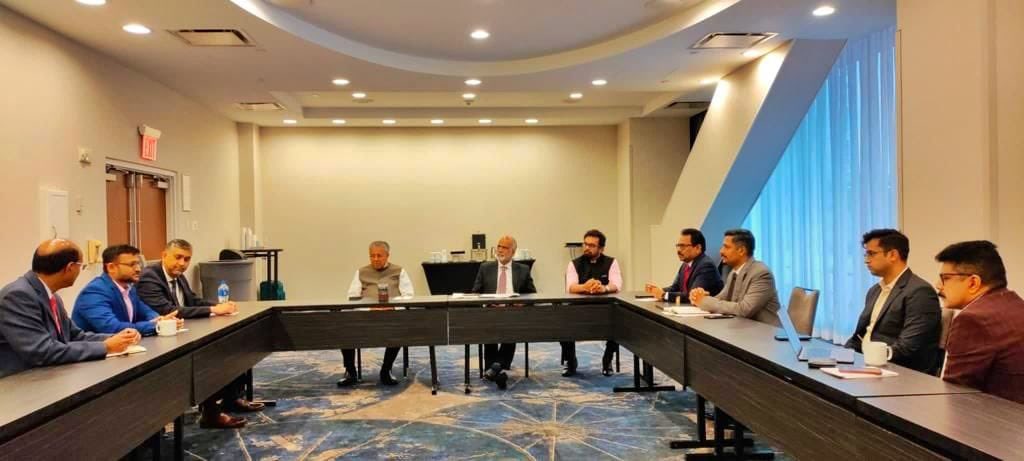 In conclusion, Chief Minister Vijayan celebrated Kerala's achievements, its commitment to progress, and the collective effort required to continue the state's journey towards prosperity.
Earlier, the chief minister has inaugurated the Business Investment Meet and met with Malayali investors in America, prominent expatriate Malayalis, IT experts, students and women entrepreneurs.
"Had a fruitful interaction with prominent Malayali industrialists, heads of institutions, and entrepreneurs in the US, exchanging ideas that can fuel innovation and drive the economic progress of the state. Together, let's strive hard to build a prosperous future for Kerala," Vijayan tweeted.
The Chief Minister is also scheduled to meet the World Bank South Asia Regional Vice President Martin Raiser in Washington DC. On June 13, Vijayan will personally visit and understand the Maryland waste management systems. On June 14, he will leave New York for Havana.
The Chief Minister will participate in various programs in Havana on June 15 and 16. He will meet with various dignitaries. The Chief Minister will also visit the places of historical importance including the memorial of Jose Marti.
The first Loka Kerala Sabha happened in January 2018. 351 members attended the first Loka Kerala Sabha, out of which 100 were living abroad, 42 were from other states of India, 30 experts from various fields and 6 members representing non-resident Keralite returnees and peoples' representatives.
Advertisement