Advertisement

Are you looking for culinary inspiration for Onam celebrations this year? If yes, we have got you covered. For the uninitiated, Onam is the biggest harvest festival synonymous with sadhya, boat races, and pookalam (flower arrangements) in Kerala. (General trivia: King Mahabali introduced Onam to invigorate the spirit of farmers during the harvest season). Sadhya is the celebratory food spread prepared during the festival of Onam, a vegetarian nine-course feast served on a banana leaf, usually consisting of regional dishes such as sharkara upperi, inji puli, avial, eriserry, sweet appam, and payasam. In the spirit of the festival, here are a few recipes of delectable dishes that you can make for Onam this year. Tune into 'The Tastes of India Podcast (Hindi): Indian Recipe Food Podcast & Cookery Show' on Audible to learn from an array of 200 such recipes including essential Sadhya preparation for Onam this year.
KERALA VEGETABLE STEW
Ingredients
3 tablespoons edible coconut oil
2 bay leaves
2 three-inch cinnamon sticks
4 green cardamoms
5-6 cloves
1 onion finely sliced
1 teaspoon ginger crushed
2 cups of diced potato
1 cup of chopped beans
1 cup carrot diced
Salt to taste
4 slit green chillis
A few curry leaves
1 teaspoon pepper powder
2 cups of normal milk (substitute for coconut milk)
Method:
To prepare Kerala-style vegetable stew, heat the three tablespoons of edible coconut oil in a pan, once the oil is hot, add four cardamoms, two 3-inch cinnamon sticks, and two bay leaves and saute these ingredients for a few seconds.
After this, add onion and fry it till it is translucent. Add the crushed ginger and fry for a few more seconds. Put all the potatoes, beans, and carrots in one by one, top it off with salt according to preference, and mix everything well.
Cover and cook while stirring in between and once the vegetables are half cooked add the curry leaves, and green chillis and cover it again.
After the vegetables are cooked remove the lid, then add pepper powder and give it a nice stir. Fry for a minute or two, switch off the stove so the mixture cools down a bit.
Post 2 minutes add milk to it and mix it well again, then switch on the stove and stir the mixture well. Cover the mixture with a lid and cook for about 10-15 minutes on a slow flame stirring in between.
Towards the end, add one tablespoon of coconut oil and stir. The vegetable stew is ready to be served.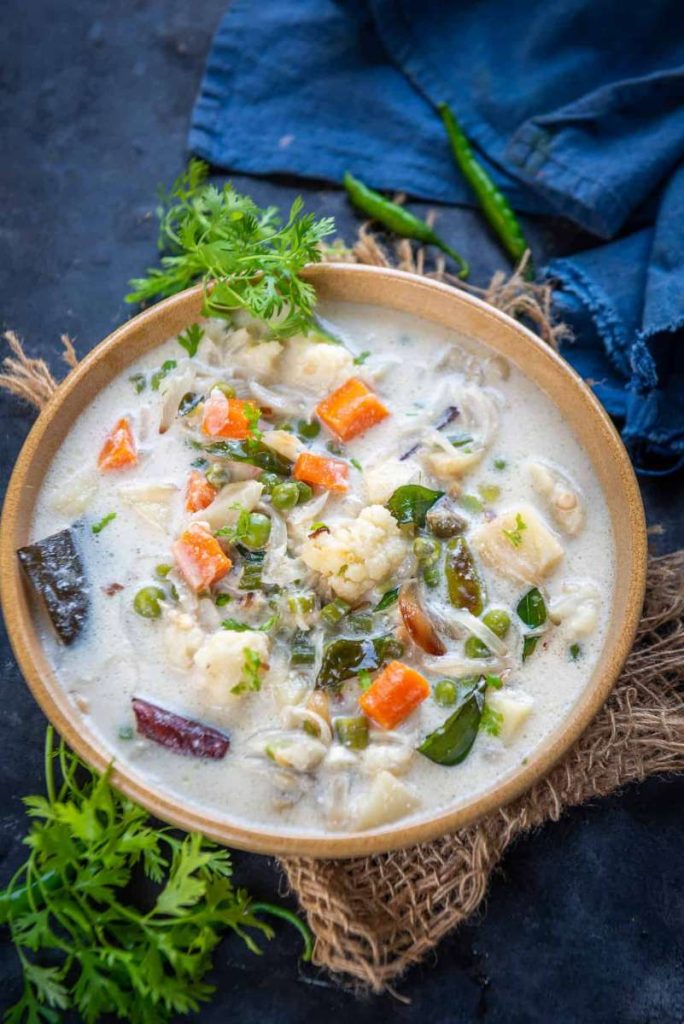 MATHANGA ERISSERY
Ingredients
500g of small-sized pumpkin cubes
Water as required
Red chilli powder
½ teaspoon turmeric powder
½ tablespoon jaggery
Salt to taste
Half grated coconut
1 tablespoon cumin seeds
1 full grated coconut for seasoning
1 teaspoon of mustard seeds
3-4 broken whole red chilies
7-8 curry leaves
3 tablespoons coconut oil
Method
Grind 1 tablespoon of cumin seeds and half-grated coconut to a fine paste in a mixer by adding a little water to it and keep this aside. In a saucepan add the chopped pumpkin, ½ teaspoon turmeric powder, red chili powder, salt, and water, and let it cook.
Once the pumpkin gets cooked, mash it well, and add the coconut paste to this. Cook this on low flame for about 5-7 minutes, as this is cooking heat in another pan, add some mustard seeds to it, and wait for it to pop.
When the mustard seeds start crackling, add the curry leaves, 3-4 broken whole red chilies, and add coconut to this mix. Fry this mix and keep stirring until golden brown.
Combine the coconut garnish mixture with the curry and keep it covered for a while. It is it is ready to serve.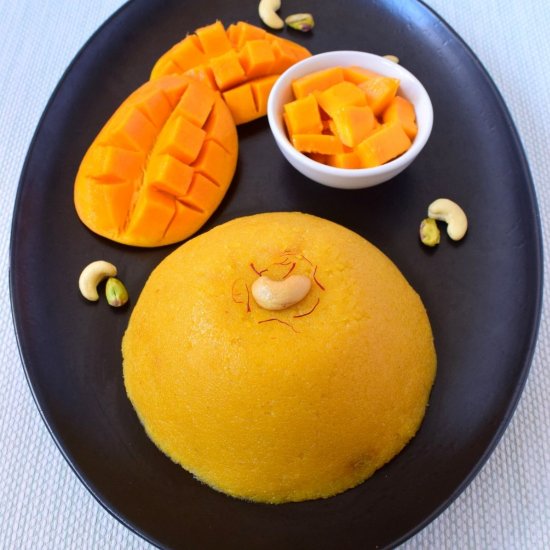 MANGO RAVA KESARI
Ingredients
Half a cup of semolina
Half a cup of mango pulp
One cup sugar
One and a half cups of water
3 cardamon powdered
1/4th cup ghee
6-7 cashew nuts
1 tablespoon raisins
Method
Grind the mango paste in a mixer to form a smooth paste.
Stir fry 6-7 cashew nuts in two teaspoons of ghee until it is golden brown. In the same pan, add raisins to the used ghee to stir fry them as well.
Now add 1/8th cup of ghee to the same pan, roast the half cup semolina on medium flame, and ensure that the rava does not change its color.
Boil one and a half cups of water, add kesar and half a cup of mango pulp to it, mix it well, and then add the roasted rava to it.
While you add the roasted rava, ensure that you are stirring briskly to avoid forming lumps and wait for a slight aroma to switch off the flame. Once it attains the consistency of a porridge, lower the flame, and cook it until the rava is soft while covered with a lid.
Add one cup of sugar and powered cardamons to the rava and you will see that it is loosening again.
Add the remaining ghee to this and turn off the flame when it comes together as a mass. Garnish this with nuts and raisins and your mango rava kesari is served. 
ALSO READ-Recipe: Delicious red sauce pasta