Advertisement

Use oil on your hair too. People with long hair can tie their hair into a bun or ponytail. This will prevent the colour from harming the roots of the hair and will also ensure that the colour from the hair washes off easily…reports Jaishree Sharad
Holi is a festival of colours and one of the most widely celebrated festivals in the country, especially in North India. Holi is also symbolic of the triumph of good over evil.

Aptly called as the festival of colours, it is that time of the year again when people come together, rejoice and apply colour on each other to share their joy. However, a lot of people use heavy metals and chemicals instead of organic colours and this may be detrimental to the skin and eyes as well.
Let us see how to take care of our skin during Holi:

Skin issues due to holi colour which is not organic :

dry skin

dry hair

brittle nails

rash hives

irritant contact dermatitis

allergic contact dermatitis

flare up of acne, dandruff, atopic, psoriasis

The black paste has lead oxide, Green has copper sulphate, and red has mercury sulphate. The shimmering given to these colours is by mica and powdered glass, which are meant for industrial use. All these can cause skin irritation. There can be itching, a red rash and irritation on the area of contact.

First of all, it is advisable to use natural/skin friendly and organic colours or the ones made by reputed companies using natural products. Colours made from flowers and coloured vegetables like beetroot are the safest.

Apply a moisturizer with ceramides and occlusives such as oils (coconut oil, mineral oil, almond oil, etc) butters (shea butter, cocoa butter), waxes such as bee's wax, white soft, yellow soft, paraffin, petrolatum, silicones prior to playing Holi to all exposed parts of the skin. Occlusive ingredients form a barrier on the skin which shields the skin from harmful chemicals.

Follow it up with a waterproof sunscreen which has SPF of at least 50 and is broad spectrum ie it provides protection from UVA, UVB, infrared and blue light.

Make sure to wear clothes that cover the maximum part of your body.

Petroleum jelly should be applied under nails and soles, elbows and other dry areas of the body.

Use oil on your hair too. People with long hair can tie their hair into a bun or ponytail. This will prevent the colour from harming the roots of the hair and will also ensure that the colour from the hair washes off easily.

Apply dark colour nail paint to your nails so that the nails do not get coloured.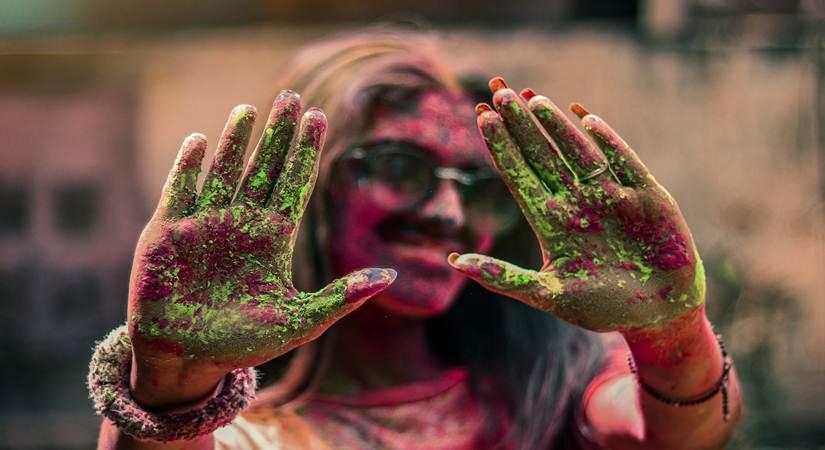 Skin care after playing with colours:

Use a gentle cleanser or a cream cleanser to cleanse your face. You may also opt for baby oils to remove colour. However, if you have acne prone skin, use a cleanser with aloe vera or grape seed extract instead of baby oil to prevent clogging of pores. Avoid using foam based cleansers and soaps . They can alter the skin pH and cause dryness and irritation. Do not rub the skin vigorously. Avoid using hot water to wash your face or to bathe.Hot water could rip off the moisture from your skin. Use lukewarm water or water with normal temperature instead. Do not try to remove the colour at one go if it doesn't come off. You could always try the next day.

Shampoo your hair immediately after you play holi. Make sure you use a conditioner too.

Remember to use a good ceramide-based moisturizer on the entire body after a shower.

For irritated skin or minor rashes, apply a mixture of calamine lotion. Apply an ice pack on the irritated skin. If the condition persists, go to a dermatologist.

In case of any rash or allergy, treatment would include taking a non-sedative, anti-allergic tablet, like Cetrizine or fexofenadine (allegra).

(Dr Jaishree Sharad, internationally renowned cosmetic dermatologist, Author, TEDx speaker, Founder of Skinfinitii Aesthetic Skin and Laser Clinic)
ALSO READ-Exhibiting 'Ananta'