Advertisement

The Saudi staff of Lulu Hypermarket created 'The Biggest Human Saudi National Flag' measuring 18m X 12m in celebration of the 1st Saudi Flag Day
Lulu contributes to the history of Saudi Arabia by creating a memorable moment! Artist Da Vinci Suresh gathered over a thousand of Lulu's Saudi national staff at the Al Khaleej Football Club Stadium on March 11.
The Saudi staff of Lulu created 'The Biggest Human Saudi National Flag' measuring 18m X 12m in celebration of the 1st Saudi Flag Day. This remarkable display took several days of planning, precision, and practice to execute over the course of three hours.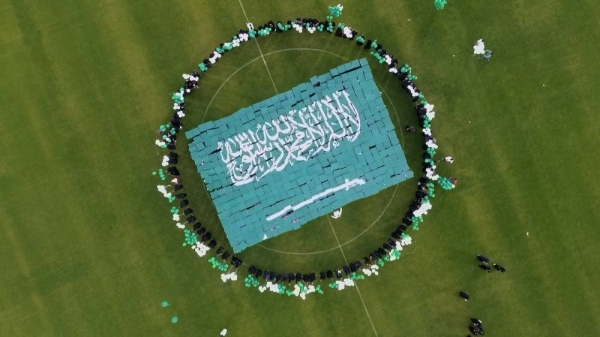 "We are proud to be a part of the progress and development of the Kingdom of Saudi Arabia. We have a growing number of millennial Saudi shoppers who value the opportunity to demonstrate patriotism and showcase their participation in the new themes of identity and nationhood which resonate in the Kingdom," said Mr. Shehim Mohammed, Director of LuLu Saudi Hypermarket.
The Group is committed to partnering with the progress and development of KSA and has ambitious expansion plans for Saudi Arabia. Lulu Saudi Hypermarket is a retail favourite in KSA and has over 30 stores across the Kingdom.
The first-ever National Flag Day of the Kingdom of Saudi Arabia celebrates the flag, which has been seen as a symbol of strength, sovereignty, and national unity since the foundation of the Saudi state in 1727.