Advertisement

Khamisani was among the first wave of the pioneering ethical fashion movement in Europe in the mid-2000s, setting up the independent fashion brand Outsider in London in 2009…reports Asian Lite News
Visitors to the ongoing Sharjah International Book Fair (SIBF) had the opportunity to engage with designer and environmental advocate Noorin Khamisani as she addressed the profound impact of the fast fashion industry on the environment and its ethical implications.
In a one-on-one conversation with radio presenter Louis Denham, Khamisani provided an eye-opening journey into the often-overlooked consequences of our clothing choices.
"I think one of the most difficult things is that a lot of fast fashion, no matter what kind of garment it is, is made from polyester, which is basically plastic. And then if that ends up being thrown into a landfill, well, as far as we know, it's never going to biodegrade," warned Khamisani who currently works as the Programme Leader in Postgraduate Fashion at Istituto Marangoni London.
"I think one of our biggest challenges is to move away from being so dependent on polyester and synthetic fabrics in general", she added.
When asked how she would differentiate a need from a want when it comes to fashion, Noorin noted: "I think you have to be honest with yourself. Most of us have about 70 percent of our wardrobes just hanging there, with clothes that never get worn. So it's all about going into your wardrobe and looking through and sometimes rediscovering things".
"And that's where we come back to thinking of fashion as a verb, as something that we do. So how do we fashion ourselves? How do we interact with fashion rather than fashion always being about consumption," she added, urging the audience to "share and swap" clothes with friends. 
"If they just don't work for us anymore, chances are you might have a friend who might really love that piece, and they might get that lovely emotional bond of knowing that it belonged to you and that it's being passed on to them. And I think this is where fashion becomes so much more meaningful".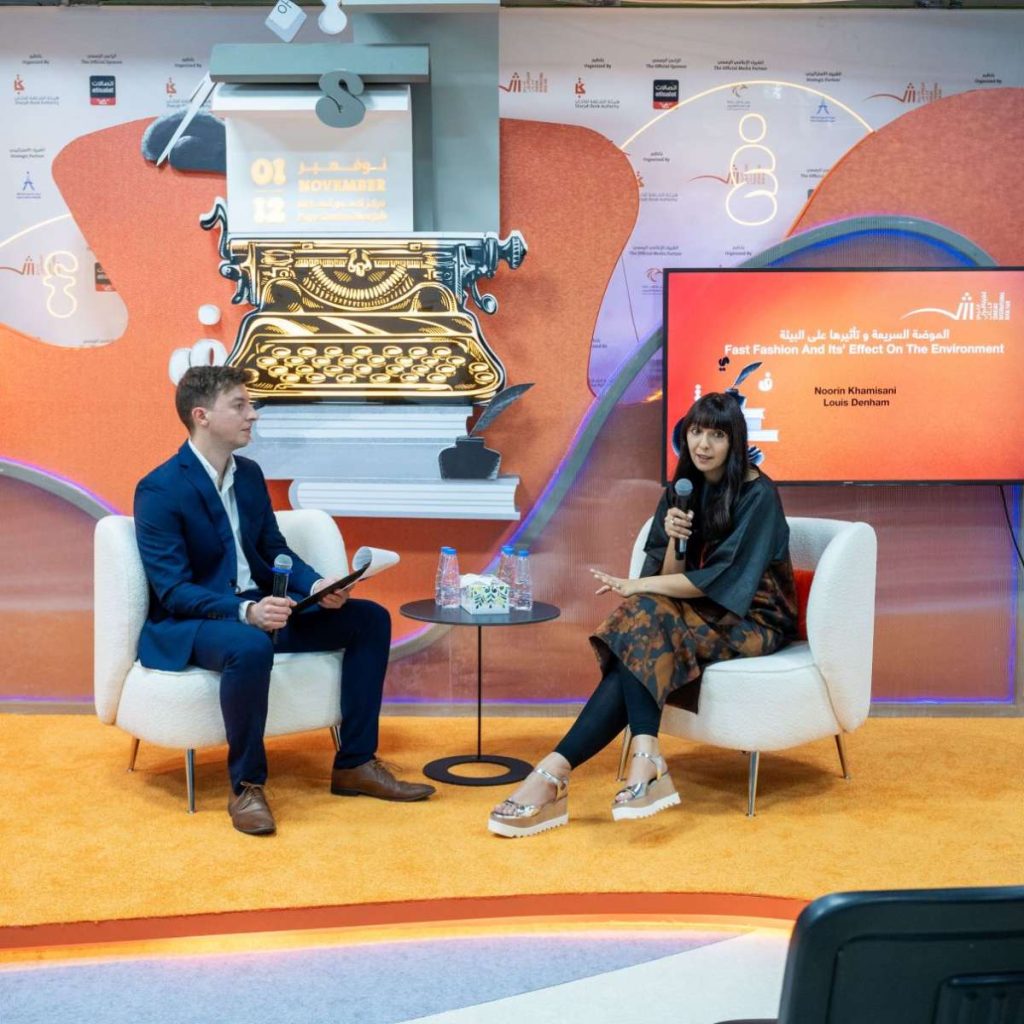 Talking about the "whole new realm" for fashion designers to create "digital garments" for people that "just want to have a new outfit on Instagram", she said: "This is complicated. It's not like a complete replacement, but it does help to get us thinking differently. Like if all you want is to wear it on Instagram, why do you need to physically own that?," she asked.
Khamisani was among the first wave of the pioneering ethical fashion movement in Europe in the mid-2000s, setting up the independent fashion brand Outsider in London in 2009. She continues to exhibit and sell her work internationally as well as lecturing in fashion design after being part of the founding faculty at the Dubai Institute of Design and Innovation (DIDI) in 2019.
ALSO READ-Role of AI in enhancing visitor experience & library services
Advertisement