Advertisement

'AARAMBH' represents a true global collaboration, with Abby V, based in Toronto, and Ricky Kej, a world-renowned composer-producer, joining forces to create a musical masterpiece that transcends borders and time zones. The album is also featuring acclaimed guest vocalists KS Chithra, Jonita Gandhi, Pratibha Singh, Sivaangi, Sona Mohapatra, Antara Nandi, Benny Dayal and Asad Khan on sitar. Release Date; 24 November, 2023. Available from groundbreaking UK-based imprint Sufiscore
In a musical journey that transcends continents and time zones, the young master vocalist Abby V and the three-time GRAMMY-winning, Billboard #1 composer-producer, Ricky Kej, have forged a remarkable friendship that results in awe-inspiring musical creations. Their latest venture, "AARAMBH," is a full-length album produced exclusively for Sufiscore, a UK-based, South Asian-focused music media platform.
This album showcases the Toronto-based sensation Abby V lending his extraordinary voice to a captivating collection of compositions by Ricky Kej, including a mesmerizing cover of the iconic Lennon & McCartney classic, 'Yesterday,' featuring the accomplished Asad Khan on sitar.
"AARAMBH" represents a true global collaboration, with Abby V, based in Toronto, and Ricky Kej, a world-renowned composer-producer, joining forces to create a musical masterpiece that transcends borders and time zones.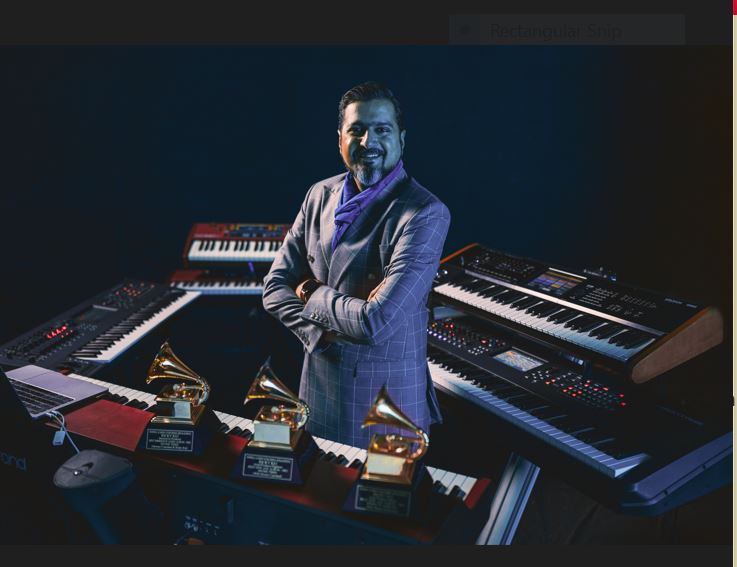 The album is a splendid fusion of musical genres, seamlessly blending Indian classical music, electronica, strings, beat-based ambient music, and more. This diverse palette of musical influences promises a unique and immersive listening experience.
Abby V, known for his exceptional vocal prowess as an Instagram and YouTube sensation, takes center stage, showcasing his extraordinary vocal talent that harmoniously complements Ricky Kej's compositions. Their collaboration promises to deliver musical magic that will captivate audiences worldwide.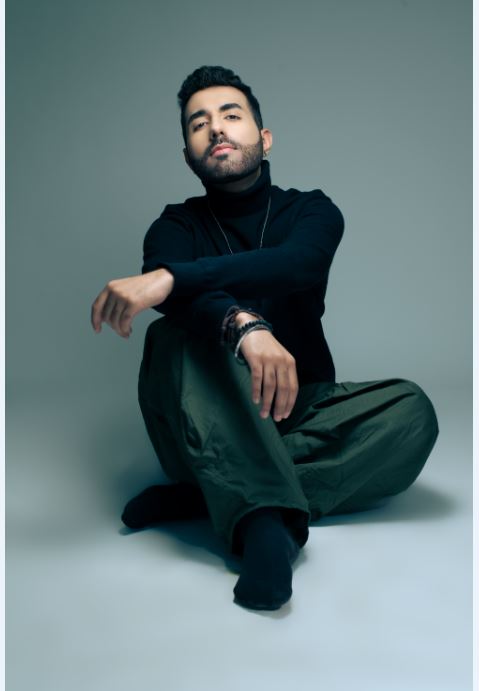 A standout feature of "AARAMBH" is the enchanting cover of 'Yesterday' by Lennon & McCartney, where Abby V's emotive rendition is enhanced by the skilled sitar performance of Asad Khan. This reinterpretation of a classic song promises to be a highlight of the album.
Joining Abby V on various tracks are an array of renowned Indian vocalists, resulting in beautiful duets that further enrich the album's sonic tapestry. The involvement of these esteemed artists ensures that the album boasts a star-studded roster.
"AARAMBH" is a testament to the power of musical collaboration, bringing together the talents of Abby V and Ricky Kej, who bridge the gap between cultures and genres to create a musical masterpiece that is both diverse and harmonious. With the promise of an iconic cover and star-studded duets, this album is set to be a remarkable addition to the world of music, captivating audiences with its fusion of Indian classical music, electronica, and more.
The album is also featuring acclaimed guest vocalists KS Chithra, Jonita Gandhi, Pratibha Singh, Sivaangi, Sona Mohapatra, Antara Nandi, Benny Dayal and Asad Khan on sitar.
"The heart of the album is traditional Indian classical music," says the Bangalore-based Kej from the road in Nashville, Tennessee. "But the instrumentation is very modern — it's in a palette that will appeal to people who listen to many kinds of music. We're taking Indian classical music to listeners that would not normally listen to it."
"A lot of my learning and training has been in Indian and Western Classical music," says V. "I've sung in English, Latin, German, a lot of Hindustani and Carnatic music, and a lot of what I present online is an amalgamation of styles. I want to present it so it's not restricted to a certain part of the audience. This album truly stands for that."
Sufiscore is not just a traditional label but a YouTube channel amassing millions of views of songs from the Asian and South Asian markets. By celebrating new creative processes with leading musicians adapting to adversity as they continue to explore global fusion, Sufiscore is opening doors to international collaborations wherever musicians are in the world. Through live-syncing, remote recording and other practices, Sufiscore seeks to usher in new ways of making and consuming music online.
In addition to the work of Abby V and Ricky Kej, Sufiscore has released such albums as Inheritance by vocalist Pratibha Singh and Unbounded – Abaad by sitar virtuoso Purbayan Chatterjee, who is joined by Singh as well as Béla Fleck, Gary Husband, Jordan Rudess, Zakir Hussain, Antonio Sanchez and more. AARAMBH releases on the 24th November internationally through Sufiscore.
Track Listing AARAMBH
Total playing time: 35: 25
01 Rathiya Ft. Jonita Gandhi 03:53
02 Ghule Kajarwa Re Ft. Sona Mohapatra 05:35
03 Kahe Sataye Ft. Pratibha Singh Baghel 03:49
04 Payoji Maine Ft. KS Chithra 03:29
05 Yesterday Ft. Asad Khan 03:47
06 Balama More Ft. Antara Nandy 04:36
07 Kaga Jaa Re Ft. Benny Dayal 05:09
08 Mangala Din Ft. K. Sivaangi 04:33
Sufiscore:
https://www.youtube.com/channel/UC2P4ZF54afaHo7JcDVVCWzQ
Ricky Kej: https://www.rickykej.com/
Abby V: https://www.instagram.com/abbyvofficial/?hl=en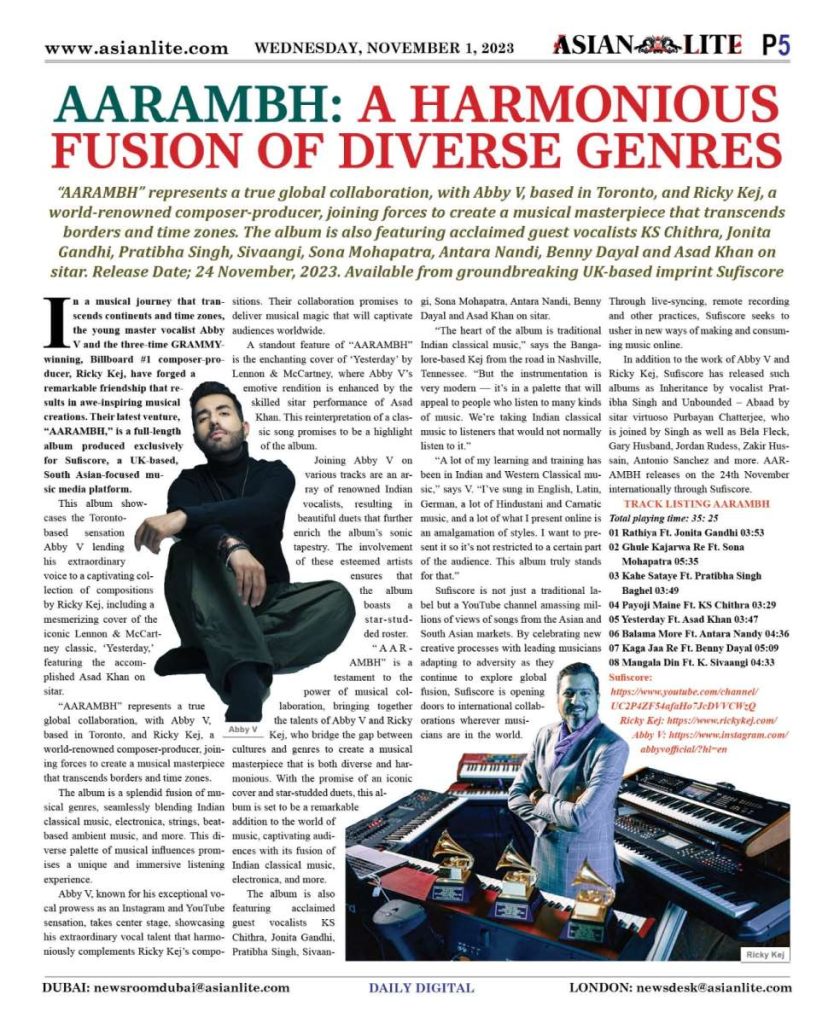 Advertisement