Advertisement

Earlier, UK Prime Minister Rishi Sunak also welcomed guests from the Hindu community at 10 Downing Street for Diwali celebrations…reports Asian Lite News
As several United Kingdom politicians have opened their doors to the Indian population ahead of the Diwali celebrations, Speaker of the UK House of Commons, Lindsay Hoyle, hosted the Indian High Commissioner to the United Kingdom, Vikram Doraiswami.
"Following his recent visit to #India for the #P20,@CommonsSpeaker@LindsayHoyle_MPhosted a Diwali reception @UKParliamenttoday. HC @VDoraiswamiwas among the guests," the Indian High Commission posted on X (formerly Twitter).
With Diwali, also known as Deepwali, commencing on November 12, Hindus and festival lovers across the world prepare to embrace the festival. The five-day-long festival is the festival of lights for Hindus, Buddhists, Jains and Sikhs, which symbolises the spiritual victory of light over darkness, good over evil.
Earlier, UK Prime Minister Rishi Sunak also welcomed guests from the Hindu community at 10 Downing Street for Diwali celebrations.
"Tonight Prime Minister @RishiSunak welcomed guests from the Hindu community to Downing Street ahead of #Diwali – a celebration of the triumph of light over darkness," as per the UK Prime Minister's office's official handle on 'X'.
Doraiswami had recently visited India for the P20 summit.
"The first-ever G20 Parliamentary Speakers' Summit (P20 Summit) hosted by the world's largest democracy concluded at India International Convention Centre, Yashobhoomi, Dwarka, Delhi today, October 14, 2023, with parliamentarians from across the world coming together and reaffirming their commitment to continue their joint work to make an effective and meaningful parliamentary contribution to the G20 process," the G20 press release stated.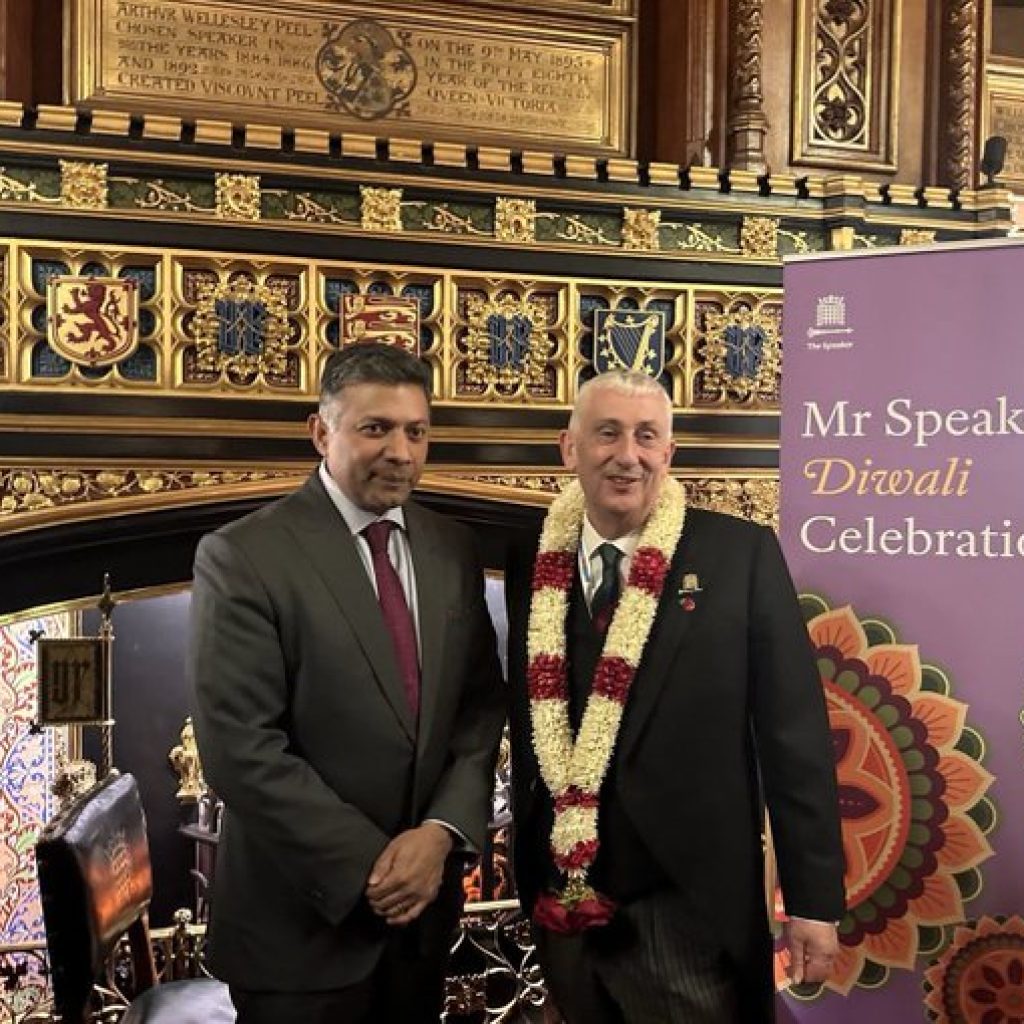 Meanwhile, PM Modi and PM Sunak also held a telephone conversation last week.
The two leaders agreed on the importance of securing an ambitious deal that benefitted both sides.
Sunak also congratulated PM Modi on Team India's strong performance in the ongoing Cricket World Cup.
Meanwhile, talks for a Free Trade Agreement (FTA) between Sunak and Modi began in 2022, with the 12th round of negotiations, taking place from August 8-31 this year.
On the other hand, India is having a strong run in the ongoing Cricket World Cup and is sitting at the top of the table after winning all eight matches it has played so far. (ANI)
ALSO READ-Sunak Celebrates Diwali at 10 Downing Street
Advertisement