Advertisement

Indian shooters achieved their best-ever Asian Games performance in Hangzhou, surpassing their 2006 Doha record by a significant margin. However, most of the gold medals came in non-Olympic Team events, which have limited relevance for Paris 2024….reports Asian Lite News
The Indian shooting squad finished its campaign in the 19th Asian Games here with a record haul of 22 medals — 7 gold, 9 silver and 6 bronze medals, finishing behind host and Asian superpower China, who topped the standings in shooting with 29 medals — 16 gold, 9 silver and 4 bronze medals.
The superb medal haul will definitely be a big morale booster for the medal winners as they will be next going into the Asian Championships in Changwon, Korea, from October 22 to November 2, which will have 24 quota places, two in each of the 12 individual events, and hoping to claim quota places for the Olympic Games to be held next year in Paris. The Asian Games were not an Olympic qualifying event and therefore the performance here did not count towards Olympic berths.
India has so far won seven quota places in shooting through the various World Championships, and is eligible to field a 24-member squad — 12 men and 12 women. Apart from the World Championships and various continental championships, shooters can also gain Olympic quota places, if they fail to get through the various competitions, as the best-ranked shooters who do not have the Olympic quota place will be awarded one each in the 12 events. But this will be subject to the limitation of 24 members in the squad.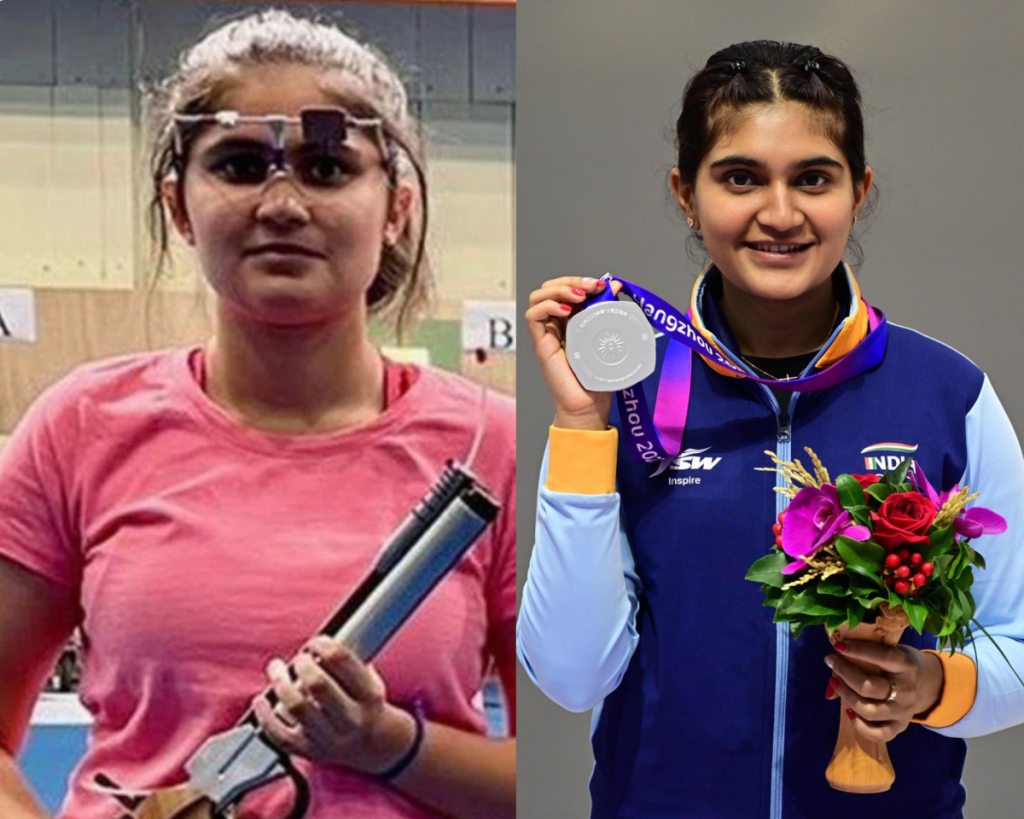 While the performance by the Indian shooters in Hangzhou is cause for celebrations, considering that this is the country's best-ever performance in shooting at the Asian Games, improving on their previous best of 13 medals at the 2006 Games Doha by a huge margin, there is also a need to be circumspect as most of the gold medals have come in Team competitions, which are not Olympic events and thus are of little use as far as Paris 2024 is concerned.
Of the seven gold medals that India has won in Hangzhou, five came in Team competitions. Only two — Palak Gulia's breakthrough gold in the Women's 10m Air Pistol event and Sift Kaur Samra's World Record-embellished triumph in the women's 50m Rifle 3-positions came in individual competitions. They were superb efforts no doubt and will definitely give the two shooters enormous confidence as they triumphed against strong Chinese opponents.
The Women's 10m Air Pistol event turned out to be a real gain for India as Palak and Esha Singh managed a 1-2 double, winning gold and silver. Esha won two silver medals in the pistol competitions, 10m and 25m, the men could not win medals in the individual competitions. Sarabjot Singh came close to a podium position in the men's 10m air pistol event. Ashi Chouksey too had a good Asian Games as he picked a couple of individual medals.
Anant Jeet Singh was a revelation in the Men's Trap Individual competition as he matched the legend Abdullah Al-Rashidi, a three-time World Champion and two-time Olympic medallist of Kuwait shot-for-shot before losing out in the last couple of rounds to take the silver medal.
Hangzhou was an opportunity for the pistol shooters to make some gains and though Esha Singh did well to win silver medals in women's 10m and 25m pistol individual events, the men barring Sarabjot Singh, who is coming back from an injury, could gain a lot.
India has so far won seven quota places for Paris 2024 through Bhowneesh Mendiratta (men's trap), Rudrankksh Balasaheb Patil (men's 10m air rifle), Swapnil Kusale (men's 50m rifle 3 positions), Akhil Sheoran (men's 50m air rifle 3-positions), Rajeshwari Kumari (women's trap), Mehuli Ghosh (women's 10m air rifle).
The country can bag two quota places in one event subject to the limitation of 12 competitors in each section (men and women — total 24 member squad).
Thus, the task will be cut out for the Indians in the Asian Championships and the Asian Shotgun Championships that will follow.
Advertisement