Advertisement

More than 2.5 million registered Afghan refugees reportedly have been living in Iran and about the same number are living in Pakistan…reports Asian Lite News
Nearly 2,400 Afghan refugees have returned to their homeland from Iran, Afghanistan's Ministry for Refugees and Repatriation Affairs said in a statement.

"A total of 2,348 Afghan refugees returned to their homeland Afghanistan on Sunday after years of living as refugees in Iran and the process of returning the refugees to their country continues," the statement added on Monday.

Weeks ago, the state-run Bakhtar news agency reported the return of more than 54,000 Afghan refugees from Iran over the past couple of months.

More than 2.5 million registered Afghan refugees reportedly have been living in Iran and about the same number are living in Pakistan, Xinhua news agency reported.

The Afghan caretaker government has called on Afghan refugees living abroad to return home and contribute to reconstruction of their war-ravaged country.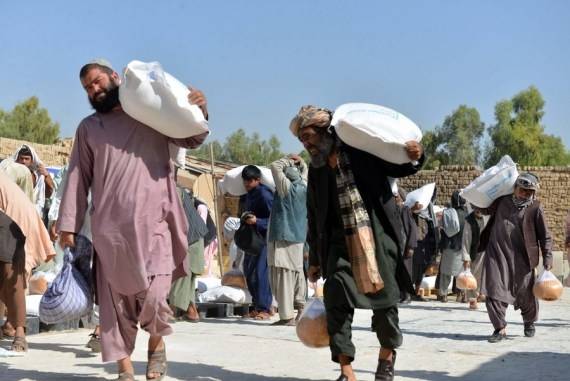 Iran's appeal to Taliban
Iran's Foreign Minister Hossein Amir-Abdollahian has urged Taliban to allow the visit of Iranian technical teams to Afghanistan's Kajakai Dam to measure its water level and verify drought claims.

Amir-Abdollahian made the remarks on Friday in a post on his Twitter page, reacting to Taliban's claims that the low water level of the Hirmand river is the reason for their failure to honour Iran's water rights under a 1973 treaty.

The Hirmand Treaty between Iran and Afghanistan entitled the former to receive 20 million cubic metre of water from the river per year, Xinhua news agency reported.

On Thursday, the Taliban government issued a statement, saying Iran's frequent requests for water and "inappropriate" comments on media are "harmful," adding it is committed to the 1973 treaty.

This comes as the Iranian Space Agency (ISA) spokesman said Thursday that satellite photos show that the Taliban have made alterations to the river's route, preventing its water from reaching Iran.

The Hirmand river originates in the Hindu Kush Mountains near Afghanistan's capital Kabul and runs 1,126 kilometre south before flowing into Hamoun wetlands, located in Iran's southeastern Sistan and Baluchestan provinces, which Amir-Abdollahian said are suffering from drought.