Advertisement

The roadmap was announced at the fourth National Dialogue on Food Security organized by the Ministry of Climate Change and Environment…reports Asian Lite News
UAE Minister of Climate Change and the Environment, Mariam bint Mohammed Almheiri, announced 'Ne'ma Food Loss and Waste Reduction Roadmap,' a strong action plan to reduce food loss and waste in the country by 50 percent by 2030.
The roadmap was announced at the fourth National Dialogue on Food Security organized by the Ministry of Climate Change and Environment with ne'ma, the National Food Loss and Waste Initiative, and held under the theme, 'Call for Change: Reducing Food Loss and Waste in the UAE.'
The event, which featured high-level panel discussions, underlined the importance of a shared understanding of how food loss and waste play a critical role in achieving food security, sustainable consumption, and circular ecosystems, as well as mitigating climate risks.
The discussions focused on identifying challenges and solutions, and mapping hotspots of food loss and waste, systemic gaps, and best practices, with emphasis on mobilizing the public and private sector, as well as the wider community, to change current consumption habits.
Announcing the strategic roadmap, Almheiri said: "With only a few days away to our nation hosting COP28, this event underlines the strong commitment of the UAE in addressing all sectors that have a defining role in addressing the impact of climate change. And food and agriculture systems play a pivotal role in this regard, especially with food loss and waste one of the core challenges that humanity must address as a priority."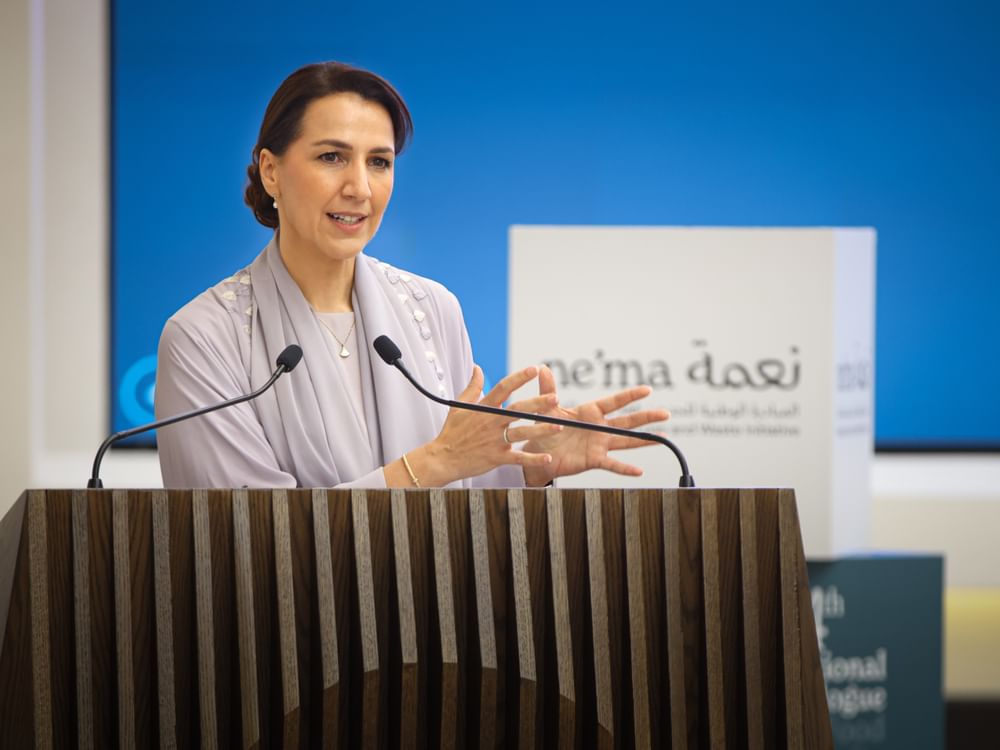 At COP28, the UAE is placing food and agricultural systems transformation at the heart of the discussions, said HE Almheiri, who has launched the COP28 Food Systems and Agricultural Agenda – an ambitious plan to transform global food systems and ensure their long-term sustainability, earlier this year.
"The importance of addressing food loss and waste is a strategic imperative for the world," explained HE Almheiri. "Today, according to World Food Program, one-third of food produced for human consumption is lost or wasted globally. Further, it is estimated that all the food produced but never eaten would be sufficient to feed two billion people."
Through the COP28 Food Systems and Agricultural Agenda, the UAE aims to bring together businesses, farmers, producer organisations and other non-state actors to drive progress across production, consumption, food loss and waste. "As part of mobilizing national leadership, we are extending a global call to action, inviting all countries to ratify the Emirates Declaration on Resilient Food Systems, Sustainable Agriculture, and Climate Action," added Almheiri.
She explained that at COP28, the UAE is looking at how to limit food wastage and the carbon impact of the food served. "To achieve this, we have launched a Sustainable Catering Strategy, which aims to demonstrate the potential of delivering sustainable food at scale."
Explaining the new roadmap to curb food loss and waste, Almheiri said ne'ma is a compelling testament to the commitment and vision of our leadership to encourage social responsibility and promote sustainable practices nationwide. "Since its launch, ne'ma has delivered exceptional work – including food system mapping, setting goals and formalizing a three-year strategy to reduce food loss and waste."
The roadmap will serve as a collective effort to reduce food waste by creating new social norms, scaling best practices, and enabling policies across the entire food ecosystem, said Almheiri. "Our strategy is to mobilize all the stakeholders and accelerate action with a holistic and government led approach. We will build capacity for food loss and waste monitoring, foster public private partnerships for food loss and waste solutions, leverage innovative approaches to build the circular economy, and introduce new mandates and policies. Our goal is to become a nation where no food is wasted."
In the run-up to setting the strategy for food loss and waste reduction, over 200 interviews were held with food value chain and system-level actors, in addition to several workshops for collective ideation. At the event, Jumeirah Group, Hilton Group, Rotana Group and Expo City signed agreements with ne'ma to embrace food loss and waste reduction as a top priority.
Ahmed Taleb Al Shamsi, CEO of Emirates Foundation, said: "This new roadmap is incredibly important as we recognize the profound impact of food loss on our shared goals of food security, sustainable consumption, and the cultivation of circular ecosystems. Addressing the challenges of today requires a united effort grounded in a shared understanding of the intricate relationship between food loss and these critical objectives. It is incumbent upon us to acknowledge that every piece of wasted food is a missed opportunity to alleviate hunger and reduce environmental strain. Through a collective commitment to responsible consumption, we can forge a path towards a more sustainable future. Let us, as global citizens, work together to minimize waste, maximize efficiency, and foster a resilient food system that not only nourishes the present but preserves the abundance of our planet for generations to come."
The event was attended by influential stakeholders from the public and private sectors, regulators, representatives from all stages of the food value-chain, technology and innovation startups, as well as local and international subject matter experts. Panel discussions on addressing food waste by creating the circular and closed loop food ecosystem, adopting more responsible sustainable habits, and the root causes of food loss as a complex challenge that requires collective effort.
A demonstration of Zero Food to Landfill was also displayed, which highlighted how all food will be segregated, reused or repurposed and given back to nature. To encourage the participants to cut food loss and waste, Ne'ma 'Food is Blessing' leftover bags were distributed.
Advertisement