Advertisement

Five Emirati planes arrived in Benghazi, carrying three rescue teams, urgent relief and medical aid, as part of the air bridge launched by the UAE to provide relief to the Libya…reports Asian Lite News
North Africa has been hit by two devastating disasters within three days, sparking a global outpouring of aid and support. First, a powerful earthquake with a magnitude of 6.8 struck Morocco in the Atlas Mountains, leaving a trail of destruction. Then, catastrophic flooding in crisis-stricken Libya added to the region's woes.
On Friday, the earthquake wreaked havoc about 70 km south of Marrakech, flattening entire villages and claiming the lives of over 2,900 people, with countless more left homeless. This marked Morocco's deadliest earthquake since 1960 and the most powerful in over a century. Isolated farming communities in Al-Haouz province found themselves cut off from assistance, prompting a swift international response.
As aid agencies and donor nations mobilised to aid Morocco, another catastrophe unfolded in Libya. Storm Daniel caused two river dams to burst, sending a massive surge of water crashing through the coastal city of Derna. The devastation was immense, with buildings, vehicles, and people swept into the sea. The confirmed death toll exceeded 5,000, while thousands remained missing.
Saudi Arabia's King Salman and Crown Prince Mohammed bin Salman ordered aid flights to Morocco and expressed their solidarity with the Moroccan people. Egypt's President Abdel Fattah El-Sisi declared a three-day mourning period and directed military personnel to provide humanitarian aid, including rescue teams, relief supplies, and shelter camps for both Libya and Morocco.
UAE President Sheikh Mohamed bin Zayed Al Nahyan responded swiftly by dispatching urgent relief and search-and-rescue teams to Libya, sending two aid planes carrying 150 tons of essential supplies.
Later, five Emirati planes arrived at Benina Airport in Benghazi city, carrying three rescue teams, urgent relief and medical aid, as part of the air bridge launched by the UAE to provide relief to the Libyan people.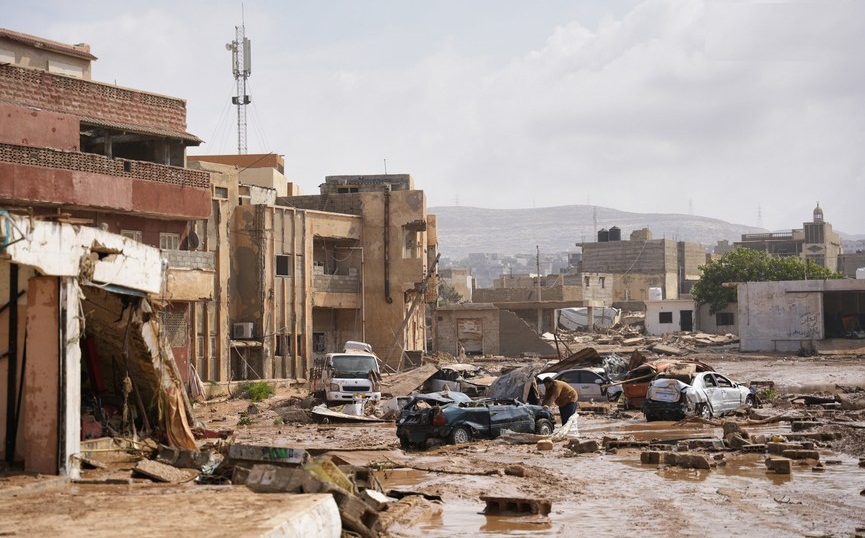 The 64-member search and rescue team has started their missions with the necessary machinery, equipment and devices. The total number of relief and medical supplies transported by planes from the UAE to Libya reached 200 tonnes.
Kuwait and Jordan also contributed to the relief efforts, with Kuwait sending 40 tons of supplies to Libya and Jordan dispatching a military plane loaded with food, tents, blankets, and mattresses. The international community has rallied to support North Africa during this time of dual crisis.
Meanwhile, UAE's etisalat by e& announced free calls from UAE networks to Libya as a expression of solidarity to support customers, colleagues and their loved ones affected by the floods demonstrating its commitment to ongoing efforts in the country.
etisalat by e& UAE customers who are Libyan nationals will receive 30 free international minutes to call for a week until 20th September, and while all its customers who are on the roaming network in Libya will benefit from unlimited outgoing minutes and 30 incoming minutes for six days.
This is in line with etisalat by e&'s commitment to supporting UAE government's flood relief efforts and joining hands to making a lasting impact and bringing stability to the affected communities, according to a statement.
Social responsibility and community support is a core of part of its operations especially at this critical moment where collective actions make a meaningful different in the lives of those affected and work towards recovery and healing, the statement added.
Death toll rises
More than 6000 people have lost their lives due to heavy flooding that caused massive devastation across Libya, reported CNN.
The death toll was revised on Wednesday morning local time, according to health ministry undersecretary of the Unity Government in Tripoli, Saadeddin Abdul Wakil.
According to workers, mortuaries are overflowing in hospitals that are still closed despite the pressing need to treat disaster survivors. As per Egypt's emigration ministry, the government buried 87 Egyptian victims who died in Libya.
Authorities fear 10,000 more people remain missing, maybe swept out to sea or buried beneath rubble strewn over the metropolis that formerly housed over 100,000 people.
The flooding in Derna has displaced over 30,000 people, according to the International Organisation for Migration (IOM) in Libya. The extensive damage to the region's infrastructure has rendered some affected areas inaccessible to humanitarian organisations, CNN reported.