Advertisement

India's choice of Bangladesh as the only South Asian invitee to G20 Summit demonstrates the esteem with which it approaches its immediate eastern neighbour and presumably the best friend in the neighbourhood….reports Asian Lite News
India has civilisational, cultural, social and economic links with Bangladesh, and the latter, holds a major place in India's Neighbourhood First policy. India, which holds the G20 Presidency this year, is following the convention of inviting non-member countries and international organisations to the summit and Bangladesh is the only South Asian country to have a place on India's guest list.
India's choice of Bangladesh as the only South Asian invitee demonstrates the esteem with which it approaches its immediate eastern neighbour and presumably the best friend in the neighbourhood. The other countries that have been invited to the G20 meeting are Egypt, Mauritius, Nigeria, Netherlands, Spain, Singapore, Oman and the United Arab Emirates (UAE). The direction of ties between India and Bangladesh demonstrates that the two countries have secured mutual benefits due to close relations between the Sheikh Hasina-led Awami League and the Prime Minister Narendra Modi-led government. PM Modi has invited his Bangladesh counterpart Sheikh Hasina to attend the upcoming G20 Summit on 9-10 September as India's Special Guest. The two leaders will meet on the sidelines of the G20 summit.
The meeting between Prime Minister Narendra Modi and his Bangladesh counterpart Sheikh Hasina holds special significance since the general elections are scheduled to be held in both nations in 2024. Several high-level meetings will be held in both New Delhi and Dhaka in preparation for Sheikh Hasina's visit.
India and Bangladesh formally celebrated the golden jubilee of diplomatic relations last September. Sheikh Hasina visited India for four days in response to PM Modi's invitation to commemorate the occasion. It was also her first visit to India since the COVID outbreak in 2020. She participated in a meeting with PM Modi, followed by delegation-level talks on 6 September 2022.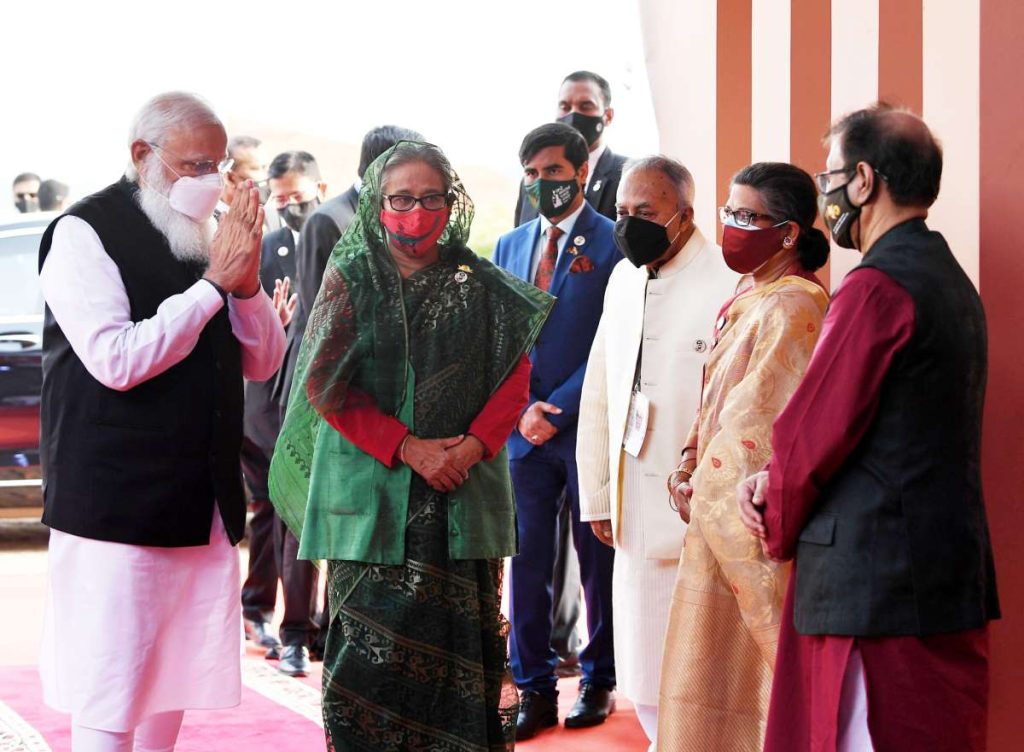 Great warmth and cordiality informed the meetings as the two leaders were satisfied with the excellent state of mutual ties between the two nations. Ties between India and Bangladesh have been based on deep historical and fraternal ties and underwritten by a mutual commitment to democracy and pluralism. The bilateral partnership between two nations based on sovereignty, equality, trust and understanding, virtually exceeds a strategic partnership.
India and Bangladesh have 4096.7 kilometres of a common border and it forms the longest land boundary that India shares with any neighbour. India was the first nation to recognize Bangladesh as a separate and independent state.
Diplomatic relations were established immediately after the independence of Bangladesh in December 1971. The two nations have been bonded with a common history and common heritage, linguistic and cultural ties, and a love of music, literature and the arts with syncretic flavours.
Incidentally, the national anthems of Bangladesh and India have been composed by the same author, Rabindranath Tagore. Bangladesh has emerged as a most valuable immediate neighbour for India due to various factors, including trade. Bangladesh emerged as India's 6th largest trade partner and the largest trading partner in South Asia. India is the largest export market in Asia for Bangladesh and its second-largest trading partner.
Bilateral trade has increased by 14 per cent between 2019 and 2021, from USD 9.46 billion to USD 10.78 billion, despite the COVID-19 pandemic. Bangladesh accounted for the largest percentage of foreign tourists in India in 2020. Tens of thousands of Bangladeshis come to India for medical treatment.
The two countries have been making preparations to sign the Comprehensive Economic Partnership Agreement, which will substantially enhance their trade and commercial partnerships. Bangladesh will be even more important for India in future, particularly since it is one of the fastest-growing economies in the world.
Owing to its location between the Indian State of West Bengal and the landlocked states in India's Northeast, Bangladesh is ideally suited to provide the Northeastern part of India easy access to the rest of the country, as well as to the sea, offering a boost to economy and commerce.
The two nations have launched several initiatives in the past few years to improve connectivity between Bangladesh and India's northeast in the last few years and actualize this potential. Bangladesh PM Sheikh Hasina Hasina has on several occasions called upon India to use the Chattogram and Mongla ports, which would facilitate and benefit the Northeastern states of Assam and Tripura.
Several new ports of routes have also been added to the shared inland waterway network. The Maitri Setu (bridge) connecting Sarboom in Tripura, India, to Ramgarh in Bangladesh was built in 2021. The Swapner Padma Setu, inaugurated in June 2022, is expected to connect India and Dhaka directly through rail, road and ports. The Padma Bridge also emerges as a major link for the Trans Asian Highway Network (TAHN) and effectively reduces the distance between the
Benepole border in India to Dhaka by road to 70 kilometres or 4.5 hours. The bridge now connects the entire region, linking Kolkata on the Indian side and Chittagong on the Bangladesh side to the three hub ports in Sri Lanka, Singapore and Malaysia, respectively, with prospects of a manifold increase in economic activity in the whole region.
The Jaipaiguri-Dhaka bi-weekly Mitali Express was flagged off in 2022. The Akhaura-Agartala rail line is likely to be ready by June 2023. Bangladesh also makes for more stability in India's insurgency-prone Northeast. The neighbouring country has lately been a reliable partner of India on security issues, particularly with its "zero-tolerance" attitude towards terrorism.
Bangladesh has, on several occasions, arrested and sent over insurgents from various radical outfits in the Northeast to India. China's rising and assertive presence in the Bay of Bengal maritime space has led India to bolster its ties with the Bay littorals to ensure its pre-eminence in the Bay since India treats the Bay as a primary area of interest.
India has been trying to build stronger relations with its eastern neighbourhood to realize its Indo-Pacific aspirations, particularly since its western front remains perpetually troubled. Bangladesh as India's immediate eastern neighbour, located north of the Bay of Bengal, is of cardinal importance in both of these Indian initiatives.
'Green Development, Climate Finance and Life' is one of the priority areas for G20 under India's Presidency. The heads of government of India and Bangladesh have recently intensified their focus on climate change as a common concern.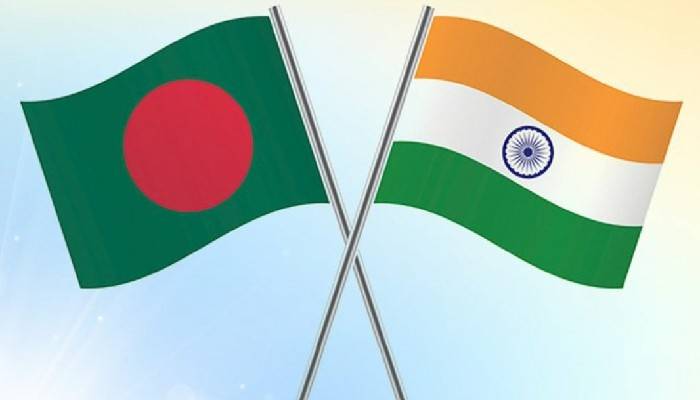 In the Joint Statement released after Prime Minister Hasina's visit to India last September, the two countries agreed to cooperate on the challenges of climate change. The cooperation focuses particular attention on the Sunderbans area to combat climate-induced sea level rise.
Energy transitions are another important issue in India's G20 mandate. India-Bangladesh cooperation in the energy sector has steadily increased over the last few years with various projects such as the Friendship Pipeline.
In 2020, both countries signed a Framework of Understanding on Cooperation in the Hydrocarbon Sector and agreed to increase cooperation in energy efficiency and clean energy, including biofuels. In the 2022 joint statement, India and Bangladesh agreed to highlight the urgency of green energy.
India has been looking to promote reformed multilateralism, meaning accountable, inclusive, just, equitable and representative multipolar international systems capable of addressing contemporary challenges.
Bangladesh is also a member of many of the multilateral platforms in India's neighbourhood, such as SAARC, BIMSTEC, and IORA. If India's G20 aspiration is to be reflected effectively in regional multilateral platforms, support from Bangladesh is absolutely indispensable.
As India seeks to shape the global agenda through its G20 Presidency, it needs Bangladesh's support to translate many of these ideas into action in its immediate neighbourhood. Some of these areas of cooperation might further enrich the "Golden Chapter" in India-Bangladesh ties. (ANI)