Advertisement

Secretary Blinken said Israeli calls for vengeance "against more innocent victims are not the answer," and "acts of retaliatory violence against civilians are never justified."…reports Asian Lite News
U.S. Secretary of State Antony Blinken visited Israel, urging Israelis and Palestinians to calm tensions and reiterating Washington's "ironclad" commitment to Israel's security.
As part of his three-leg Middle East tour, Blinken arrived in Israel after visiting Egypt. This was his first meeting with Israeli Prime Minister Benjamin Netanyahu since Netanyahu returned to office in December 2022 as the leader of a new extreme-right-wing and ultra-religious government.
At the airport upon his arrival, Blinken condemned the recent deadly attacks between Israelis and Palestinians.
"To take an innocent life in an act of terrorism is always a heinous crime," he said, adding Israeli calls for vengeance "against more innocent victims are not the answer," and "acts of retaliatory violence against civilians are never justified."
In later joint statements with Netanyahu after their meeting, Blinken urged "all sides to take urgent steps to restore calm and to de-escalate."
"We want to make sure that there's an environment in which we can, I hope, at some point, create the conditions where we can start to restore a sense of security for Israelis and Palestinians alike, which of course is sorely lacking," he said.
His visit coincided with a flare of violence between Israelis and Palestinians. Since the beginning of 2023, at least 35 Palestinians have been killed by Israeli forces, according to official Palestinian figures.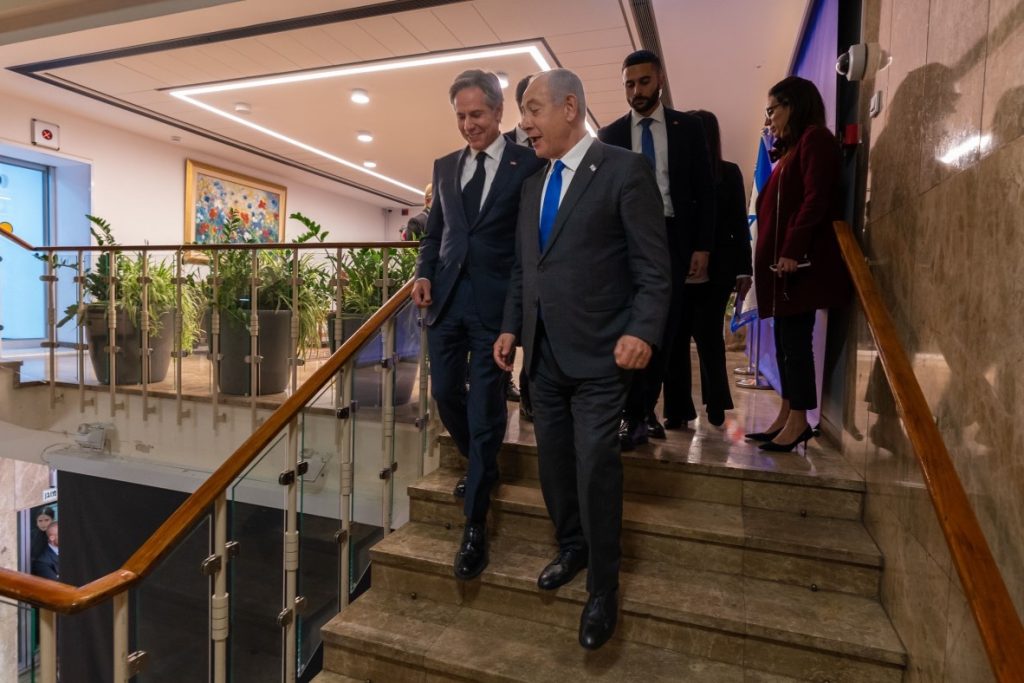 Netanyahu did not mention the regional tensions in his statement. Instead, he talked about the Iranian "aggression" and his wish to expand the so-called Abraham Accords signed in 2020 in which the United Arab Emirates, Bahrain and Morocco agreed to normalize ties with Israel.
"Expanding the circle of peace (and) working to close the issue of the Arab-Israeli conflict, I think, would also help us achieve a workable solution with our Palestinian neighbors," Netanyahu said.
For his part, Blinken said while the United States supports more normalization deals and the integration of Israel in the Middle East, "these efforts are not a substitute for progress between Israelis and Palestinians."
He repeated the U.S. commitment to a two-state solution to the Israeli-Palestinian conflict.
"As we advance Israel's integration, we can do so in ways that improve the daily lives of Palestinians in the West Bank and Gaza," he said, noting Washington believes that establishing an independent Palestinian state alongside Israel is the way to move forward.
Blinken also had discussions with Israeli Foreign Minister Eli Cohen and Israeli President Isaac Herzog.
The U.S. top diplomat has a scheduled trip to the Palestinian territories, where he will meet Palestinian President Mahmoud Abbas on Tuesday.
Palestinian President Mahmoud Abbas had earlier called on CIA director William Burns to pressure Israel to stop its "unilateral" measures against the Palestinians.
"It is important for an urgent intervention to pressure the new Israeli government headed by Benjamin Netanyahu to stop its unilateral measures and abide by the signed agreements," Abbas was quoted by the official news agency WAFA as saying.
"It is important to restore the political horizon based on international resolutions, to achieve security and stability for everyone in the region," Abbas told Burns during their meeting held at the presidential headquarters in the West Bank city of Ramallah.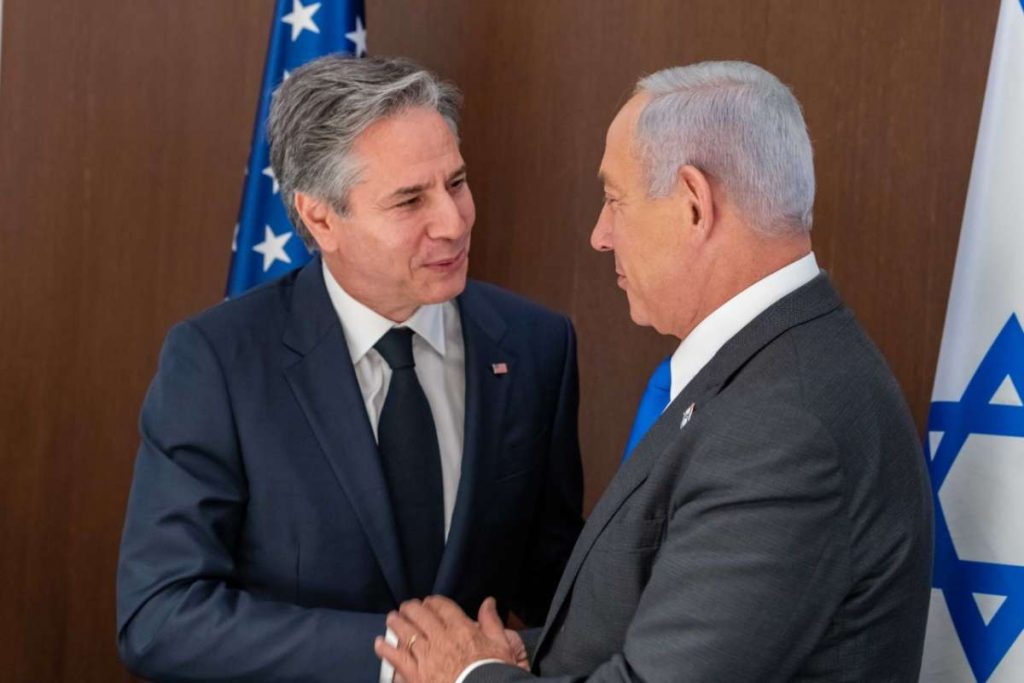 Meanwhile, a Palestinian was killed on Monday morning by Israeli soldiers in the southern West Bank city of Hebron, Palestinian medics and eyewitnesses said.

In a statement, the Palestinian Health Ministry said that Nsim Abu Fouda, 24, died after he was shot in the head by Israeli soldiers.

However, Palestinian eyewitnesses said Israeli soldiers stationed at one of the Israeli army checkpoints in the city centre opened fire at a Palestinian car and seriously wounded Abu Fouda. He died from his wounds in hospital.

The Israeli authorities did not comment on the incident, Xinhua news agency reported.