Advertisement

USISPF members touched on how the private sector can coalesce and work with both governments on traditional defence capability and deep-tech collaboration….reports Asian Lite News
National Security Advisor Ajit Doval met the board members of the US-India Strategic Partnership Forum (USISPF) and held discussions on enhancing cooperation in defence, space, cybersecurity, undersea and innovative intelligence, according to the statement released by USISPF.
In the one-hour-long discussion that took place on Wednesday, both Doval and board members held a discussion on enhancing cooperation in surveillance, building sophisticated reconnaissance systems, and US restrictions on the export of technology. The US-India Strategic Partnership Forum (USISPF) is committed to creating the most powerful partnership between the United States and India. As the only independent not-for-profit institution dedicated to strengthening the U.S.-India partnership in Washington, D.C, and in New Delhi, USISPF is the trusted partner for businesses, non-profit organisations, the diaspora, and the governments of India and the United States.
According to the statement, since the seminal nuclear deal, the U.S.-India defence cooperation has only improved over the years. This meeting underscored U.S. defence companies' commitment to producing military hardware under the Government of India's AtmanirbharBharat (Self-Reliant) initiative and, on the software side, on advanced technologies in cybersecurity and artificial intelligence (AI).
USISPF members touched on how the private sector can coalesce and work with both governments on traditional defence capability and deep-tech collaboration, especially in the era of autonomous weapons where non-state actors pose a pernicious threat to a nation's vulnerability.
In this meeting, USIPFF president and CEO Mukesh Aghi said the NSA received in the US mark a high point in the defence and strategic relationship between Washington and New Delhi.
"It also accentuates the level of trust that the United States has in India, as a key defence partner, despite not being a treaty ally. USISPF believes it is time for the U.S. to remove the export barriers of the late 1990s and allow its private sector to work with its Indian counterpart to take the U.S.-India defence partnership to the next level," he said.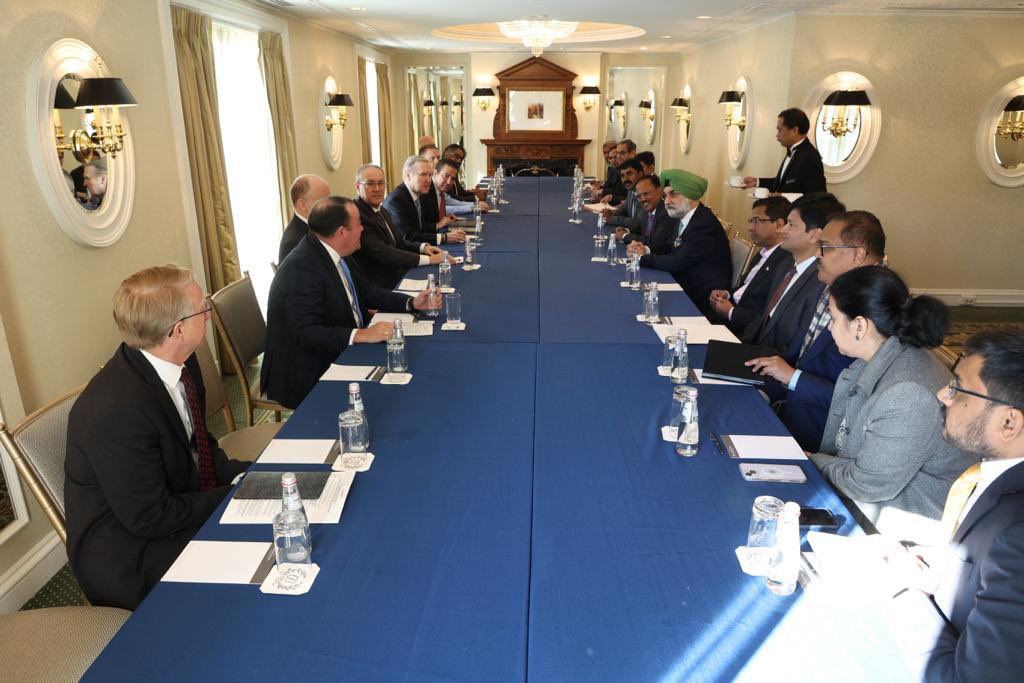 As India and the U.S discuss greater cooperation in critical and emerging technologies, USISPF will work with both governments and the private sector to enhance synergy across defence security, cyber security, artificial intelligence, and the Make in India initiative to consolidate India as a hub for defence manufacturing in the Indo-Pacific region.
NSA Ajit Doval was on an official visit to Washington from January 30-February 1. He was accompanied by senior government officials and leaders of Indian industry.
During his visit, both nations agreed to maintain sustained attention to achieve outcome-oriented deliverables within definitive timelines, the Ministry of External Affairs said in a press release.
The NSA interacted with US policymakers and stakeholders across government, Congress, business, academic and research communities on a range of bilateral, regional, and global issues of mutual interest, it said.
Apart from his meeting with US NSA Jake Sullivan, Doval held a meeting with Chairman of the Joint Chiefs of Staff General Mark Milley, Acting Secretary of Defence Kathleen Hicks, key Senators, and industry leaders.
Doval and Sullivan co-chaired the inaugural meeting of iCET at the White House on January 31.
iCET aims to position the two countries as trusted technology partners by building technology value chains and supporting the co-development and co-production of items. It also aims to address regulatory restrictions, export controls, and mobility barriers through a standing mechanism.
The US side has assured support to ease export barriers to India in a few critical areas, including through efforts toward legislative changes. At the launch, emphasis was placed on strengthening linkages between the startup ecosystems and building innovation bridges in key sectors between the two countries, through expos, hackathons, and pitching sessions, as per the press release.
Considering the importance of quantum technologies, the two sides established a quantum coordination mechanism with participation from industry and academia, the Ministry of External Affairs said in the press release. In the field of semiconductors, the US supported the development of a fabrication ecosystem in India and encouraged joint ventures and partnerships for mature technology nodes and advanced packaging.
It was agreed to constitute a task force involving India's Semiconductor Mission, India Electronics Semiconductor Association (IESA) and the US Semiconductor Industry Association (SIA) to develop a 'readiness assessment' to identify near-term opportunities and facilitate longer-term development of semiconductor ecosystems, according to the press release.
In the defence manufacturing sector, India and US agreed to focus on joint production of key items of mutual interest. The US committed to an expeditious review of the license application submitted by M/s General Electric to produce jet engines in India for the indigenously manufactured Light Combat Aircraft. A new Innovation Bridge will be established to connect defence startups on both sides. (ANI)
No comment on reports of Modi's likely US visit
Clarifying media reports of Prime Minister Narendra Modi's likely visit to the United States, the Ministry of External Affairs on Thursday said that India would announce a high-level visit at the appropriate time.
During a regular media briefing, MEA's official spokesperson Arindam Bagchi said that at this point in time, no specific date or visit can be talked about, as there are already a number of ongoing visits taking place there. "We can't comment on such media reports. We will announce a high-level visit at the appropriate time. At this point, I am not aware of any specific date or visit. As you know there are visits going on there. And, so let me not pre-judge anything, I saw such a report but let's avoid commenting on any such report," Bagchi said during the presser.
Responding to a media query on National Security Advisor (NSA) Ajit Doval's visit to the US, Bagchi said that this, week, during the first inaugural meeting of the iCET, both countries took concrete steps to give shape to the vision of the two leaders by announcing specific projects and proposals.
He also recalled how in 2022, on the sidelines of the QUAD leaders Summit, PM Modi and US President Joe Biden announced the India-US initiative of critical and emerging technology, known as iCET.
"For building technology value chains….quantum technology, semiconductors, space, telecom and also enabling defence co-production. We believe through iCET India and the US have added a new dimension of strategic technology collaborations to our robust bilateral agenda," the MEA Spokesperson said.
During the iCET launch, a new Implementation Arrangement between the Department of Science and Technology of India and the National Science Foundation of the US was signed by the Ambassador and NSF Director in the presence of Doval and Sullivan.
During the visit, an iCET Roundtable with the US and Indian industry at the US Chamber of Commerce was held. It provided an opportunity for sharing of ideas for bolstering high-technology partnerships between government, industry and academia, according to the press release.
The NSA was accompanied by a high-powered delegation during his Washington visit where he met his American counterpart, Jake Sullivan.
India's Principal Scientific Adviser, ISRO chairman, Scientific Adviser to the Defence Minister, Secretary of Department of Telecommunications and DG, DRDO, are five high-profile members of the delegation. (ANI)