Advertisement

Jamaat, recognized as Bangladesh's largest and well-organized political movement, has been distant from political power since its involvement in the Bangladesh National Party-led government in 2006….reports Asian Lite News
The Democracy Forum (TDF) hosted a webinar named 'Jamaat-e-Islami, Bangladesh – the subcontinental Brotherhood?' during which speakers presented differing perspectives on whether the ascendance of Jamaat-e-Islami, Bangladesh, would lead the nation towards regression or if it held the potential to engage in the democratic process, as per a press release by The Democracy Forum.
TDF President, Lord Bruce welcomed panellists to the webinar, which examined the circumstances surrounding the re-emergence of Bangladesh Jamaat-e-Islami (BJI) as a democratic movement, after a decade of political isolation.
He spoke of the political rally held by Jamaat-e-Islam in Dhaka in June this year that appeared to signal a revival in its prospects as a political force. Referencing Jamaat's history, he outlined how it was established in 1941 and is a movement dedicated to pursuing the ideal of "Hakimiya" to ensure the incorporation of Islamic ideology into all aspects of state governance.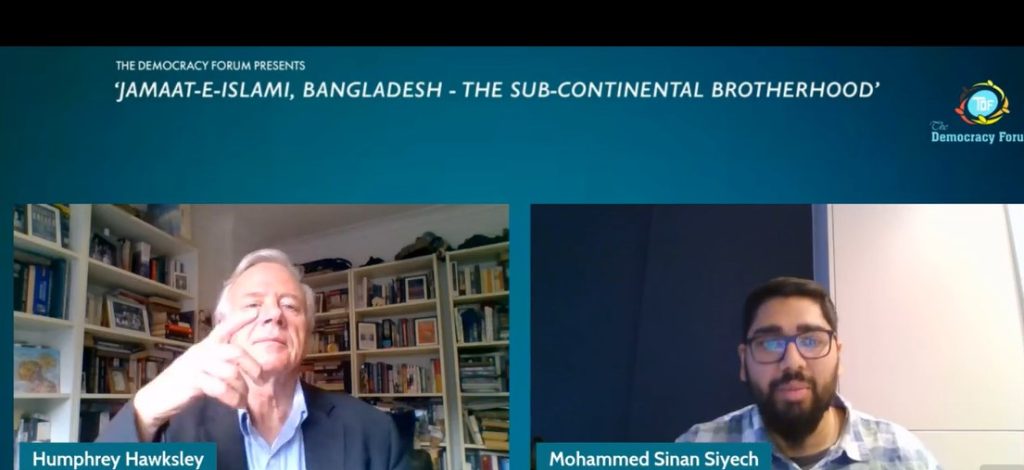 Although widely credited today as Bangladesh's most populous and arguably best-organised political movement, Jamaat has not been close to exercising power since 2006 when it participated in the BNP (Bangladesh National Party) led government. Lord Bruce highlighted how the record of Jamaat as a responsible political party and coalition partner serving in the former BNP government has been marred by evidence of violence and intimidation and how for the past 15 years, Jamaat has been proscribed as a political actor.
Associate Professor of World Religions and Culture at the University of Dhaka, Shafi Mostofa looked back at Jamaat's history, agenda and strategy, as well as on its controversial role in Bangladesh's 1971 War of Independence. He considered the organisation's contribution to democracy; how Jamaat became king maker and an important factor in Bangladeshi politics and how Jamaat has been used in Bangladesh politics by secular parties.
He spoke of how the party is interconnected to geopolitical factors and how nationalist and secular failures allowed Jamaat-e-Islami to flourish. Referencing the rise of political Islam, Dr Mostofa discussed Jamaat history in which its stated goal is to embrace Islam, covering all material and spiritual aspects of human life guided completely by the Quran.
Mohammed Sinan Siyech, PhD Candidate, Islamic & Middle East Studies Programmed, University of Edinburgh examined Jamaat-e-Islami's transnational connections, and its organisational structure in Bangladesh. He spoke of how political Islam is transnational with different manifestations to counter pan-Arab nationalism.
Maidul Islam, Assistant Professor of Political Science, Centre for Studies in Social Sciences, Calcutta assessed the influence of Jamaat-e-Islami in Contemporary Bangladeshi Politics, 2008-2023, focusing on the more recent electoral results, the crisis of Jamaat and the possible challenges the organisation faces in contemporary Bangladesh. He also asked whether Jamaat still has any real potential to revamp itself and make a mark in Bangladesh politics by using an alternative platform and making tactical social and political alliances.
In a tactical change, Jamaat's leadership is now considering changing its position from the time of the Bangladesh Liberation War, although for some, its fundamental position has not changed, even though the rhetoric has become softer.
Dr Md Nazrul Islam, Professor of Political Studies, Shahjalal University of Science and Technology, Sylhet, Bangladesh explored the theme of Jamaat and democracy and spoke of opportunities for reconciliation between Jamaat and democracy within secular and semi-secular parties.
Speaking about the position of Jamaat on democracy, he said that neither Islam nor democracy is monolithic, therefore political Islam is not monolithic either. He suggested, too, that Jamaat and democracy are not necessarily incompatible adding that the party has supported constitutionalism and electoral politics. (ANI)
Advertisement