Advertisement

President Sheikh Mohamed bin Zayed expressed confidence in Emiratis' ability to drive the country's economic leadership and competitiveness in various fields….reports Asian Lite News
President Sheikh Mohamed bin Zayed emphasised that empowering a skilled and qualified national workforce is a top priority, and should be supported by all institutions, government departments, and private sector partners working together.
He expressed confidence in Emiratis' ability to drive the country's economic leadership and competitiveness in various fields.
Sheikh Mohamed bin Zayed, Sheikh Mohammed bin Rashid Al Maktoum, and Sheikh Mansour bin Zayed Al Nahyan, who is the Chairman of the Board of Directors of the Emirati Talent Competitiveness Council, attended part of the honouring ceremony of winners of the first edition of the NAFIS Award 2022-2023 at Qasr Al Watan.
Sheikh Mohammed noted that Sheikh Mansour is overseeing the Emiratisation programmes, and the Emirati Talent Competitiveness Council has launched an integrated package of opportunities to promote the presence of UAE citizens in the private sector.
He stated, "We have ambitious national objectives to develop the Emiratisation programme, which is crucial to the UAE's development journey. Our policy focuses on strengthening partnerships between government and private sector institutions, investing in youth potential, and enhancing their expertise."
The event was attended by a number of ministers, top officials, public figures, and businesspeople, during which the names of the winners were announced and honoured for their achievements in 2022.
Dr. Abdulrahman Al Awar, Minister of Human Resources and Emiratisation, emphasised the UAE leadership's support for the Emiratisation programme and their commitment to providing all possible support for skilled and qualified workers to enhance their active participation in the country's development.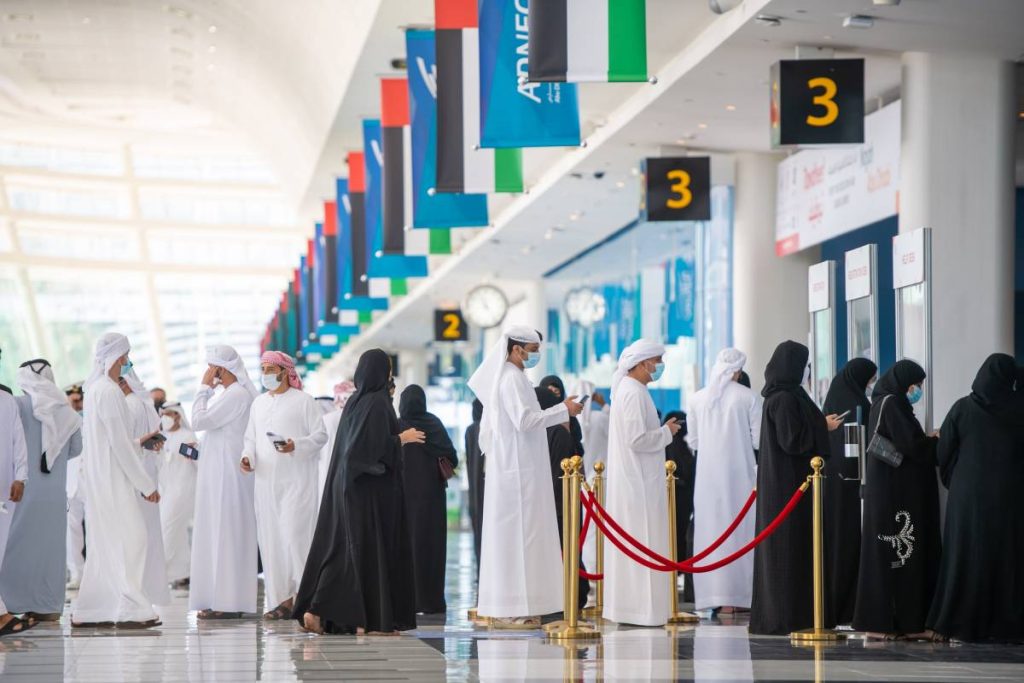 He added, "The Emiratisation policy enjoys the support of the wise leadership, and the last stage witnessed the launch of a comprehensive set of initiatives aimed at creating a supportive environment for Emiratisation and strengthening the private sector's role as a major partner with great capabilities and opportunities."
Al Awar stressed that the NAFIS Award aims to promote positive competition among private sector establishments in Emiratisation by recognising those who have achieved the necessary targets and celebrating outstanding Emirati talents in this sector. This contributes to improving the national human development system and increasing its participation in strategic economic sectors in the present and future.
Ghannam Butti Al Mazrouei, Secretary-General of the Emirati Talent Competitiveness Council, stated that the launch of the inaugural NAFIS Award for 2022-2023 aims to recognise private sector companies, Emiratis working in them, and their trainees who have met the Emiratisation conditions and targets and achieved outstanding performance results.
Al Mazrouei emphasised that the award serves as a stimulus to achieve the UAE leadership's vision by encouraging private sector establishments to increase the participation rate of UAE citizens in the workforce and make a significant leap in the nation's development journey and the national economic system. Additionally, the award honours Emirati individuals and acknowledges their achievements in their respective fields.
The Award consisted of a number of categories. The Best Company in Achieving Emiratisation Targets included 3 main categories: Large Sized Companies (1000 employees or more), won by Majid Al Futtaim Hypermarkets LLC; Medium Sized Companies (500 to 999 employees), won by Al Masar Recruitment Services; and Small Sized Companies (fewer than 499 employees), won by KPMG Lower Gulf Limited.
This NAFIS Award's first cycle ceremony also included a special honour to 21 companies who made distinguished efforts in Emiratisation through recruiting and training Emiratis, including: Majid Al Futtaim Cinemas LLC (VOX); Al Futtaim Private Co LLC; Injazat A G42 Company; Crif Gulf DWC LLC; OMB for Manpower Staffing Services; Aldar Projects; Al Riyadh School; Al Rayana School; Emirates Response Services LLC; SAAED for Traffic Systems; Teleperformance; Taqieem Trade Information Centre; Taqdeer Centre; Etimad Holding; IGG Emirates Advanced Training LLC; Al Shuweihat Limited Partnership; Lulu Hypermarket; Jindal SAW Gulf; Halliburton Worldwide Limited; Keolis MHI; and Maximon for Project Management.