Advertisement

Dan Miran, father of Omri Miran, said that Israelis lack a government and Knesset members don't speak with the families of the missing persons…reports Asian Lite News
Hostages And Missing Families orum commenced its march from Tel Aviv on Tuesday which will end at Prime Minister's Office in Jerusalem on Saturday.
The forum has been vocal against the Israeli government for failing to bring back the missing person following the October 7 attack. The forum wants the Prime Minister Benjamin Netanyahu to respond regarding the demands for a deal to free the hostages held by Hamas in Gaza.
The forum has demanded to meet the war cabinet, in order to listen what demands they have put on the table in order to carry out a deal with Hamas for the release of the hostages.
The march will pass through several stations including: Be'er Yaakov, Beit Hashmonai, Latrun Junction, and Kiryat Anavim — where a festive Shabbat meal will be held with all the families.
On Saturday, the march will end at the PM's office and afterward, all the families will arrive for a central rally in the Rose Garden.
The forum has called on Israeli citizens, the war cabinet, and city leaders to join the march for their demands.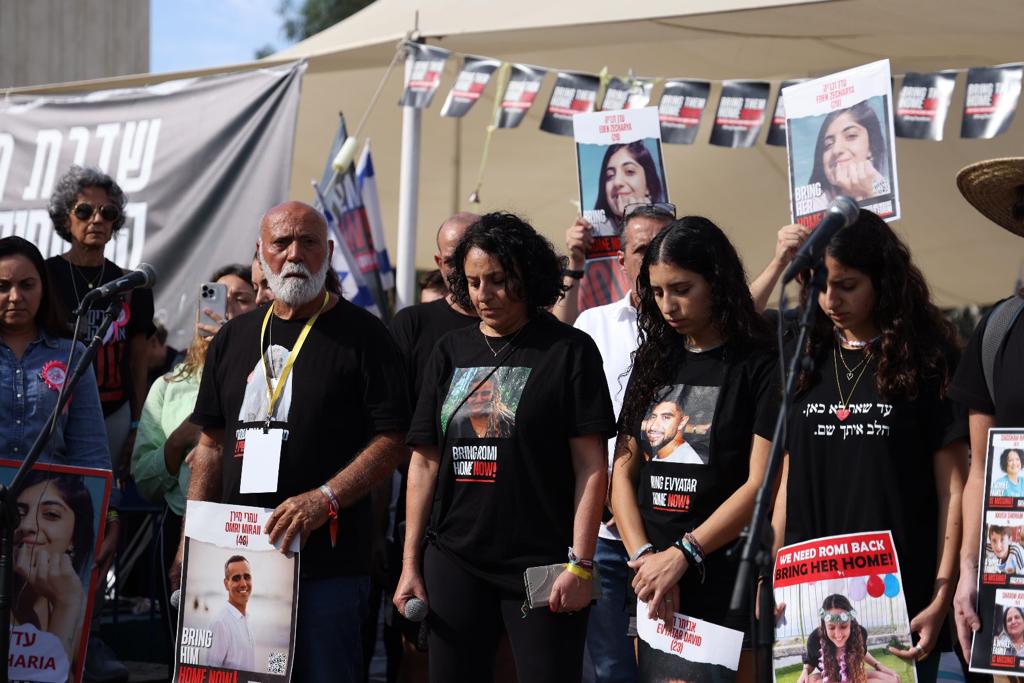 Yuval Heran, brother of Adi Shoham, who was kidnapped along with her husband Tal and her two children – Yahal (3) and Noa (8) said: "I have lived my entire life in Kibbutz and thought it was a safe place to live but 39 days ago my dream was shattered. Our worst nightmare came true. My seven family members, including children, are in Gaza. We live in pain every moment."
"I call on everyone to join us, Knesset members, ministers, city leaders, youth movements and all citizens of Israel. Come with us to Jerusalem," he said.
Shelly Shem Tov, mother of Omer Shem Tov said that since last 39 days Omer is in Hamas captivity.
"I don't know what is happening with my son. I don't know if he is eating, if he has seen the sun or if they are beating him. I don't know if he is getting his medications. He has asthma," she said.
She said that Netanyahu and the cabinet must answers. "We have no more strength. Return our children, our families, and our homes," she said.
Dan Miran, father of Omri Miran, said that Israelis lack a government and Knesset members don't speak with the families of the missing persons.
"When I asked my son why he stayed in Nahal Oz, he told me there is a whole army around him protecting and nothing can happen to him and his family," he said.
He said, however, the government of Israel abandoned his son. "They are the only ones who can tell me about my son. I demand that the cabinet comes to us and tells us what is happening. I don't know anything! Come to us, tell us something. You owe answers to the people of Israel," he said.
Yaela David, sister of Evyatar David told media persons that since last 39 days the only news they have about Evyatar is from the videos published by the Hamas.
"I saw my brother — in the video-footage of kidnapped — released by the Hamas," she said.
She said that the war cabinet must meet the families of the missing persons. "We want answers. We want to know what has been put on the table by the State of Israel. This is not only a war of IDF soldiers or for hostages but a war for all Israeli," she said.
Danny Elgart, brother of Itzik Elgart, said that the state must stop this psychological torture on us. "We know what Hamas wants but know nothing what State of Israel wants," he said.
He said that there must be an authorised representation from the government which will address our grievance.
"Netanyahu must give answers. There is no such thing as a partial deal. You separated us from our families on October 7, return them to us," he said.
Meirav Leshem Gonen, mother of Romi Gonen (23) said that we have got no answers from our government. "Since last 39 days, we've been standing here feeling safe in Tel Aviv while the hostages are there in Gaza," she said.
She said that they have no information about their loved ones.
"We would be happy to end the march today if war cabinet comes and speak to us. We want a solution for all the families. How is there no deal?
ALSO READ-Sisi and Putin Push for Gaza Ceasefire in Urgent Phone Call
Advertisement