Advertisement

Pakistan has a population of 24 crores 41 lakh, out of which 40 lakhs are Afghans…reports Asian Lite News
In an unprecedented move, the Caretaker Government in Pakistan, led by former lawmaker Anwar-ul-Haq Kakar, had announced 1.7 million Afghan refugees to leave by November 1. The caretaker Prime Minister as well as his two cabinet ministers, Sarfaraz Bugti and Murtaza Solangi had stressed that the 'crackdown' would apply to all undocumented foreigners in Pakistan.
An Apex Committee of the National Action Plan (NAP) meeting was held on October 3, announcing 'October 31' as the deadline to leave voluntarily or face deportation. In its defence, the Interior Minister Bugti said "Most of the [illegally-residing] people are from Afghanistan; the impression that only people from Afghanistan are being evicted is wrong." The Interior Ministry also stated that 140,322 people had already left voluntarily. Pakistan's government blames Afghan nationals for the increase in violence in the country, including two suicide bombings at mosques in September.
Pakistan has a population of 24 crores 41 lakh, out of which 40 lakhs are Afghans. Around 24 lakhs of Afghans have some form of government approved documentation, while 17 lakhs have no paperwork (according to the government). Situated at the border with Afghanistan, Pakistan has witnessed the cross-border travel of Afghans for decades, starting from 1979 Soviet Invasion to the recent return of Taliban in 2021.
What led to the mass deportations?
"Historically, the Pakistan State officially has, that there is a large number of Afghan refugees inside Pakistan. Several millions of those are registered, either have Proof of Registration (POR) or Afghan Citizenship Card (ACC) card. As long as they have those cards, they are considered registered. If they do not have those cards, they are considered unregistered. The registered ones had entered Pakistan, through a visa or passport, but there is no exit record. So, Pakistan's stand is that it should not bear the cost of these additional millions of refugees that it does not receive any international support for. That is the official stand. It is a policy stand, but the problem here is the execution of the policy. I would argue that the key difference here is that the trigger this time is little bit different from usually stated security concerns or the pressure built on economic foundations of the country because providing resources for social protection, health, education for 1.7 million additional citizens, which amounts of 1.2% of Pakistan's total population, is quite a monumental task for the government, that is already an economic downturn," said Zeeshan Salahuddin, Director Strategy and Growth, Tabadlab.
The Human Rights Watch (HRW) has slammed Pakistani authorities for using threats, abuse and detention to coerce Afghan asylum seekers without legal status to return to Afghanistan. "Many Afghans at risk of being deported are awaiting resettlement to the United States, United Kingdom, Germany and Canada," HRW stated. The decision has been widely criticised while the United Nations High Commissioner for Refugees (UNHCR) gave repeated calls for the government to re-address the mass forceful deportation. The World Food Program on X social network has worried about the situation of families in the upcoming winter in Afghanistan. This institution said that it needs 400 million dollars to provide necessary assistance to needy families in Afghanistan.
Meanwhile, Since 2002, the United States has provided more than $273 million (nearly Rs 62 billion) in humanitarian assistance for Afghan refugees in Pakistan and Pakistani host communities. In Fiscal Year 2022 alone, the U.S. provided nearly $60 million (more than Rs 13 billion) in assistance to the refugees and their host communities.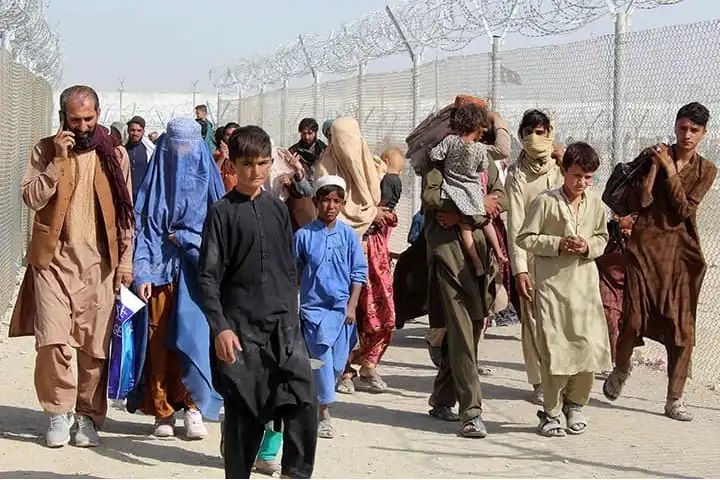 The context of being an Afghan refugee in Pakistan
"The influx of Afghan Refugees in Pakistan can be divided into three phases: Firstly, soviet invasion of Afghanistan, secondly post 9/11 and thirdly, post-Taliban government. There is an utmost need to unfold the term "Afghan Refugees." Broadly, there are three understandings. First are those Afghan Refugees who have refugee cards and have registration. From Pakistan's perspective, these are legal Afghan Refugees. Second, are those who became citizens of Pakistan and have documents. It is not easy to contest their status as Pakistani citizens. Third are those who are considered illegal Afghan Refugees (foreigners) because they do not have any registration or refugee card," said Gohar Ali Iftikhar, PhD Candidate at Bahauddin Zakariya University and member Board of Experts at Pakistan Studies and Member of Pakistan Research Center for a Community with Shared Future (PRCCSF).
"In the year 2023, a narrative was shaped that Afghan Refugees are involved in terrorist activities, illegal trade, damaging infrastructure, involvement in criminal activities, and badly affecting social fabric." he further added.
"Since 1970s, Afghan refugees have been fleeing to Pakistan because of proxy wars of which Pakistan was a part unfortunately. They have been here for decades earning their bread. They are solely depending on their own income. The camps where Afghan refugees reside have no water, no electricity, no gas, and no hygiene. Though, UNHCR, donor countries and UN bodies provided huge funds for the rehabilitation of Afghan refugees but the fact is not a single school was set up to educate Afghan kids over the years. Also, nobody can point out a single basic healthcare unit for the treatment of the Afghan refugees," said Arshad Yousafzai, a Karachi-based journalist.
"Refugees are treated as criminals, thousands of children, women and elderly are put behind the bars. Among them, there were patients, pregnant women and small kids. But they are labelled as illegal. This must be understood that refugees can't be illegal as seeking refuge somewhere is a basic right," he added.
What is Afghanistan's Reaction?
Amir Khan Muttaqi, Afghanistan's Acting Minister of Foreign Affairs told the representative of the United Nations Secretary that the Pakistani government is raiding the homes of Afghan refugees and taking their cash assets by force. Moulavi Muhammad Yaqub Mujahid, the Deputy defense minister of the Taliban government in Afghanistan, called on the Pakistani government not to use force against Afghan refugees and "not to confiscate" their civilians.
Recently, news has been published that some Pakistani security forces are extorting money from Afghan refugees. The Afghan Ministry of Refugees intends to register returnees and house them in temporary camps, while the Taliban administration will try and find returnees jobs.
The Legal dimensions of deportations
It should be noted that, Pakistan is not a party to the 1951 Convention relating to the Status of Refugees/1967 Protocol and has also not enacted any national legislation for the protection of refugees, nor established procedures to determine the refugee status of persons who are seeking international protection within its territory. Such persons are therefore treated in accordance with the provisions of the Foreigners Act, 1946.
"The Citizen Act of Pakistan, 1951, states that a person who is born in Pakistan is a citizen of Pakistan. The children of many Afghan Refugees are born, grown up and educated in Pakistan. They have an emotional attachment to their areas. It will lead to an identity crisis. Here, it is worth mentioning that the Caretaker Prime Minister of Pakistan Anwaar-ul-Haq Kakar himself, is a Pakhtoon, but the issue is still not handled appropriately," stated Gohar Ali Iftikhar.
"78% of those who hold the registration card in Pakistan are actually Afghan nationals who are born inside Pakistan. By virtue of that, they should be Pakistani citizens. But this is a luxury that is not afforded to children born to Afghan refugees residing in the country for a while. One of the missteps: many individuals, maybe second or third generation Afghans are being deported to country where they do not have roots and frankly, they do not know what they are going back to," said Zeeshan Salahuddin.
"Out of the 17 lakh unregistered refugees, 4.5 – 5 lakhs came to Pakistan after Taliban takeover of Afghanistan. They had been assisted by SHARP and SHEHER NGO – two local NGOs that work with UNCHR. The rest 12 lakhs, want to register, but the registration has been banned since August 2021. In the 2017 Cabinet meeting, the then PM Nawaz Sharif had asked for implementing a registration policy and follow the refugee law to deal with the issue. In the 2023 Cabinet meeting, no decision was taken. Therefore, it is like pulling a rabbit out of a hat. The Caretaker government cannot make such policy decisions," said lawyer Umer Gilani.
Umer Gilani has also approached the Honourable Supreme Court through a petition under article 184(3) Constitution, 1973, challenging the Caretaker Government's unconstitutional, illegal and inhumane policy of refoulement of at-risk asylum seekers and refugees residing in Pakistan since the past several decades.
"In Pakistan, under two contexts, birth right citizenship cannot be offered. Either when the child is of a diplomat or that of an enemy soldier. Therefore, it is necessary to take into account the legal rights of those children born to Afghan refugees. The government needs to filter out asylum seekers and potential citizens amidst this mass deportation," he further stated.
"Asylum seeking is a fundamental human right. Those who have spent more than 40 years in Pakistan should never be used in this political game. Their children have the right to get Pakistan's citizenship. Kicking them out means that we are sowing seeds of hatred against ourselves," said Arshad Yousafzai.
A group of Afghan artists residing in Pakistan lodged an appeal in the Peshawar High Court (PHC) against their forced repatriation. Musicians are afraid of their uncertain future in Afghanistan under the rule of the Taliban. Meanwhile, The Peshawar High Court on Wednesday wondered how the United Nations High Commissioner for Refugees could register Afghan refugees, who entered the country in the last two and three years, without the consent of Pakistan's government, and sought the response of authorities about the matter.
What is Pakistani civil society's reaction?
"A day after Pakistan initiated the forced deportation of vulnerable Afghan refugees, the country has experienced 3 attacks. Firstly, a convoy attack in Gwadar, Baluchistan has killed 13 army soldiers. Secondly, a blast in Dera Ismail Khan city has left civilians injured. Thirdly, there are now reports of any attack on Pakistan Air Force base in Mianwali Punjab. You have deported undocumented and unwanted Afghans. Now, who is responsible for these attacks? Refugees have been wrongly scapegoated?'' questioned Khalid Amiri, an Afghan refugee.
56 civil societies members–lawyers, professors, journalists, doctors, researchers and activists have issued a statement to criticise the deportation of Afghan refugees from Pakistan and to call upon the caretaker government to halt the arrest of refugees. The civil society members include Hina Jilani, Arif Hasan, Sheema Kermani, Dr Riaz Ahmad, Nida Kirmani, Mahnaz Rahman, Pastor Ghazala Shafique and Barrister Kazim Hassan. Civil society members visited a detention centre in Karachi. To their utmost horror, not only Pashtun and Afghan adults but also kids were being picked up by the police and thrown in there without their parents knowing. The rights activists, civil society people and reporters gathered outside Amin House, Scouts Hostel in Haji Camp on November 3, where Afghan people are kept before their forced deportation.
"There are detention centres in Pakistan right now where Afghan people are being detained. As there is no FIR against them, they do not have access to legal counsel. As a result, lawyers, media, civil society, no one can enter these, and they are heavily policed. No one knows what is happening inside – and this isn't new. We've done it before to Bihari and Bengal people – detain them in detention centres without representation or rights. There is no law for detention centres, and Pakistan is not a signatory to refugee covenants so the Pakistani State has created a comfortable legal vacuum for itself within which it is detaining countless Afghan families without crimes, without police reports, and with zero legal representation. Your state's poverty is not Afghans' doing – it is the political elites,' tweeted Mehrub Awan, Director of Policy and Research at Gender Interactive Alliance.
"It also a special kind of cruelty to expel 850,000 women and girls to a country where you know their rights to study, work, move, access healthcare and aid, speak, organize, play sport and even just visit a park will be systematically violated," tweeted Heather Barr, Associate director, women's rights division, Human Rights Watch.
"To depart 700,000 Afghans who fled the Taliban's tyranny is clearly inhumane. It was wrong for the Pakistan government to have helped the Taliban take over Afghanistan, and doubly wrong to boot out the victims of that regime. As for other Afghan refugees who have sheltered in Pakistan for economic reasons, to enforce their return makes some sense. But it should be a case by case approach aimed at alleviating human suffering rather than the draconian step taken by the government," said Pervez Hoodbhoy, Pakistani Nuclear physicist and author of 'Pakistan: Origins, Identity and Future'.
He further added that team of the Islamabad Police, led by Station House Officer (SHO) of Ramna police station, Alamgir Khan on October 24, allegedly raided 'The Black Hole', a small community hall in Islamabad's G-11 sector, minutes before start of a panel discussion on the issue of the repatriation of the Afghan refugees. Eminent politician Afrasiab Khattak and the author and researcher Sajjad Azhar were to take part in the discussion.
Future Ramifications
"This is very much going to undo decades of hospitality for hosting Afghan refugees inside the borders of Pakistan. It is going to lead additional vitriol in between Kabul and Islamabad. It has severe implication on how Pakistan treats Afghan refugees, both from hospitality and human rights point of view. So, the repercussions would be significant for both Pakistan and Afghanistan. Afghanistan, under Taliban government, are stretched, their resources are less, they are struggling to make ends meet. Having to cater to another 1.7 million refugees, close to 5% of their population would be significant setback for Afghanistan. It is a pressure point as Pakistan has repeatedly asked Afghanistan to reign in terror groups, Tehrik-i-Taliban Pakistan that has been raging wars on state of Pakistan for 15-16 years. The response from Kabul in terms of policy or intervention on the ground has been very limited." said Zeeshan Salahuddin.
"After this forced deportation, the level of hate against Pakistan among Afghans (if they are Taliban, their supporters, or if they belong to progressive quarters) is touching new heights. This hatred will have very bad implications in the near future as it is evident from the statements of Taliban leaders. And some of them believe and even they publicly say that Pakistan was an ally of the US and NATO against them. They also blame Pakistan for arresting the then Taliban diplomats and handed them over to US after 9/11," said Arshad Yousafzai.
"There are some valid questions which need to be addressed. The first one is the timing of this action. Afghan Refugees have been living in Pakistan for the last three decades now; suddenly, what happened? Second, currently, the political setup in Pakistan is a Caretaker Government, and its prime duty is to conduct elections and transfer the power to the elected government. Who gave the mandate to such a policy decision which would have long-term implications on National and Regional Politics? Last, if the issue of Afghan Refugees is that much herculean challenge for Pakistan, then why did the previous elected governments procrastinate this issue?" questioned Gohar Ali Iftikhar.
"The other side of the picture is that the issue of Afghan Refugees is a complex phenomenon. Pashtoon, Pakhtoon or Pathans comprise a significant percentage of Pakistan's population. They are politico-socio-economically influenced ethno-linguistic group. Afghans and Pakhtoons shared a common culture and people-to-people ties. So, this hasty decision will affect the Pakhtoon population of Pakistan. Further, there is a possibility of antagonism in the foreign relations between Pakistan and Afghanistan" he further elaborated.
"This is not the first time that Pakistan has considered sending back undocumented Afghans from the country but the scale of the current effort is significant. In part, this decision is meant to express displeasure with the Taliban regime to curb cross-border militancy in Pakistan. However, Pakistan has also been compelled to take this drastic step due to its inability to put in place effective and more discerning border security and management protocols, as well as due to the lingering burden of hosting one of the largest refugee inflows in the world for decades, without sufficient international support," explained Syed Mohammad Ali, who teaches human security at the Advanced Academic Programs at Johns Hopkins University.
Irrespective of what the ramifications of this deportation might be, it cannot be ignored that the colossal human rights abuse in this context by Pakistan's Caretaker Government would have international and domestic implications, especially at the sensitive Durand Line, a 2,670-kilometre long border between Afghanistan–Pakistan.
ALSO READ-Pakistan Cracks Down on Afghan Refugees, Sparks Mass Exodus
Advertisement