Advertisement

FoCP has also acknowledged the invaluable contribution of water sponsors, Omnia Food Trading Group, who provided Pink Caravan with 20,000 water bottles throughout October…reports Asian Lite News
Friends of Cancer Patients (FoCP) has announced a triumphant conclusion of Breast Cancer Awareness Month, popularly known as 'Pink October.' Throughout October, Pink Caravan orchestrated 108 activities at 103 different venues across the UAE, engaging communities and offering vital support. These activities included free breast cancer screenings and awareness sessions. In total, an impressive 1,874 screenings were conducted throughout the month, reinforcing FoCP's message of the importance of early detection in the fight against breast cancer.
The Pink Caravan's Pink October campaign, which saw its pinnacle at the Global Village in Dubai on October 27 and 28, featured FoCP's dedicated medical specialists providing 3649 free breast screenings, clinical examinations, mammograms and expert consultations during the two days. Additionally, the initiative witnessed a successful public screening event at JBR Dubai on October 29, sponsored by MSD, marking a significant milestone in their ongoing efforts to raise awareness about breast cancer and promote early detection.
The initiative, which concluded its activities yesterday (Monday), organised the final public screening event at "City Walk," made possible by the generous support of sponsors Victoria Secret and Kipsons. FoCP's is proud to continue its journey through education, awareness, and community engagement in their ongoing mission to promote breast cancer awareness and early detection.
A special community engagement event was marked by the participation of 50 cyclists from the Los Habibies cycling group who covered 100 kilometres on their bikes to complete a journey from Al Qudra to Global Village. They dedicated their 'pink ride' to FoCP's and Pink Caravan's enduring efforts to safeguard the UAE against breast cancer.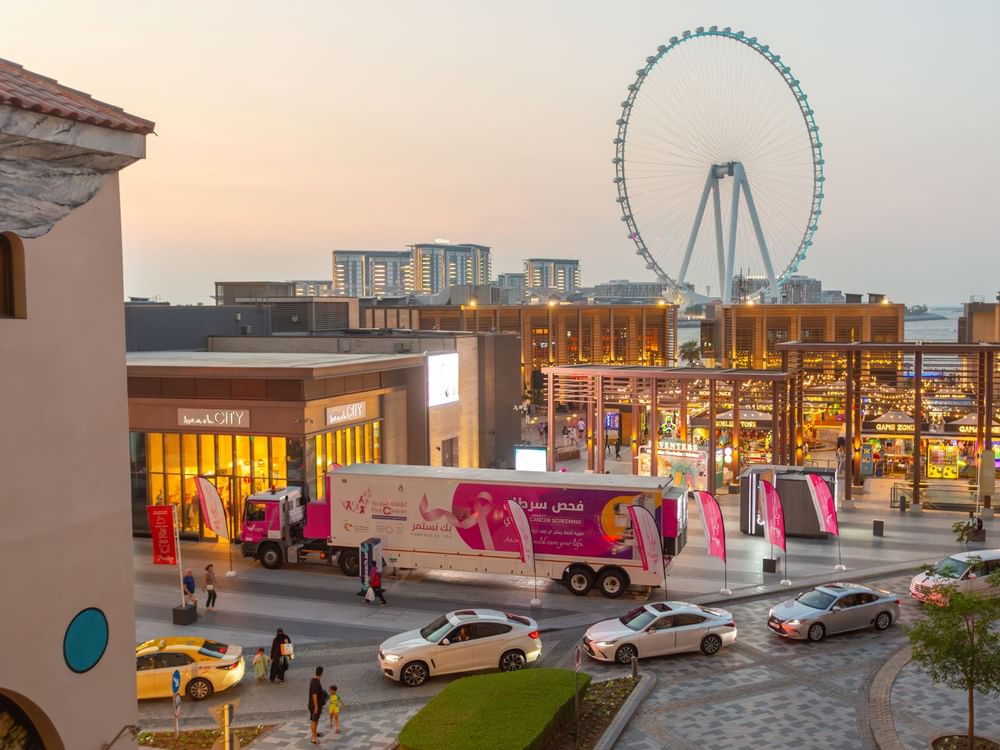 Highlighting the significance of community involvement, Aisha Al Mulla, Director of FoCP, expressed her gratitude, stating, "Pink Caravan's 'Pink October' initiatives exemplify the power of collective action. The commitment and engagement of the community, healthcare professionals, corporate partners, and sponsors have been instrumental in achieving these remarkable results."
For his part, Founder of Los Habibies, Robert Resto, said: "As a part of a family that has felt the profound impact of cancer, I cycle with Los Habibies in the Pink Caravan Ride not just for my loved ones but for all families touched by this journey. Our wheels turn in solidarity, carrying hope, healing, and the promise of a brighter tomorrow."
Key collaborations during this initiative include the support of corporate partners, notably ADNOC, Global Village, Dubai Holding, Emirates Genereral Petroleum, MOHAP, SHAMS, TECOM Group, EDB, FAB, Ghantoot Polo Club, DAMAC, Chalhoub, DEWA, Volvo, MSD, Victoria's Secret, Crescent Petroleum, KIBSONS, AWrostimani, AMIT International Group, Wasel Properties, Sharjah Sustainable City, Omnia, Transworld, Burjeel Medical City, SHEIN, Shakhbout Hospital, MOHAP, Brand For Less, and other noteworthy entities who actively contributed to spreading awareness throughout 'Pink October.'
FoCP has also acknowledged the invaluable contribution of water sponsors, Omnia Food Trading Group, who provided Pink Caravan with 20,000 water bottles throughout October. Moreover, Alfa Nero stood on-site, distributing hope bags to breast cancer screeners, a gesture aimed at raising awareness and supporting women who have undergone screening.
While 'Pink October' is a dedicated month for breast cancer awareness, FoCP emphasises that the importance of breast cancer screening remains vital throughout the year. The fight against breast cancer is a year-round commitment for both FoCP and the Pink Caravan.
Breast cancer remains one of the world's most prevalent malignancies. It is, however, a medically proven fact that women whose breast cancer is detected at an early stage have a 93 percent or higher survival rate in the first five years. Pink Caravan's yearlong initiatives as well as corporate and community activities play a pivotal role in raising this awareness and saving lives.
ALSO READ-Dubai Opens New Cruise Season
Advertisement