Advertisement

Despite recent international efforts to broker a peace deal, the conflict has shown no signs of abating, as the Houthis continued to focus their attacks on strategic targets…reports Asian Lite News
Yemen's Houthi militia has intensified their military operations targeting various areas controlled by the country's government, further exacerbating the years-long conflict, a government official said.
"The Houthis attacked the government's Shabwa Defense Forces stationed in a mountainous area that links the Merkhah Al Ulya district with the adjacent Bayda province, sparking bloody armed confrontations," the local government official told Xinhua news agency on Sunday.
Despite recent international efforts to broker a peace deal, the conflict has shown no signs of abating, as the Houthis continued to focus their attacks on strategic targets, particularly in the oil-rich provinces of Shabwa and Marib during the past 48 hours.
The official clarified that the Houthis' continued military operations in these oil-rich provinces underscore their ambition to expand their control over Yemen and its resources.
"Following hours of fighting, the government forces managed to thwart the Houthi assault on Shabwa, causing many people on both sides to be killed or injured," said the official.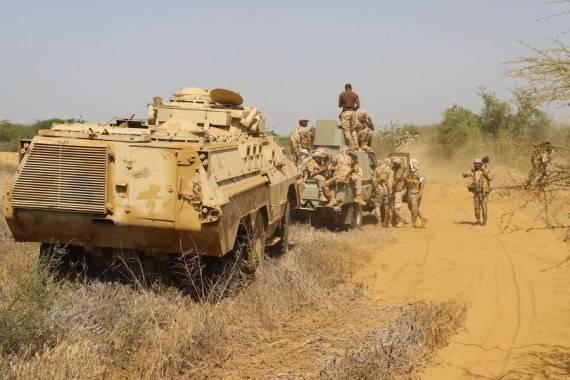 Elsewhere in Yemen, the Houthis began their preparations for carrying out a large-scale military operation against Marib which is strategically important as it houses gas resources and an oil refinery.
The government forces have been fighting fiercely to hold their ground in the Harib district of Marib, while the Houthi rebels have been pushing hard to take control of the area, according to the official.
On Saturday, Yemen's DefenCe Minister and other government officials narrowly escaped a drone attack carried out by the Houthis against their convoy in the country's southwestern province of Taiz.
The recent Houthi attacks on the Yemeni government-controlled areas and military officials dealt a serious blow to the international diplomatic efforts aimed at reducing violence and promoting peace in the war-torn nation, jeopardising the progress that has been made thus far.
It also comes at a particularly critical time, as the two warring sides had agreed in Switzerland to exchange hundreds of war prisoners under the auspices of the UN.
The UN-sponsored agreement was seen as a significant step towards building trust between the Yemeni warring parties and moving towards more negotiations to achieve a lasting peace agreement.
On Friday, Yemen's government warned of a possible return to all-out military conflict in the war-ravaged Arab country following an uptick in Houthi attacks in Marib.
Various regions in Yemen have witnessed sporadic armed confrontations between the local warring factions, after a cease-fire brokered by the United Nations in April expired in October last year.
Yemen has been embroiled in a devastating civil war since 2014, with the Houthis fighting against the internationally-recognized government and its allies, which include a Saudi Arabia-led coalition.
The years-long war brought the Arab world's poorest country to the brink of collapse causing famine and widespread suffering as well as disrupting the country's food supply chain, leaving millions of people without access to adequate nutrition.