Advertisement

India's focus areas at WEF this year are investment opportunities, infrastructural landscape and its inclusive and sustainable growth story….reports Asian Lite News
India has reiterated its position as a resilient economy providing stable policy to the global investors at the World Economic Forum (WEF) at Davos.

India's focus areas at WEF this year are investment opportunities, infrastructural landscape and its inclusive and sustainable growth story.

Taking forward the strategy and presence of India during WEF Annual Meeting in May 2022, the Department for Promotion of Industry and Internal Trade (DPIIT) has taken the initiative to further strengthen India's presence through three lounges with focus on investment opportunity, sustainability and inclusive approach to compliment economic growth official sources said.

In addition, the presence of state lounges of Maharashtra, Tamil Nadu and Telangana along with business lounges of HCL, Wipro, Infosys and TCS have added strength to India's presence on the Davos promenade.

The entire India contingent of the central government, state government, businesses and officials have put together a common front to present India at the global state.

The three lounges were inaugurated by women and child development minister Smriti Irani, power minister R.K. Singh and health minister Mansukh Mandaviya.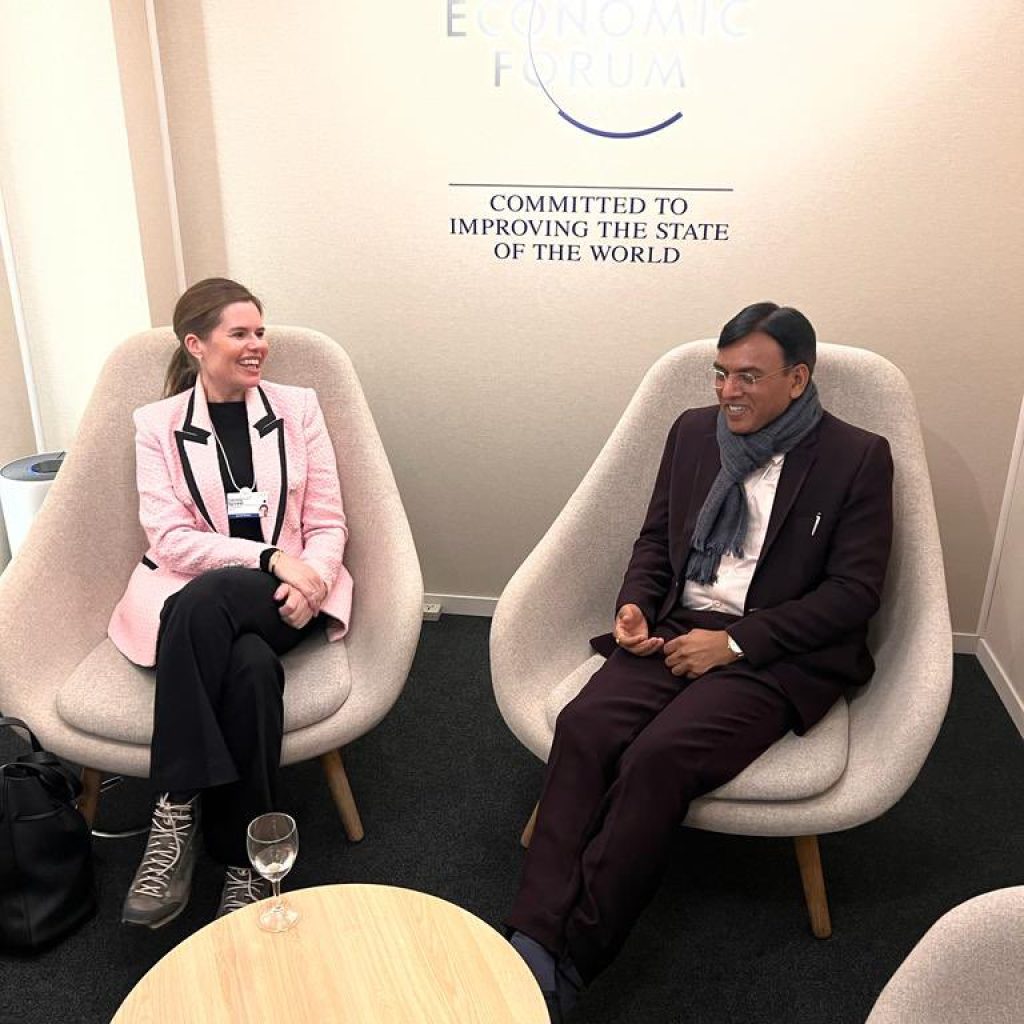 High-value pharma, med tech products
Minister Mandaviya on Wednesday urged pharma and med-tech sectors to move out of their comfort zone and adopt innovation as a driving feature of their business strategies and said that India is poised to take on the global arena and move from high-volume to high-value products.
Addressing the roundtable discussion on "Opportunities in R&D and Innovation in Life Sciences at the World Economic Forum in Davos today, Mandaviya said, "The Government of India, under Prime Minister Narendra Modi's leadership is committed to promoting Indian Life Sciences as a globally competitive sector to ensure the availability, accessibility, and affordability of drugs and medical devices in domestic and global markets".
According to the Ministry of Health and Family Welfare, the purpose of the meeting was to establish an affordable and accessible life sciences ecosystem, identify the gaps in the life sciences industry, extend opportunities for knowledge exchange and encouragement of innovation in R&D and identify investment opportunities to create a robust R&D and innovation ecosystem to increase the competitiveness of life sciences industry.
Speaking on the occasion, Mandaviya said that a large share of global value capture (nearly 40 per cent of a market of 6.65 trillion USD) in the life sciences sector lies in innovation-based products.
"Promoting drug discovery and innovation will unlock this value and will also enhance the industry's contribution to the Indian economy (additional USD 10-12 Bn in exports every year) and create a large pool of jobs to enhance India's differentiation vis a vis other developing economy," he said.
The Health Minister said that the increased spending on healthcare globally, the increase in the size of the Indian middle class, the commitment to Universal Healthcare and the attention to schemes such as Ayushman Bharat – Pradhan Mantri Jan Arogya Yojana (PM-JAY) and Pradhan Mantri Bhartiya Jan Aushadhi Pariyojana (PMBJP), etc., have created a sustained demand trajectory for Pharma and MedTech sectors.
"The demand for better therapeutic outcomes, trends in personalized diagnostics, in-home treatment, wearables, telemedicine, etc. has created scope for differentiated products and service offerings," he said.
In order to capture these opportunities, the Union Health Minister urged the Pharma-MedTech sectors to move out of their comfort zone and adopt innovation as a driving feature of their business strategies.
He stated that "India is now poised to take on the global arena and move from high-volume to high-value products".
"India is taking concerted and coordinated efforts on R&D and Innovation in the Pharma-MedTech Sector to indigenously develop cutting-edge products and technologies and promoting an enabling ecosystem for innovation in this sector to become a leader in drug discovery and innovative medical devices," the Minister said.
'India better off than many global economies'
IMF Deputy Managing Director Gita Gopinath has cautioned that India needs to work on labour markets and land, even as she hailed the country for doing better than many global economies.

In an interview on the sidelines of the ongoing World Economic Forum (WEF) meeting at Davos on Wednesday, Gopinath cautioned against growing fragmentation globally, saying it hurt the global growth rate.

The Covid-19 pandemic and the Russia-Ukraine war has made countries much more concerned about national security and economic security, which is causing them to undertake policies that could lead to greater fragmentation, she was quoted as saying in the interview.

India though, she said, has been receiving lots of positive sentiments but at the same time added that greater reforms are needed for foreign direct investment in the manufacturing sector.

A lot of businesses and companies are looking towards India as an investment destination as they try to diversify away from countries including China, Gopinath further said.

Commenting on India's growth rate, the top IMF official said that in the current fiscal, it is 6.8 per cent while it would be 6.1 per cent for the next financial year.