Advertisement

Pandey expressed hope that the Sri Lankan government would address Tamil aspirations by implementing the 13th Amendment and conducting Provincial Council Elections…reports Asian Lite News
India has called on the Sri Lankan government to "work meaningfully" towards promptly fulfilling its commitments to safeguard the basic rights and freedoms of all its citizens, particularly the Tamil community.
Ambassador Indra Mani Pandey, India's Permanent Representative to the United Nations in Geneva, emphasised India's historical support for Sri Lanka's post-2009 relief, rehabilitation, resettlement, and reconstruction efforts.
He outlined India's guiding principles of supporting Tamil aspirations for equality, justice, and peace, as well as respecting the unity, territorial integrity, and sovereignty of Sri Lanka.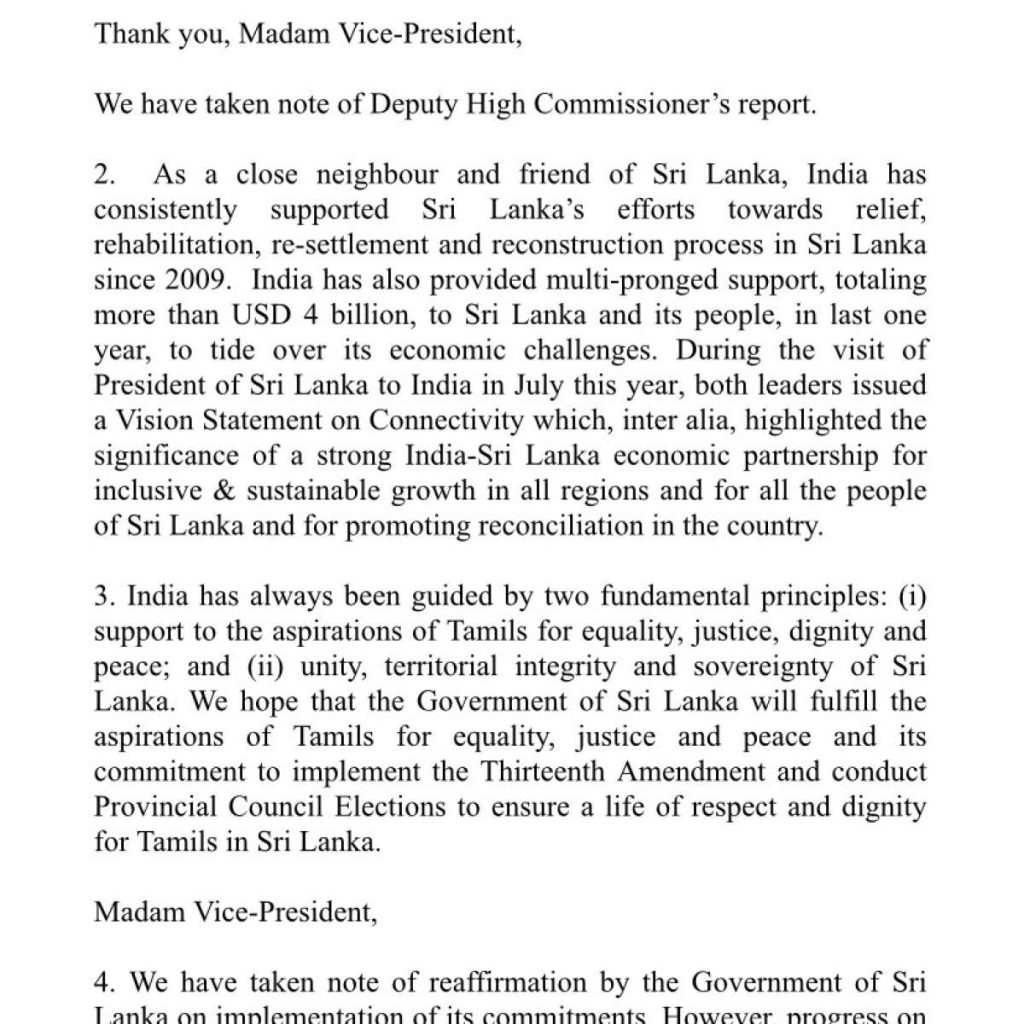 Pandey expressed hope that the Sri Lankan government would address Tamil aspirations by implementing the 13th Amendment and conducting Provincial Council Elections. The 13th Amendment, established after the India-Sri Lanka agreement in 1987, established nine provinces as devolved units with a temporary merger of the Northern and Eastern provinces.
However, elections for these provinces have been on hold since 2018 due to proposed electoral reforms, requiring a parliamentary amendment to proceed under the existing proportional representation system.
While acknowledging Sri Lanka's reaffirmation of its commitments, Pandey noted that progress in this regard had been insufficient. India encouraged Sri Lanka to take meaningful actions to protect the fundamental freedoms and human rights of all its citizens. Pandey also highlighted India's significant financial support, exceeding USD four billion, to help Sri Lanka overcome its economic challenges in the past year.
During Sri Lankan President Ranil Wickremesinghe's visit to India in July, both leaders issued a Vision Statement on Connectivity, emphasizing the importance of a robust India-Sri Lanka economic partnership for inclusive growth and reconciliation. Finally, Pandey expressed condolences for the recent earthquake in Morocco, which resulted in the loss of many lives.