Advertisement

Indian Navy has been proactively engaging with the countries in the Indian Ocean Region towards enhancing regional maritime security…reports Asian Lite News
The 35th edition of the India-Thailand Coordinated Patrol (Indo-Thai CORPAT) was successfully conducted by the Indian Navy and the Royal Thai Navy from May 3–10, 2023 as a sign of their continuous collaboration and dedication to maritime security.
This bi-annual coordinated patrol, which took place along the International Maritime Boundary Line (IMBL) in the Andaman Sea, was carried out with the goal of enhancing maritime ties and ensuring the safety and security of this vital area of the Indian Ocean for international trade.
CORPAT also improves communication and coordination among fleets and makes it easier to put laws in place to stop and deter criminal activity including piracy, armed robbery, and illegal, unreported, and unregulated (IUU) fishing. By exchanging information for the management of Search and Rescue (SAR) operations at sea, it also contributes to improving operational synergy by preventing smuggling and illegal immigration.
The Indo-Thai CORPAT saw the participation of the Indian Naval Ship (INS) Kesari, an indigenously built Landing Ship Tank (Large), and His Thai Majesty's Ship (HTMS) Saiburi, a Chao Phraya Class Frigate, alongside Maritime Patrol Aircraft from both navies.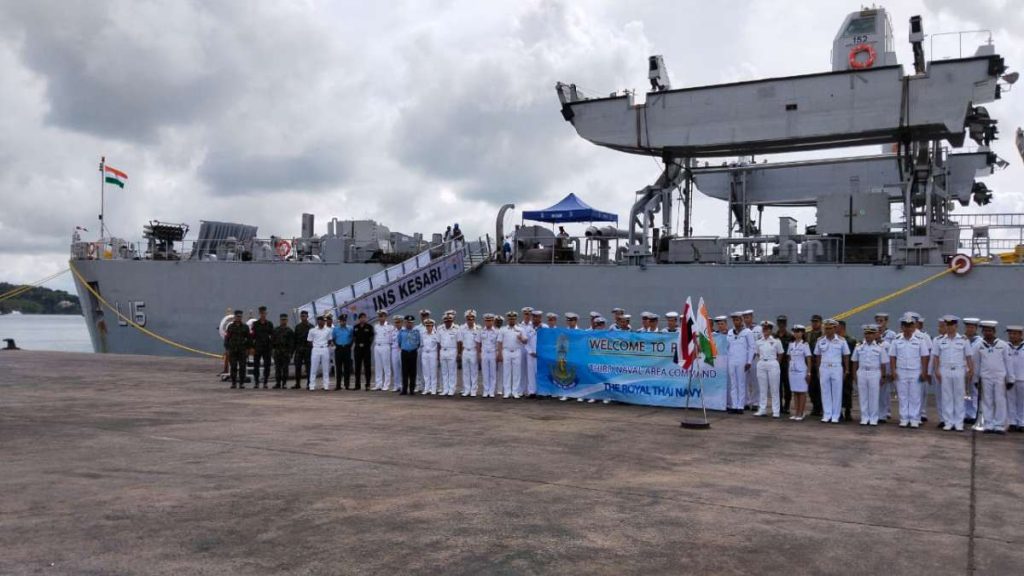 According to the Ministry of Defence, the Indian Navy has been proactively engaging with the countries in the Indian Ocean Region towards enhancing regional maritime security. This has been achieved through bilateral and multilateral exercises, Coordinated Patrols, Joint EEZ Surveillance, and Humanitarian Assistance and Disaster Relief (HADR) operations.
Over the years, the relationship between the Indian Navy and the Royal Thai Navy has become closer and friendlier covering a wide spectrum of activities and interactions. "The 35th Indo-Thai CORPAT is another step towards enhancing Indian Navy's efforts to consolidate inter-operability and forge strong bonds of friendship between India and Thailand," the Ministry of Defence said.
ALSO READ-Navy chief visits Singapore, officiates first ASEAN-India maritime drill