Advertisement

Ireland stands ready to support the UAE in its endeavours to make COP28 very successful, said the minister who was on an official visit to the UAE…reports Asian Lite News
Ireland is looking forward to working with the UAE and prepare the highest possible ambition agreement at COP28, the UN Climate Conference to be held in Dubai in November, according to a top Irish official.
"We have been encouraged by public commitment made by Dr. Sultan bin Ahmed Al Jaber, COP28 President-Designate, to prioritise keeping alive the goal of limiting global warming to 1.5°C. This will require a significant step-change by the international community," Josepha Madigan, Irish Minister of State for Special Education and Inclusion, told the Emirates News Agency (WAM).
Ireland stands ready to support the UAE in its endeavours to make COP28 very successful, said the minister who was on an official visit to the UAE.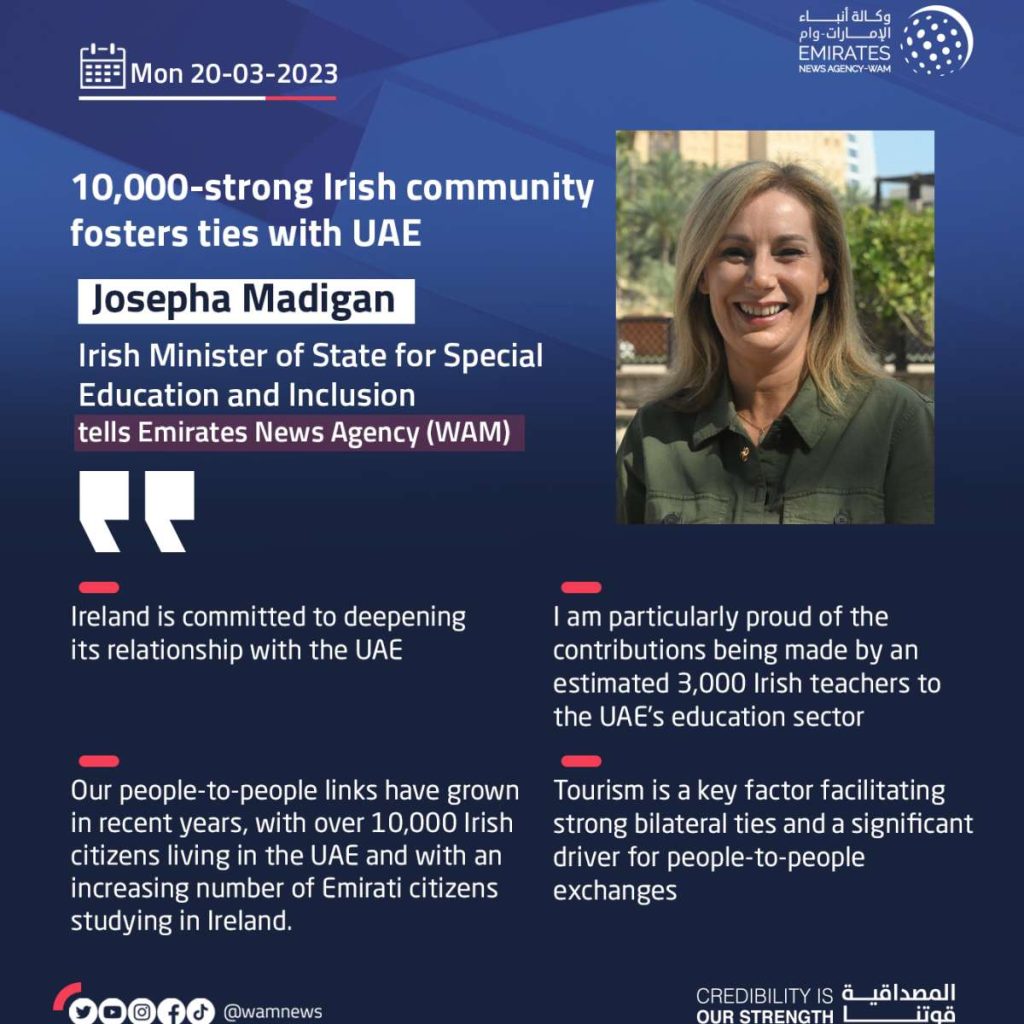 COP28, UNSC cooperation
"Ireland is committed to the UNFCCC [United Nations Framework Convention on Climate Change] process as the multilateral mechanism to drive global climate action and address climate change. We look forward to continuing this important work in COP28," she stressed.
A high-level delegation including the Irish Prime Minister attended COP27 in Egypt last November, where loss and damage was a key priority for Ireland, among others, including mitigation and emission reduction, Madigan noted. A similar Irish delegation is expected to attend COP28, she added.
"We believe that developed countries have a vital leadership role to play in delivering the outcomes of COP27 and in setting global ambition ahead of COP28," the minister said.
"Ireland's international climate action focuses on assisting vulnerable countries and communities. We are in the process of more than doubling our climate finance by 2025 and recently published a Roadmap on our focus areas," she explained.
Talking about Ireland-UAE cooperation in the UN, Madigan said, "It was a privilege for Ireland to serve on the UN Security Council in 2021 and 2022, and to cooperate with the UAE last year on the many areas of mutual importance. While we have left the Security Council, the UN remains at the heart of Ireland's foreign policy."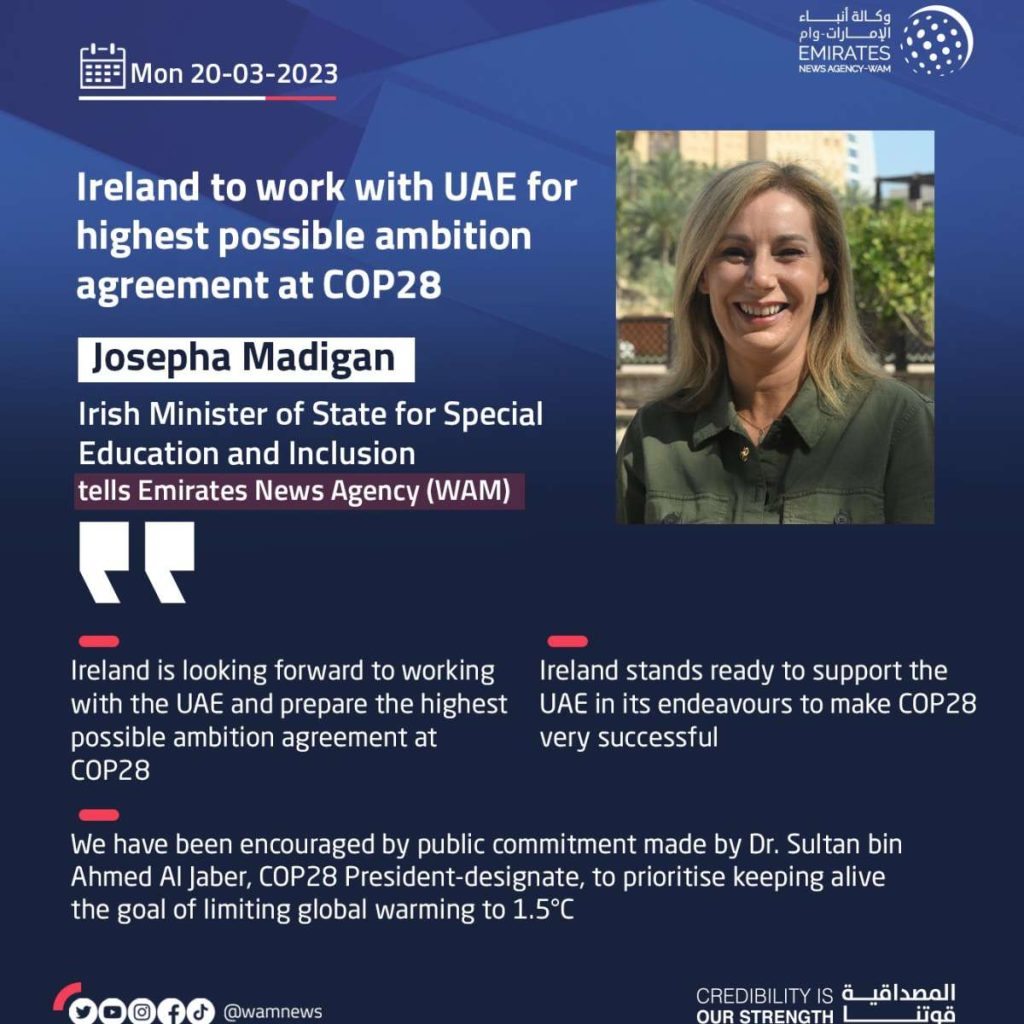 Irish community fosters ties with UAE
Ireland is committed to deepening its relationship with the UAE, the minister asserted.
"Our people-to-people links have grown in recent years, with over 10,000 Irish citizens living in the UAE and with an increasing number of Emirati citizens studying in Ireland. I believe there are significant opportunities to increase our two-way interactions and skills exchange, including in the education sector."
As Minister of State for Special Education and Inclusion, Madigan is particularly proud of the contributions being made by an estimated 3,000 Irish teachers to the UAE's education sector.
"The Irish diaspora here play a pivotal role in maintaining a strong relationship between the UAE and Ireland, and I have really enjoyed engaging with them directly and learning about their experience of living here," said the minister who participated in the Irish National Day celebrations with her community in the UAE.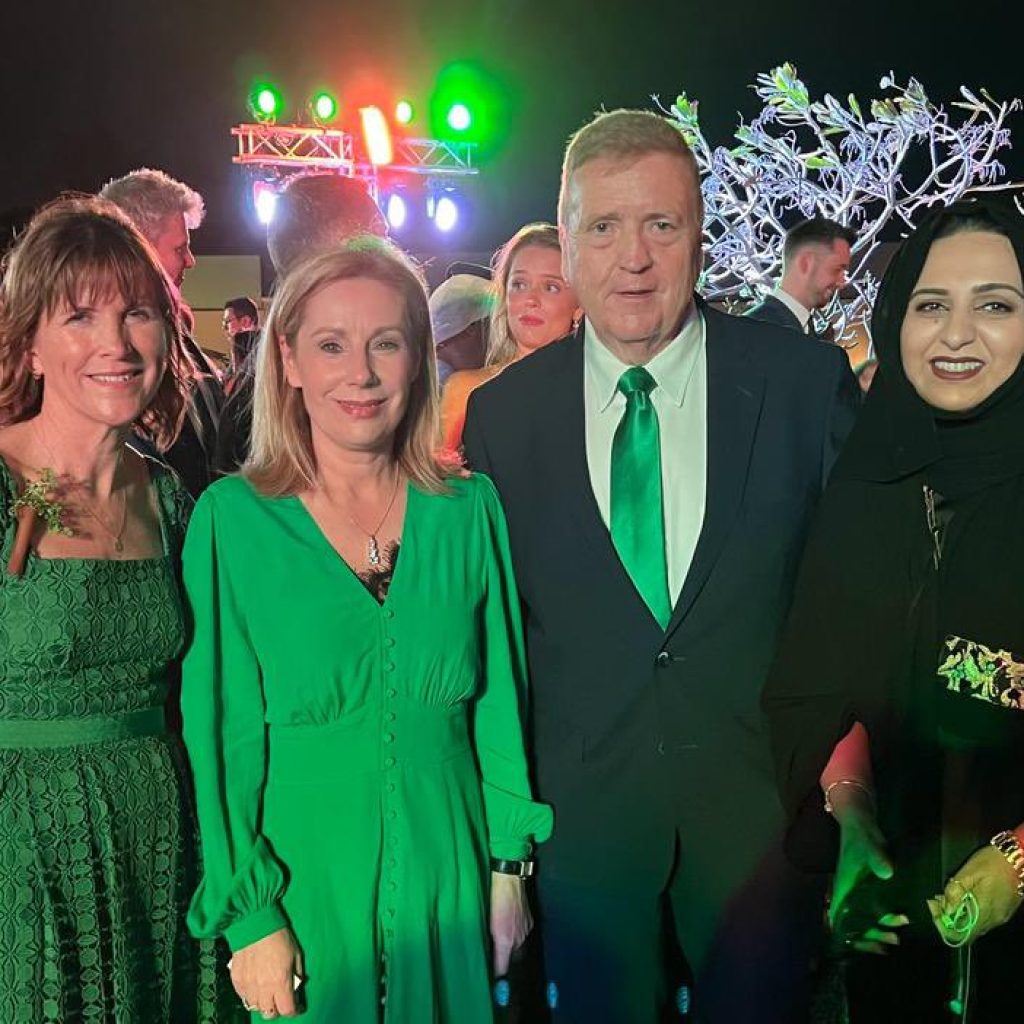 St Patrick's Day celebrations in UAE
"St Patrick's Day 2023 marks a century of Ireland's independence. I am delighted to be able to celebrate this year's St. Patrick's Day in the UAE, a country which holds strong bilateral ties with Ireland since the two nations first established diplomatic relations in 1974," Madigan said.
She expressed her delight in meeting the key political leaders, business leaders, decision-makers, and stakeholders in the UAE to discuss opportunities for future collaborations across commerce, education, trade, science, culture and more.
"A key message I want to convey to our Emirati friends is that Ireland is a fantastic country to live, work, invest, study and visit."
The bilateral trade and investment cooperation has flourished in the past two decades, aided by the now well-established air routes between Ireland and both Dubai and Abu Dhabi, the minister pointed out.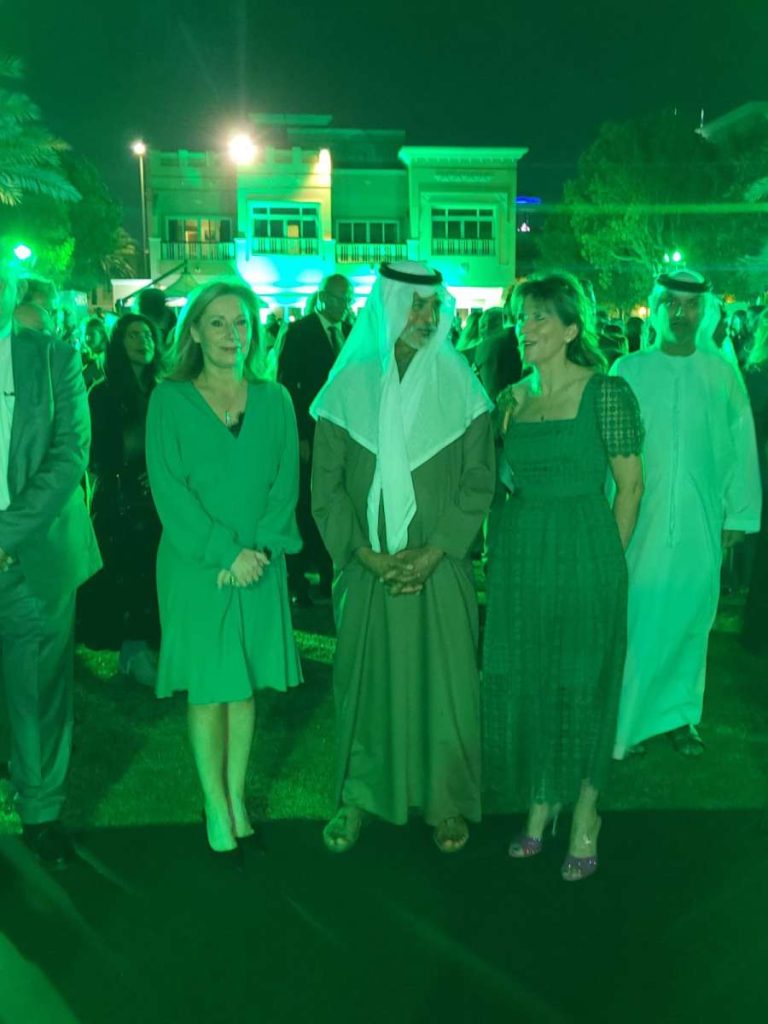 Tourism drives people-to-people ties
Tourism has been one of the key factors in facilitating the strong bilateral relationship and continues to be a significant driver for people-to-people exchanges, allowing residents of both countries to experience each other's cultures and traditions, she explained.
"Ireland has a lot to offer the Middle Eastern traveller in search of a unique experience. Visa-free travel available to Emirati citizens has made their visit to Ireland easier. Travellers from the GCC accounts for approximately 80 percent of tourist arrivals from the Middle East."
For Irish citizens in Ireland, the UAE also has much to offer in terms of a holiday destination and place to live and work, the minister pointed out.
"This is reflected in the growing number of Irish citizens choosing the UAE as a place to live and to travel to as a holiday destination. With daily flights from Dublin to both Abu Dhabi and Dubai, travel from Ireland to the UAE is easy and provides an opportunity for Irish citizens to soak up the sun in an exciting destination," Madigan said. (By Binsal Abdulkader)