Advertisement

The Indian Navy will also assist ISRO by undertaking a series of trials to fine-tune the Standard Operating Procedures for training the crew and recovery teams of Gaganyaan…reports Asian Lite News
India's foray into space gathered steam with the Indian Navy and Indian Space Research Organisation (ISRO) releasing the Gaganyaan Recovery Training Plan at Water Survival Training Facility (WSTF) INS Garuda, Kochi on May 24.
The training document was jointly released by VAdm Atul Anand, Director General of Naval Operations, Dr Unnikrishnan Nair, Director, Vikram Sarabhai Space Centre, (VSSC) and Dr Umamaheshwaran R, Director, Human Space Flight Centre (HSFC) of ISRO The document outlines the training plan for recovery of the Crew Module of the mission. It defines overall requirements wrt training of various teams participating in recovery operations incl Divers, MARCOs, Medical Specialists, Communicators, Technicians & Naval Aviators.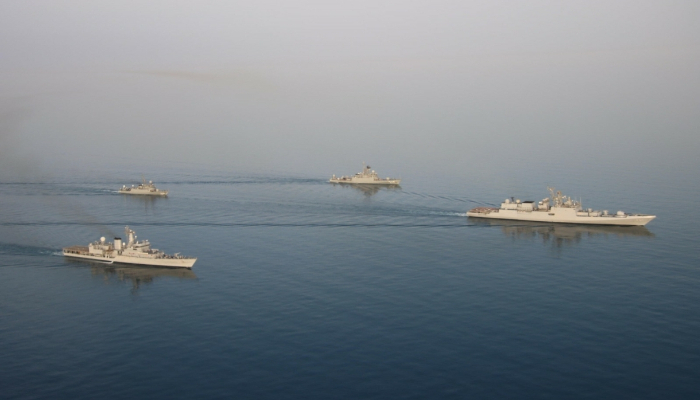 The Recovery training is planned in incremental phases starting from unmanned recovery to manned recovery training in harbour and open sea conditions. The recovery operations are being led by the Indian Navy in co-ordination with other Government agencies.
The Crew Module Recovery Model was also formally handed over to Indian Navy at its state-of-the-art Water Survival Training Facility (WSTF) at INS Garuda, Kochi. The mass and shape simulated mockup will be used for familiarisation and training of Gaganyaan recovery teams.
The Indian Navy will also assist ISRO by undertaking a series of trials to fine-tune the Standard Operating Procedures for training the crew and recovery teams of Gaganyaan.
Earlier in March, in a written reply to a question to the Lok Sabha, Union Minister Dr Jitendra Singh said, the scope of Gaganyaan programme is to demonstrate human spaceflight capability to Low Earth Orbit and safe return.
He said, ISRO is developing indigenous technologies for Human rated launch vehicle, Habitable Crew Module, Life Support System, Crew Escape System, Ground Station Network, Crew Training and Recovery. These technologies are crucial to meet the objectives of Gaganyaan mission and to take up any further interplanetary missions, the Minister added. (ANI)
Advertisement