Advertisement

FS Vinay Kwatra said PM Meloni decided to undertake the first bilateral visit in Asia to India showing that it is her strategic choice and not just a routine bilateral visit….reports Asian Lite News
Prime Minister of Italy Giorgia Meloni and Prime Minister Narendra Modi held bilateral talks on Thursday and decided to elevate the India-Italy partnership to the level of strategic partnership.
The meeting between Italian PM Meloni, who is on her first state visit to India, and PM Modi took place on Thursday on the sidelines of the G20. Indian Foreign Secretary Vinay Kwatra addressed a media briefing and informed about the key points discussed between the two leaders.
Both leaders decided to elevate India Italy partnership to the level of strategic partnership.
The Italian PM's visit to India is a matter of strategic choice to the Italian PM. She decided to undertake the first bilateral visit in Asia to India showing that it is her strategic choice and not just a routine bilateral visit, the Indian Foreign Secretary, Vinay Kwatra said.
Prime Minister appreciated the leadership of PM Modi on regional and global matters. When it comes to concerns, interests and priorities of the global south, he added.
The discussion covered the entire gamut of bilateral, regional and global cooperation.
Both leaders held a warm, cordial, friendly frank atmosphere. A strong bond of friendship was visible clearly.
Five areas of importance were discussed:
First, Defence cooperation was discussed. A Memorandum of understanding on Defence cooperation has been concluded.
"With the legacy issues behind us, the door is now open for industries to co-operate more strongly, particularly in the field of manufacturing, co-production, co-design, co-innovation, Kwatra added.
Secondly, the expansion of military exercises and deepened to all levels of armed forces was discussed. Thirdly, Maritime cooperation and the fourth area discusses was a need for deepened cooperation in the field of space, cyber and sea as three strategic sectors in cooperation.
"Work will now begin between the 2 sides to identify specific areas of partnership and their sub-sectors," Kwatra added.
Another element discussed was HADR, Humanitarian Assistance and Disaster Relief and a need for joint exercises, to better prepare both nations to face any such problem worldwide.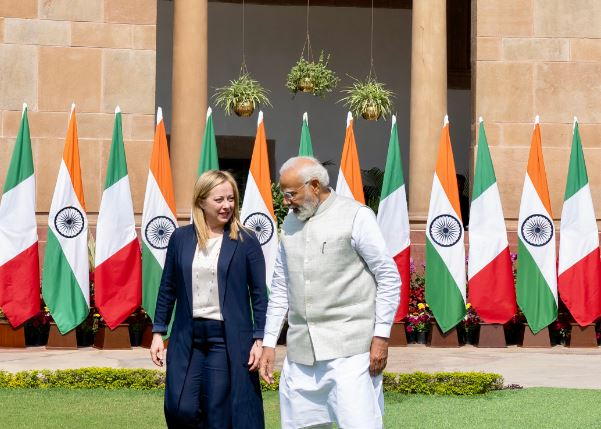 7. Broader segment of economic cooperation was discussed. The focus was on Trade; bilateral trade volumes between India and Italy are at an all-time high. Last year it was 15 billion dollars. The second concern was growing investment. PM Narendra Modi underlined the opportunities for Italian industry in the Indian economic ecosystem. Thirdly, the Cluster of design, innovation and manufacturing was also discussed. Fourthly, cooperation supply chain resilience was also one of the important parts of the broader segment of economic cooperation that was discussed among the two leaders. The fifth point discussed among the roader segment of economic cooperation involved the two economies in skill sets and industrial needs of the Italian economy.
8. Both sides agreed to progress on the migration and mobility partnership agreement. A declaration of intent was signed.
Vinay Kwatra informed in the press briefing that culture and people-to-people connectivity was also one of the main points discussed in the meeting.
"Italian PM described both nations and cultural superpowers and both agreed to strengthen partnership in higher education, exchange of students and cultural exchange," Indian Foreign Secretary Vinay Kwatra informed.
The tenth and final point of discussion was regional and global issues. Italian Prime Minister Giorgia Meloni expressed her wholehearted full support for India's G20 Presidency. And she also showed deep understanding and appreciation of India's position on the Russia-Ukraine conflict.
The MEA briefing informed that both leaders shared concern about the impact of Russia Ukraine conflict and its impact on the global economic situation.
Both nations agreed to cooperate deeply in the Indo-Pacific. Prime Minister Narendra Modi welcomed Italy to join the Indo-Pacific Oceans Initiative (IPOI).
The Indo pacific oceans initiative was launched by PM Modi a few years ago.
Italian Prime Minister Giorgia Meloni is on her first state visit to India and she is accompanied by Deputy Prime Minister and Foreign Minister Antonio Tajani and high power business delegation.
Notably, this is the first bilateral VVIP visit from Italy to India after a gap of 5 years. Prime Minister
Modi and The Italian Prime Minister Giorgia Meloni had extensive and productive discussions on the sidelines of the G20 summit in Bali in Indonesia in November last year.
PM of Italy arrived in India earlier on Thursday morning. She was accorded a ceremonial welcome at the four court at the Rashtrapati Bhavan. She has just concluded her official talks with the pm. Both in restricted format and also in the delegation level format. She also paid her tributes to Mahatma Gandhi at the Rajghat. And then PM Modi hosted the Italian Prime Minister at the Hyderabad house in New Delhi.
Later in the day, Italian Prime Minister Giorgia Meloni will also call on President Droupadi Murmi, Vinay Kwatra informed. She will also participate in the 8th Raisina dialogue as the chief guest and the keynote speaker alongside pm later this evening.
Moreover, Vinay Kwatra informed that a CEO round table is going to be held between the business delegations which will be co-chaired by the Indian Commerce Minister of India Piyush Goyal and the Italian Minister. (ANI)