Advertisement

White House said the Prime Minister's visit will "affirm the deep and close partnership between the United States and India and the warm bonds of family and friendship that link Americans and Indians together", reports Asian Lite News
Prime Minister Narendra Modi will embark on an official state visit to the United States on June 22. During his visit, PM Modi will be hosted by US President Joe Biden and First Lady Jill Biden at a state dinner at the White House, the Ministry of External Affairs informed through a press statement on Wednesday.
The MEA statement further said the visit will underscore the growing importance of the strategic partnership between India and the United States, as the two nations are already collaborating across sectors. The leaders will have the opportunity to review strong bilateral cooperation in various areas of mutual interest, including technology, trade, industry, education, research, clean energy, defence, security, healthcare, and deepening people-to-people connections.
Prime Minister Modi and President Biden will also explore ways to strengthen India-US collaboration in plurilateral and multilateral fora, including in the G20. They would reflect on their shared vision for a free, open, and inclusive Indo-Pacific and discuss opportunities to expand and consolidate the Quad engagement, the release stated further.
This historic visit offers a valuable opportunity for India and the US to further deepen a comprehensive and forward-looking global strategic partnership.
Meanwhile, a statement released by the White House read, "President Joe Biden and First Lady Jill Biden will host Prime Minister Narendra Modi of the Republic of India for an Official State Visit to the United States, which will include a state dinner, on June 22, 2023."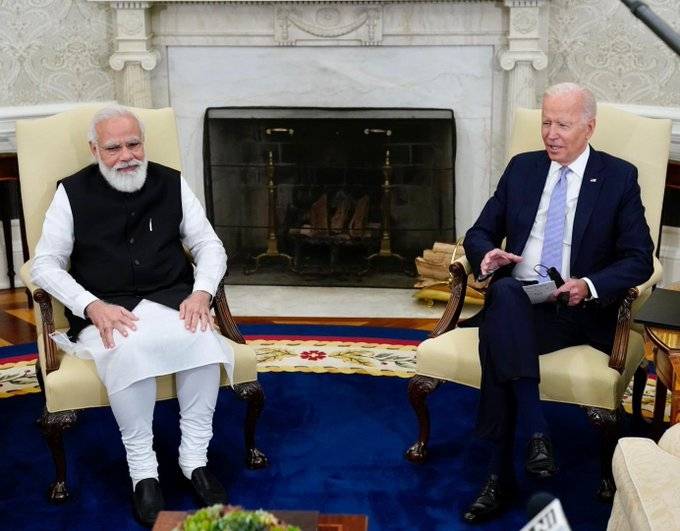 "The visit will strengthen the two countries' shared commitment to a free, open, prosperous, and secure Indo-Pacific and our shared resolve to elevate our strategic technology partnership, including in defence, clean energy, and space," the statement added.
"The leaders will discuss ways to further expand our educational exchanges and people-to-people ties, as well as our work together to confront common challenges from climate change, to workforce development and health security," it stated further.
Earlier, PM Modi visited the United States on September 23, 2021.
In 2022, on the sidelines of the QUAD Leaders Summit, PM Modi and President Biden announced the India-US initiative of critical and emerging technology, known as iCET.
During the iCET launch, a new Implementation Arrangement between the Department of Science and Technology of India and the National Science Foundation of the US was signed by the Ambassador and NSF Director in the presence of Doval and Sullivan. (ANI)
ALSO READ: Biden urges Congress to pass Bill to curb gun violence