Advertisement

The President also stated that they require safe storage, ending immunity for gun manufacturers…reports Asian Lite News
President Joe Biden again urged Congress to pass legislation banning assault weapons and enacting universal background checks after the Texas shootout, according to a statement released by the White House.
According to the statement, Biden also stated that they require safe storage, ending immunity for gun manufacturers. "I will sign it immediately. We need nothing less to keep our streets safe," US President said. This statement came after nine people were killed in a shooting at an outlet mall near Dallas and seven injured persons were undergoing treatment, The New York Times reported citing officials on Saturday night.
Brian E Harvey, the chief of police in Allen, Texas, said at a news conference on Saturday night that the gunman, who hasn't yet been identified, acted alone. A police officer, who was on another assignment at the mall at the time of the shooting, heard gunfire, rushed towards it, and killed the shooter.
Federal, state, and local law enforcement are working closely together to investigate this attack and I have directed federal agencies to provide all needed support, Biden said in the statement.
Giving details about the Texas shooting, Biden said, "Yesterday, an assailant in tactical gear armed with an AR-15 style assault weapon gunned down innocent people in a shopping mall, and not for the first time. Such an attack is too shocking to be so familiar. And yet, American communities have suffered roughly 200 mass shootings already this year, according to leading counts."
"More than 14,000 of our fellow citizens have lost their lives, credible estimates show. The leading cause of death for American kids is gun violence," he added.
"Since I signed the Bipartisan Safer Communities Act into law and took two dozen executive actions to stem the tide of gun violence, we have made some progress. States are banning assault weapons, expanding red flag laws and more — but it's not enough. We need more action, faster to save lives. Too many families have empty chairs at their dinner tables. Republican Members of Congress cannot continue to meet this epidemic with a shrug. Tweeted thoughts and prayers are not enough."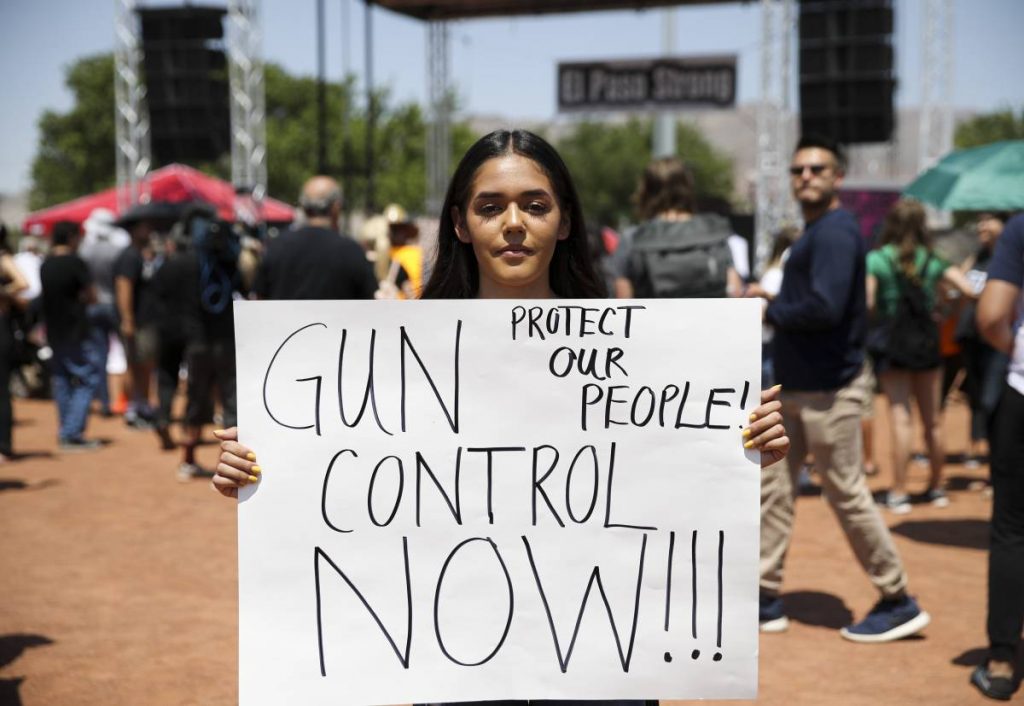 Around 3.30 pm (local time), a shooting was witnessed at the Allen Premium Outlets, an outdoor shopping centre with more than 120 retailers located about 25 miles north of Dallas, according to New York Times.
Social media users posted a video showing the shooter lying on the ground, dressed in all-black, holding a long rifle, and what appeared to be several rounds of ammo and a tactical vest.
Hundreds of consumers were seen leaving the area on video taken from the scene while many of them had their hands raised. The aerial footage showed at least three bodies covered in sheets outside the mall, reported New York Times.
Allen, Texas, Fire Chief Jonathan Boyd said nine people were rushed to hospitals.
"Of those that we transported, two have since died. Three are in critical surgery, and four are stable," Boyd added.
A medical facility in the Dallas area was reported to have treated patients as young as 5 years old.
Flags at half-mast
Biden has issued a proclamation honouring the victims of the shooting in Allen, Texas and ordered all US flags at public buildings to be flown at half-staff to honor the victims of the shooting.
He has ordered that the flag of the US shall be flown at half-staff at the White House and upon all public buildings and grounds at all military posts and naval stations and on all naval vessels of the federal government in the US until sunset, May 11 to honour the victims of the shooting in Allen. Biden's decision came after eight people were killed and at least seven others were injured from the shooting at a shopping mall in Allen, CNN reported. Authorities in Allen responded to the shooting at Allen Premium Outlets. The police said that the gunman was killed by an Allen Police Department officer who was at the mall on an unrelated call. According to investigators, the shooter was working alone.
"As a mark of respect for the victims of the senseless acts of violence perpetrated on May 6, 2023, in Allen, Texas, by the authority vested in me as President of the United States by the Constitution and the laws of the United States of America, I hereby order that the flag of the United States shall be flown at half-staff at the White House and upon all public buildings and grounds, at all military posts and naval stations, and on all naval vessels of the Federal Government in the District of Columbia and throughout the United States and its Territories and possessions until sunset, May 11, 2023," US President Joe Biden said in the proclamation released by the White House. (ANI)