Advertisement

Nikolai Patrushev also attended the Meeting of the Secretaries of the Security Councils of the SCO member states in New Delhi…reports Asian Lite News
Russian Security Council Secretary Nikolai Patrushev on Wednesday met Prime Minister Narendra Modi and discussed issues of bilateral cooperation between the two nations.
Russian Embassy in India took to its official Twitter handle to share details regarding the meeting. "In #NewDelhi, Secretary of the Russian Security Council Nikolay Patrushev was received by Prime Minister of India Narendra Modi. Issues of #RussiaIndia bilateral cooperation of mutual interest were discussed," tweeted Russian Embassy in India.
Earlier in the day, Nikolai Patrushev met National Security Advisor Ajit Doval in New Delhi. During the meeting, the two sides outlined ways for further cooperation between Russia and India in the security sector.
Russian Embassy in India tweeted, "While on a visit to #NewDelhi, #Russia'n Security Council Secretary Nikolai Patrushev met with #India's National Security Advisor to the Prime Minister of India Ajit Doval."
It further said, "Ways have been outlined for further cooperation between #Russia and #India in the field of security. A thorough exchange of views on topical regional and international issues took place as well."
Nikolai Patrushev also attended the 18th Meeting of the Secretaries of the Security Councils of the Shanghai Cooperation Organization (SCO) member states that took place in New Delhi on Wednesday. During the meeting, the situation in the field of security and stability in the SCO region was discussed.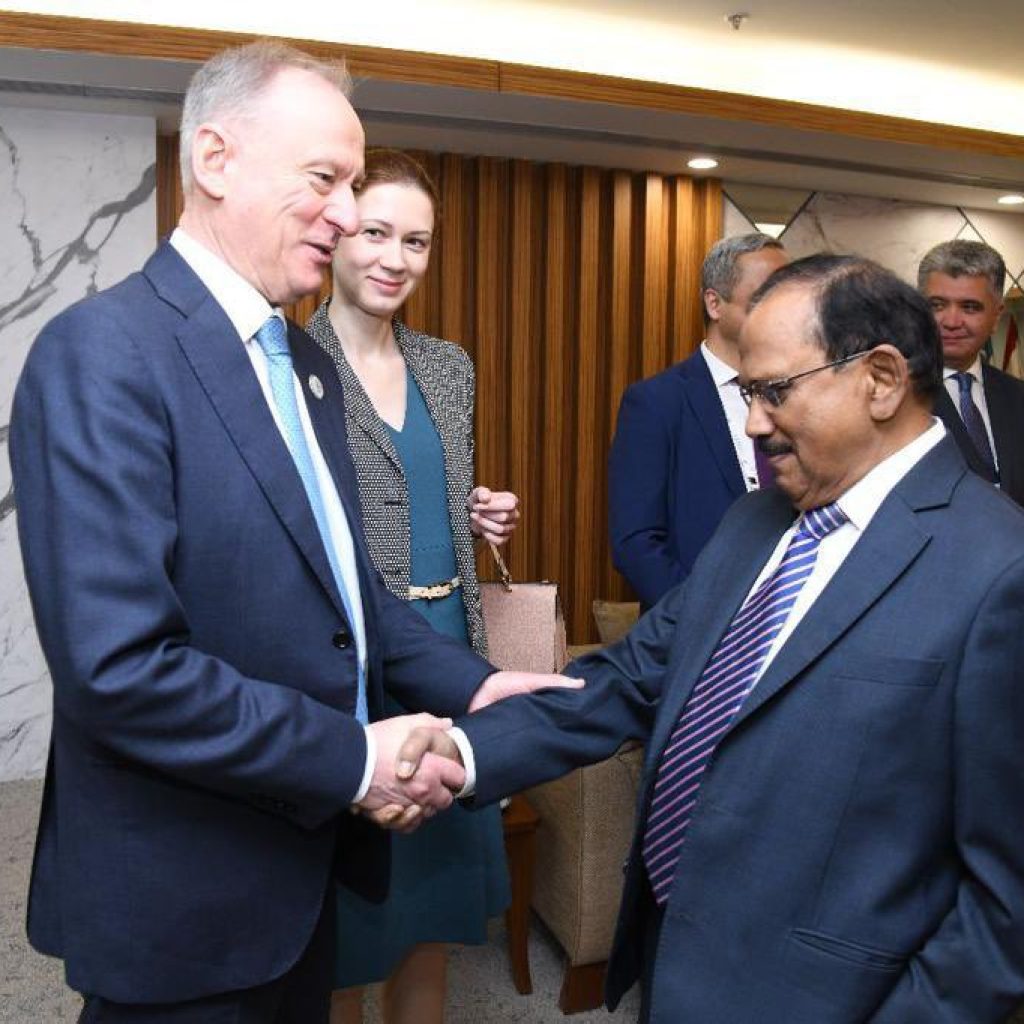 During the meeting, Nikolai Patrushev paid special attention to the need to uphold universal human values, to prevent interference in the domestic affairs of sovereign states as well as to counter the policy of unilateral sanctions and restrictive measures.
He emphasised specific measures to jointly fight transnational organized crime, terrorism and the revival of neo-Nazism. He also underscored Russia's commitment to the SCO's principles of equal and indivisible security and respect for the fundamental norms of international law.
In his opening remarks, Patrushev spoke about the issues of further interaction within the SCO in the areas of ensuring international information security, biomedical security, and cooperation on the anti-drug track, according to the Russian Embassy in India.
Sergey Cheryomin, Minister of the Moscow City Government and Head of the Department for External Economic and International Relations of Moscow, on Wednesday, said cooperation prospects between the Russian payment system Mir and Indian payment system RuPay are bright and would also help boost tourism.
"We have very good prospects in cooperation between the Russian payment system Mir and the Indian payment system RuPay. We have to use both platforms for that, especially that can boost tourism between countries," Cheryomin told ANI.
The minister also stressed that banks in both countries should promote more trade in Rupee and Ruble. He said, "Our banks should be more active in establishing a relationship with each other and we've to promote trades in rupees and rubles as it creates a more stable platform for our companies." (ANI)