Advertisement

The UPI-PayNow linkage will enable users of the two fast payment systems in either country to make convenient, safe, instant, and cost-effective cross-border funds…reports Asian Lite News
Prime Minister Narendra Modi on Tuesday described the launch of the UPI-Pay Now link as a gift for the citizens of both India and Singapore.

Expressing his views after witnessing the launch of cross-border linkage between India and Singapore using their respective fast payment systems, namely Unified Payments Interface (UPI) and PayNow, along with his Singapore counterpart Lee Hsien Loong, Modi said: "After today, people in Singapore and India will be able to transfer money from their mobile phones in the same way as they do inside their respective countries. This will help the people of both countries to transfer funds from their mobiles instantly, at a low cost."

The facility was launched through token transactions by Reserve Bank of India (RBI) Governor Shaktikanta Das and managing director of the Monetary Authority of Singapore, Ravi Menon, using the UPI-PayNow linkage.

"With this facility, a cheap and real-time option of remittance transfer between the two countries will be possible. This will especially benefit our overseas brothers and sisters, professionals, students and their families," Modi further said.

He added: "The good thing is that UPI's partnership with different countries is also increasing. Singapore is the first country with which person to person payment facility has been launched today."
The UPI-PayNow linkage will enable users of the two fast payment systems in either country to make convenient, safe, instant, and cost-effective cross-border funds transfers using their respective mobile apps.

Funds held in bank accounts or e-wallets can be transferred to or from India using just the UPI-ID mobile number, or virtual payment address (VPA).

To begin with, the State Bank of India, Indian Overseas Bank, Indian Bank and ICICI Bank will facilitate both inward and outward remittances, while Axis Bank and DBS India will facilitate inward remittances.

For Singapore users, the service will be made available through DBS-Singapore and Liquid Group (a non-bank financial institution). More number of banks will be included in the linkage over time.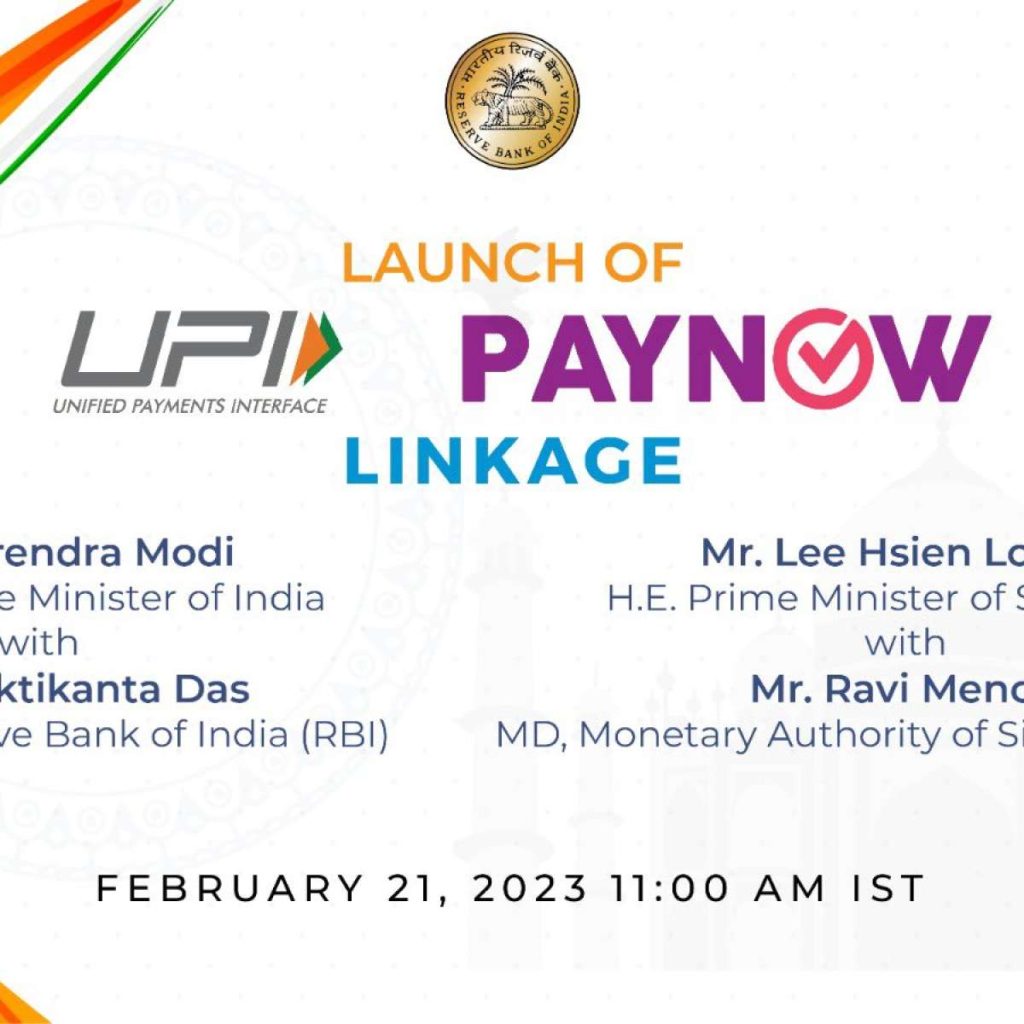 Customers of the above mentioned participating banks can undertake cross-border remittances to Singapore using the bank's mobile banking app or internet banking.

Initially, an Indian user can remit up to Rs 60,000 in a day (equivalent to around SGD 1,000). At the time of making the transaction, the system will dynamically calculate and display the amount in both the currencies for convenience of the user.

The UPI-PayNow linkage is the product of extensive collaboration between RBI, MAS, and payment system operators of both countries through NPCI, International Payments Limited (NIPL) and Banking Computer Services Pte Ltd. (BCS), as well as participating banks and non-bank financial institution.

This interlinkage aligns with the G20's financial inclusion priorities of driving faster, cheaper and more transparent cross-border payments and will be a significant milestone in the development of infrastructure for cross-border payments between India and Singapore.