Advertisement

The Russian Authority confirmed that Yevgeny Prigozhin, Head of the Wagner military group, was among the passengers on board the flight…reports Asian Lite News
Russian President Vladimir Putin extended condolences to the families of those who died in a plane crash near Moscow two days ago.
"As for the plane crash, first of all, I want to express my sincere condolences to the families of all those who died," Putin said on Thursday at a meeting with Denis Pushilin, the acting head of Donetsk, according to the Kremlin.
A private Embraer plane en route from Moscow to St. Petersburg crashed in the Tver region on Wednesday, Russia's Ministry of Emergency Situations said, noting that all the 10 people on board were killed.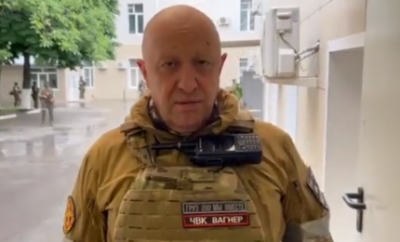 The Russian Federal Agency for Air Transport confirmed that Yevgeny Prigozhin, Head of the Wagner military group, was among the passengers on board the flight, Xinhua news agency reported.
"I have known Prigozhin for a very long time, since the early 1990s," Putin said.
"He made serious mistakes in his life, but he also achieved the needed results both for himself and, when I asked him, for the common cause, as in these last months," he added.
According to Putin, Prigozhin returned from Africa on Wednesday and met with some officials in Russia.
Prigozhin was accused of attempting to carry out an armed rebellion in Russia this June. On June 24, Prigozhin entered the headquarters of the Russian armed forces' Southern Military District in the city of Rostov-on-Don.
It was reported that Moscow and Prigozhin reached a compromise through the mediation of Belarusian President Alexander Lukashenko.
Advertisement