Advertisement

The charismatic 38-year-old businessman was met Friday by hundreds of GOP activists in small central cities near Des Moines, with more events planned in the coming days….reports Asian Lite News
Vivek Ramaswamy has charged back into Iowa, stoking curiosity and skepticism after his attention-grabbing performance in the first Republican presidential debate.
The charismatic 38-year-old businessman was met Friday by hundreds of GOP activists in small central cities near Des Moines, with more events planned in the coming days.
He is drawing new interest from Republicans who will participate in the nation's first caucuses next year, but also apprehension from attendees at his events and pointed criticism from a former GOP governor. Much of the negative feedback is about his foreign policy ideas, notably his argument that the U.S. should stop providing arms and funding to Ukraine as it fights Russia's invasion.
"I like that he's young and energetic, and wants to tear the whole thing down," said Thomas Bean, a 23-year-old who attended a morning event south of Des Moines. He was referring to Ramaswamy's goal of reducing the federal bureaucracy by 75 percent.
Trump looms large over Iowa State Fair, but many GOP voters still mulling their caucus choices
"I like what he's proposing. They're not status quo," said Bean, a public relations professional. "I just don't know how much of what he's proposing is realistic."
Like Bean, several people who came to see Ramaswamy cited his youth, energy and outsider profile — punctuated by his criticism of and by better-known rivals Wednesday in Milwaukee. He drew larger than expected audiences on Friday, first to the Indianola breakfast restaurant and later a lunchtime event at a Pella brew pub.
Ramaswamy introduced himself as the son of poor Indian immigrants. But he spent most of his time speaking for what he describes as a frustrated generation seeking meaning in a nation that he says has lost its patriotism. The Ohio businessman has a background in investing and biotechnology.
"So what does it mean to be American? It means we believe in the ideals that set this nation into motion 250 years ago," Ramaswamy said, drawing applause. "That you get ahead in this country, not on the color of your skin, but on the content of your character and your contributions."
He mostly took a more inspirational tone than on Wednesday, when he confronted veteran politicians such as former New Jersey Gov. Chris Christie and Vice President Mike Pence.
Ramaswamy's argument that the U.S. should suspend financial aid to Ukraine was met with sharp rebukes from Pence and former United Nations Ambassador Nikki Haley. Haley on Wednesday likened Ramaswamy's position to siding with Russian President Vladimir Putin and thus "choosing a murderer."
The crosstalk and jabs during the debate, Ramaswamy said, were like "some banter on the basketball court."
Still, Ramaswamy's campaign was seizing on his rising profile. His campaign said it raised $450,000 in the first hours after the debate. And he is scheduled to appear Sunday on NBC's Meet the Press and CNN's State of the Union.
Former Iowa Gov. Terry Branstad, who has not endorsed a candidate, said in an interview that Ramaswamy "brings some real enthusiasm and commitment to traditional values that Americans are really clamoring for," but described his foreign policy as "a real problem."
"I don't think he's really thought that through. And I thought that Nikki Haley really took him to task on that," said Branstad, who served as ambassador to China under former President Donald Trump. "Rightly so."
Janice Johnson, a 72-year-old from Indianola, Iowa, said she wanted someone from Ramaswamy's generation to take the nation's reins. But speaking before one of his events, Johnson described Ramaswamy as "sometimes a little too enthusiastic."
Jim Jones, a former county GOP official from nearby Carlisle, said he viewed Ramaswamy with equal parts intrigue and apprehension.
"The intrigue is about, how does this guy come off appearing so strong and come from nowhere so quickly?" said Jones, 75. "The apprehension comes from his idea of abandoning Ukraine. That's a little bit scary."
Ramaswamy said Friday that he was trying to protect Ukraine by seeking an ending in which Russia would retain territory it took by force.
"I personally think that actually is the best, reasonable outcome for Ukraine. At least it comes out with its sovereignty intact — and saving a lot of Ukrainian lives in the process," he told reporters when asked about the criticism. "That's the best case, realistic scenario for Ukraine."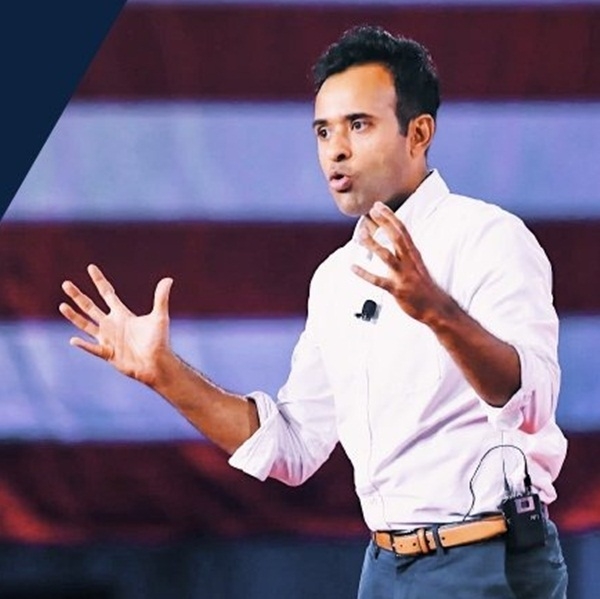 Ramaswamy may run on joint ticket with Trump
Indian-American presidential aspirant Vivek Ramaswamy has hinted at running on a joint ticket with Republican rival and former US President Donald Trump if he fails to secure the party's nomination for the 2024 race to the White House, a media report said.
Ramaswamy, the political outsider, addressed his first Republican presidential primary debate on Wednesday where rivals — former New Jersey Governor Chris Christies, former Vice President Mike Pence and South Carolina Governor Nikki Haley — gave him a tough fight The Telegraph reported.
Post debate, a confident Ramaswamy told reporters that only two candidates would be left in the race, which would be him and Trump.
When asked on GB News whether he would be "happy to be (Trump's) VP", Ramaswamy said: "See, this isn't about me. If this were about me, sure. That's a fine position for someone to have at my age.
"This is about reviving our country and I can only reunite this country if I'm doing it from the White House as the leader and the face of our movement."
Ramaswamy added that he had "fresh legs" and was "almost half (Trump's] age", but would ask him to serve as "my most valued adviser" in the White House.
The 38-year-old entrepreneur did not rule out the possibility of teaming with Trump if the latter secured nomination for a third time, which stood in stark contrast to his earlier stance on being interested only in the presidency.
According to the Telegraph report, rumours of a joint ticket between the two rivals for the 2024 race emerged after Trump campaign's praise for Ramaswamy in the Republican primary debate where he came up as a breakout star.
Speaking of Ramaswamy's Milwaukee performance, Donald Trump Jr told reporters: "I thought he had a standout performance. I mean, I think that did what Ron DeSantis needed to do."
After launching his campaign in February this year, Ramaswamy vowed to "promptly" pardon the indicted former President if elected to the White House in 2024.
Heaping praises on the former President, Ramaswamy told The New York Post that Trump "sets a high bar".
"He's a friend. I know him. I genuinely believe he cares about national unity," Ramaswamy had said.
With a worth of more than $950 million, Ramaswamy raised more than $450,000, with an average donation of $38, in the first hour after the debate.
In addition, he was the most Google-searched Republican candidate, followed by rival Nikki Haley, according to Fox News.