Advertisement

This comes amid reports of Khalistani elements disturbing a consular camp organised in Indian High Commission in Canada….reports Asian Lite News
India reiterated its call for Canada to respect the Vienna Convention on diplomatic relations amid reports of Khalistani elements disturbing a consular camp organised in Indian High Commission in Canada.
MEA spokesperson Arindam Bagchi, however, also said that there have been some inaccurate social media reports regarding the incidents.
Addressing the briefing, Bagchi said, "Our High Commission and consulates in Canada regularly organize consular camps. One such camp was organized near Vancouver on November 12 to provide life certificates to pensioners. The event was held successfully despite attempts by a few radical elements to cause trouble. Our Consul General was not present at that site".
"We reiterate the need for nations to respect the Vienna Convention on diplomatic relations so that our diplomats can discharge their diplomatic obligations," he added.
Speaking on the reports of an alleged attack on the Indian community during Diwali celebrations in Canada, the MEA spokesperson said that the consulate has not received any complaint regarding the incident.
"As regards to events that you alluded to near Brampton or Mississauga in Diwali. I think that was more in the nature of unrest between the two groups. To be honest, I don't think there has been any complaint that our consulate has received. I saw some social media reports. We also understand that the authorities there are looking into that incident, so I don't have anything further to add to that," he further said.
This come amid the diplomatic standoff between New Delhi and Ottawa which erupted after Canadian Prime Minister Justin Trudeau alleged the involvement of "agents of the Indian government" in the killing of the Khalistani terrorist.
India rejected the allegations as "absurd and motivated" and expelled a Canadian diplomat in a tit-for-tat move after Ottawa asked a senior Indian diplomat to leave.
Notably, Canada has not been able to present any evidence to back its claims over the killing, according to the MEA.
Last month, Canada pulled out 41 diplomats from India and also halted its visa and consular services in Chandigarh, Mumbai, and Bengaluru consulates in the wake of the Union government's decision to strip them of their immunity.
This came after New Delhi conveyed its concerns to Ottawa over the disproportionate number of diplomats in India and sought a 'parity' in diplomatic strength.
Canada accused India of violating the Vienna Convention. However, MEA responded by saying that no international norms were violated in India seeking parity in the mutual diplomatic presence in New Delhi and Ottawa.
New Delhi also halted visa services to Canada but later decided to resume services for four categories after a "considered review of the security situation". (ANI)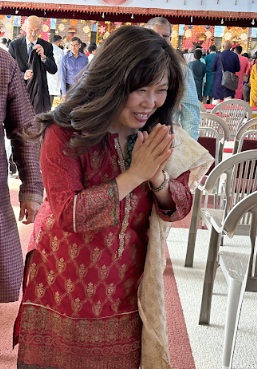 'No Trade Talks Until India Co-operates With Nijjar Probe'
Canada's trade minister has indicated that Ottawa won't restart trade talks with New Delhi until it co-operates with the investigation into the murder of Sikh separatist Hardeep Singh Nijjar.
"Right now, the focus for Canada is to let the work of the investigation proceed," Mary Ng told reporters on the margins of Asia-Pacific Economic Cooperation meet in San Francisco, the CBC news outlet reported.
"You've heard me and the government talk about how important it is that investigation happens given that we had a Canadian killed on Canadian soil. So we'll let that happen," she said, taking on a reporter's query.
When asked to clarify whether she was making a direct link between the need for co-operation on this investigation and the resumption of trade talks, Ng denied.
"Our focus is of course on this investigation, that work has to take place," she said.
Ng's remarks came just before External Affairs Minister S Jaishankar said in London that India is not ruling out an investigation into Canada's allegations but wants it to provide evidence to back its claims.
In September, Commerce and Industry Minister Piyush Goyal confirmed that the ongoing trade negotiation with Canada had frozen due to disagreements on "certain issues". Goyal's remarks came soon after Canada cancelled a trade mission to India in October, which was to be led by Ng. Bilateral trade between India and Canada reached $8.16 billion in 2022-23.
In Q1 of FY2023-24, India's exports to Canada were around $911 million, while imports from Canada were worth $990 million.
Canada is India's 17th largest foreign investor and has been pumping in more than $3.6 billion into the country since 2000.
A Comprehensive Economic Partnership Agreement (CEPA) between Canada and India is likely to boost two-way trade by as much as $6.5 billion, which means a GDP gain of $3.8 billion – $5.9 billion for Canada by 2035, according to industry experts.
The ties between the two nations have come under rough weather following Canadian Prime Minister Justin Trudeau's allegations in September of a "potential" involvement of Indian agents in the killing of Nijjar on June 18 in British Columbia.
India rejected Trudeau's allegations as "absurd" and "motivated". Last week, Trudeau said that a "fight" with India was not something Canada wanted right now but reiterated his allegations and said Ottawa wants to "work constructively" with New Delhi on this "very serious matter".
Advertisement