Advertisement

Sherman mentioned the disappearance of Priya Kumari, who vanished two years ago, and noted that the US House Foreign Affairs Sub-Committee will address child trafficking this week….reports Asian Lite News
Congressman Brad Sherman on Friday raised the issue of kidnappings by criminals, enforced disappearances, extrajudicial killings and imprisonment of women by authorities without due process in Pakistan, particularly in Sindh.
Sherman also highlighted the case of Priya Kumari, who he said disappeared two years ago. He said the US House Foreign Affairs Sub-Committee will speak about child trafficking this week.
In a post on X, Sherman stated, "In #Pakistan, kidnappings by criminals & enforced disappearances, extrajudicial killings & imprisonment of women without due process by authorities continue unabated, particularly in #Sindh, as highlighted by protests this month."
In another post, he stated, "It's been two years since then-seven-year-old Priya Kumari disappeared and on September 10 Afzal Lund was murdered. As the @HouseForeign's Human Rights Subcommittee is shining a light on child trafficking this week, let us reaffirm that these tactics will not go unanswered."
On August 30, a protest rally was held to commemorate the International Day of the Victims of Enforced Disappearances to highlight the increase in the cases of enforced disappearances across Balochistan and Sindh.
The rally, held at Jhaz Chowk Sehwan Press Club, was led by central leaders Amar Azadi, Pireeh Sindhu, Sodho Sindhi, Shoban Lashari, Shan Sindhi, Mubasher, Sajjad Burdi on the call for Jeay Sindh Freedom Moment (JSFM).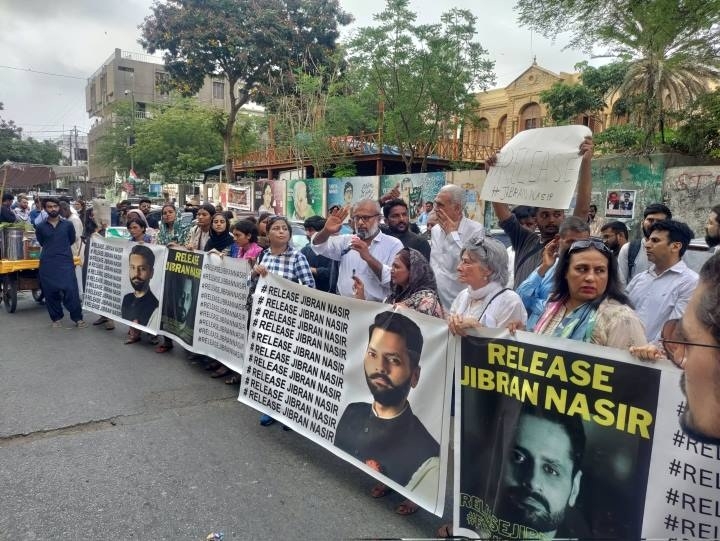 According to an official release, the JSFM leaders told the media that they might consider the issue of missing persons of the National Movement of Sindh and Balochistan as a violation of human rights.
The JSFM leaders demanded that Faqir Ijaz Gaho, Sohail Raza Bhatti, Allah Wadhayo Mahar, Naveed Mirani, Aqib Chandio, Naeem Malukani, Waheed Ghangharu and other National Workers should be immediately rescued. If the National Workers are involved in any case, they should be produced before the country's courts, they demanded.
Meanwhile, Jeay Sindh Freedom Movement (JSFM) chairman Sohail Abro, vice chairman Zubair Sindhi, and leaders Amar Azadi, Sodho Sindhi, Hafeez Deshi and Pireeh Sindhu, in their joint statement, said enforced disappearances are not only a serious violation of human rights but also a direct form of state terrorism, according to the release.
"They kill political and national activists extrajudicially. This proves that the judicial system here has failed, so we have no hope for them," the release stated further.
They requested the Human Rights, Amnesty International, the United Nations, and International Human Rights Watch to take action by putting pressure on Pakistan's intelligence agencies.
"Notice should be taken of this violation of international norms so that the national workers who were forcibly abducted from Sindh can be released and reunited with their loved ones, otherwise, the scope of the protest will be widened," the release read further.
On August 30, Amnesty International called on Pakistani authorities to end the practice of enforced disappearance and secret and arbitrary detentions.
In a post on X, Amnesty International South Asia, Regional Office stated, "Pakistan must end the practice of enforced disappearance and secret and arbitrary detentions. Authorities must immediately and unconditionally disclose the whereabouts of the forcibly disappeared, to their families." (ANI)