Advertisement

Coinciding with the holy month of Ramadan, the campaign aims to mobilise local, regional and international efforts for the purpose of implementing effective sustainable programmes to fight and eradicate hunger within a sustainable institutional framework…reports Asian Lite News
Sheikh Mohammed bin Rashid Al Maktoum, Vice President, Prime Minister and Ruler of Dubai, has launched the "1 Billion Meals Endowment" campaign, which will establish a food endowment fund as a means to achieve sustainable food aid.
Coinciding with the holy month of Ramadan, the campaign aims to mobilise local, regional and international efforts for the purpose of implementing effective sustainable programmes to fight and eradicate hunger within a sustainable institutional framework.
"As it has become a yearly Ramadan tradition, this year we launch the "1 Billion Meals Endowment" campaign with the aim of sustainably providing hundreds of millions of meals to people in need," Sheikh Mohammed said.
"828 million people suffer from hunger around the world, this means one in 10 people. As humans and as Muslims, it is our duty to be there for those in need, especially during the month of Ramadan. Even a small but sustainable contribution makes a bigger difference than a one-time large contribution," he added.
Sheikh Mohammed noted that the campaign is a message from the UAE and its people to humanity all over the world. "Our moral code compels us to take a leading position in the global efforts to eradicate hunger and alleviate suffering".
Sustainable framework to fight hunger
The campaign is implemented under the umbrella of the Mohammed bin Rashid Al Maktoum Global Initiatives (MBRGI), the largest regional foundation in terms of the number of institutional initiatives that lead wide-reaching programmes and projects on a global scale.
It is an expansion of the UAE's previous Ramadan campaigns "1 Billion Meals", "100 Million Meals" and "10 Million Meals", organised under the directives of His Highness Sheikh Mohammed bin Rashid Al Maktoum, 2020, 2021 and 2022, respectively.
The food endowment fund, to be launched under the campaign, aims to create a sustainable and resilient food aid system, to combat hunger and contribute to the international efforts to provide a food safety net for vulnerable groups in the countries struggling with food insecurity.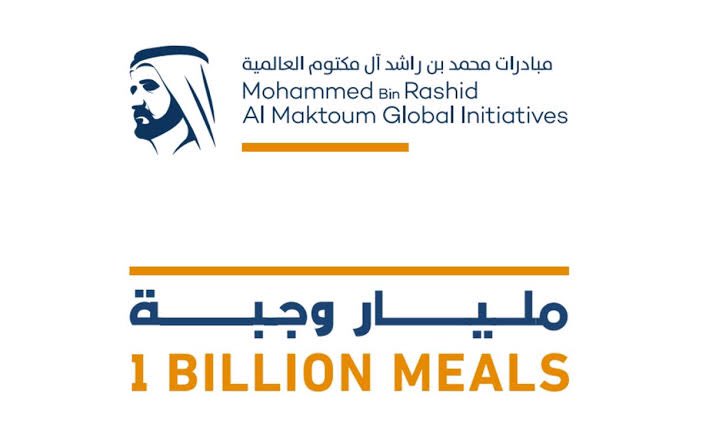 It also aims to support victims of conflicts, natural disasters and crises around the world, and further enhance the UAE's contribution to international efforts aimed at eradicating hunger in line with the United Nations Sustainable Development Goals for 2030.
The campaign opens the door for institutions, companies, businessmen and individuals to contribute to sustainable humanitarian work, through endowment funds that support community and social development projects.
The campaign stresses the significance of effective partnerships and their role in creating sustainable solutions to fight hunger, as well as implementing clear programmes and targeted plans that fight hunger and support vulnerable groups.
Mohammad bin Abdullah Al Gergawi, Minister of Cabinet Affairs and Secretary-General of MBRGI noted that the campaign helps solidify the UAE's standing as one of the first responders and most impactful in times of crises and need.
"Fighting hunger through the "1 Billion Meals Endowment" campaign comes at a time when the world is witnessing economic challenges, natural disasters, conflicts, crises and an increase in poverty, which necessitates specific programmes and initiatives that help alleviate the suffering of tens of millions of people around the world."
Al Gergawi added: "MBRGI is always keen to launch and implement humanitarian campaigns, targeting vulnerable communities around the world."
The FAO's 'State of Food Security and Nutrition in the World' 2022 report, revealed that 828 million people were affected by hunger in 2021, which constitutes 9.8 percent of the world's population. This means that one in ten people does not have enough food to eat.
As mentioned in the report, 45 million children under the age of five suffer from wasting – the most fatal kind of malnutrition which increases the risk of child death 12 fold.
Furthermore, 149 million children under the age of five suffer from stunted growth and development due to a chronic lack of essential nutrients in their diets.
The endowment fund campaign is an expansion of the UAE's previous Ramadan campaigns. In 2020, the '10 Million Meals' campaign, secured 15.3 million meals to low-income families and individuals, recording donations from over 115 nationalities, and the participation of more than 1,000 volunteers from the UAE.
The '100 Million Meals' campaign, launched in 2021, has secured around 220 million meals for vulnerable groups around the world, through massive donations from 385,000 individuals, companies, businessmen and philanthropists from 51 nationalities. The 2022 '1 Billion Meals' campaign hit its target in less than one month thanks to the contributions of 320,868 donators, securing meals to those in need across 50 countries.