Advertisement

Al Bahri said that the EV market will grow at an annual rate of 27.2 percent between 2023 and 2027….reports Asian Lite News
Eng. Naser Al Bahri, Director of the Electric Vehicle Innovation Summit (EVIS), said that the UAE's electric vehicle (EV) market is growing rapidly, due to the country's efforts to build an advanced infrastructure and install electric charging stations.
In his statement to the Emirates News Agency (WAM), Al Bahri said that the EV market will grow at an annual rate of 27.2 percent between 2023 and 2027.
He also highlighted the UAE's visionary plans and creative initiatives to promote the use of EVs among the public, supported by a state-of-the-art infrastructure that meets the highest international standards.
He then affirmed the UAE's interest in creating a sustainable transport sector, which is a major global source of carbon emissions, pointing out the importance of EVs in reducing greenhouse gas emissions, in line with the UAE's investment in sustainable solutions and its strategic initiative to achieve climate neutrality by 2050.
Al Bahri expressed the UAE's readiness to host world leaders at COP28.
This year's edition of EVIS featured 30 countries and a wide range of regional and international companies, which will present their latest EV products. National companies also took part in the event.
With more than 20 percent of government car fleets running EVs since 2021, the UAE is leading the way towards the future of EVs in the region.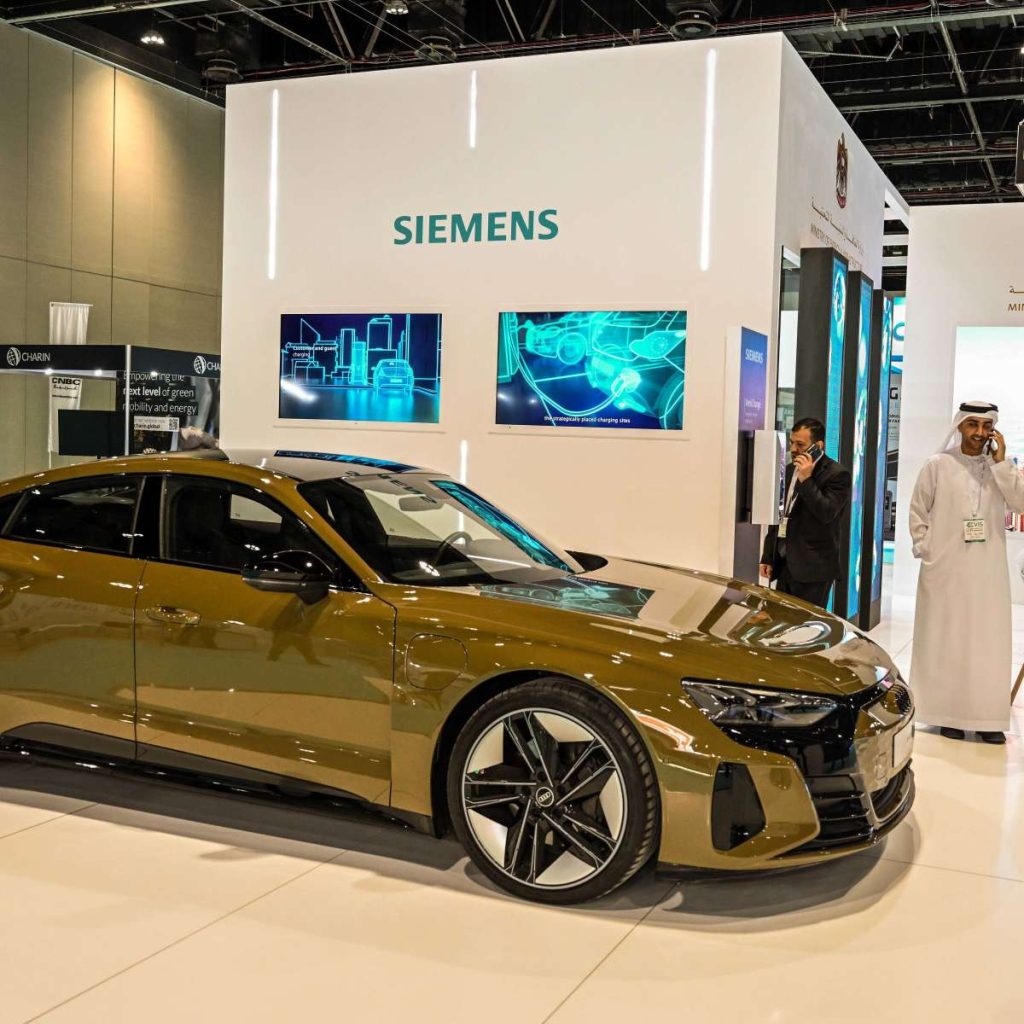 Suhail bin Mohammed Al Mazrouei, Minister of Energy and Infrastructure, inaugurated on Monday the second edition of the Electric Vehicles Innovation Summit (EVIS2023) at Abu Dhabi National Exhibition Centre (ADNEC).
The summit spans across three days and includes an extensive exhibition that runs throughout the event.
The exhibition space has been expanded, accommodating over 100 showcased products, including vehicles and EV service providers. Additionally, EVIS2023 encompassed a two-day conference that has garnered significant attention, featuring more than 100 speakers and over 50 conference sessions covering a wide range of topics relevant to the current and future landscape of e-mobility.
The summit aims to promote the transition from dependence on fossil fuels to electric mobility which saves the planet from the environmental consequences of CO2 and other emissions. According to Statista, transportation accounts for 17 percent of global greenhouse gas emissions – behind only the power sector. The global automobile industry is under pressure to embrace e-mobility.
The summit's two-day conference will brough together delegates, experts, and representatives of the mobility industry from dozens of countries to discuss the current landscape and future challenges and opportunities. It featured more than 75 sessions, with keynote speakers, presentations, and panel discussions that covered the complete value chain of the EV industry.
A notable addition to this year's edition is the Technology Park, an innovation hub showcasing the latest advancements in e-mobility. This dedicated area shed light the cutting-edge EV technologies developed by universities and technology incubators, shaping the future of the industry.
Advertisement